Here's When To Expect Your Kathleen Lights Polish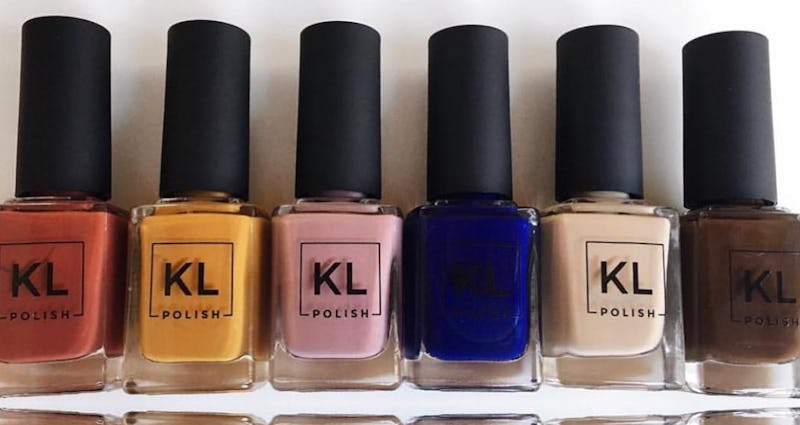 Sold out! Vlogger Kathleen Lights' KL Polish Collection sold out upon its pre-order. The collection boasts six cruelty-free and five-free shades, from mustard x pumpkin (Caramello), rusty red (Brick Sidewalk), rich brown (Broccoli & Chocolate), navy blue (Gumption), nude (Snickerdoodle), and mauve (Zoey). The colors are unique and have this absolutely lush, creme finish. They were also designed to be wearable with any skin tone and for any occasion or situation. All the hues will totally punch up your usual mani and pedi. If you were lucky enough to snag any or all of the shades, which cost $8.50 a bottle, during the pre-order, when will your Kathleen Lights KL Polish ship?
I know you can't wait to paint your fingers and toes with these babies.
Here's the intel, as posted on a banner on the KL Polish official site, which is also its sales platform. The pre-ordered polishes are expected to ship the week of Dec. 5. That's about 10 days from now.
I know, nail fiends, I know. That sounds like an eternity to wait, but it's not. Yes, it's a busy time of year for most shipping services, from the United States Postal Service to UPS to FedEx, due to the holidays. That means you could potentially experience delays. But just be satisfied that your gorgeous digit laquers are on their way.
Squad goals! The shades are really hawt. Refer to the KL Polish FAQ for shipping policies overall.
That's the screen grab from the KL Polish site. See the note at the very top, highlighted in green? The pre-orders are expected to ship the week of Dec. 5. It doesn't specify the exact date. It could be Monday, Dec. 5. It could be Thursday, Dec. 8. It's TBD. But at least you have a window of expectation, right?
Your fingers and toes are gonna be gorge once the KL Polish bottles arrive.
Isn't Zoey super duper lovely?
The polishes officially launch Dec. 5 beyond the pre-order, FYI.
Images: KL Polish/Instagram (2); Kathleen Lights/Instagram (1); Courtesy of KL Polish (1)