Sookie Made Her 'Gilmore Girls' Return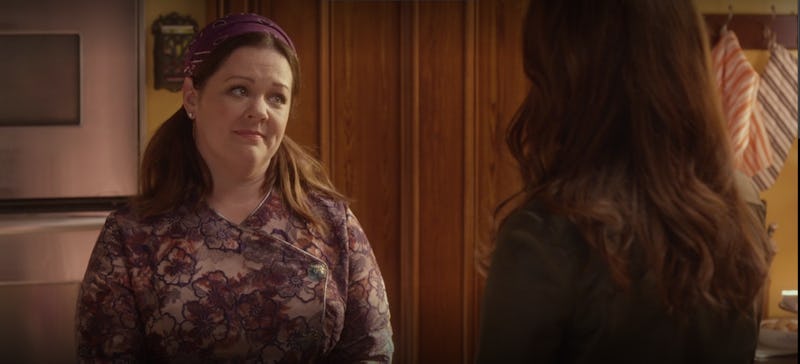 Before Melissa McCarthy became a big movie star, Gilmore Girls fans got to know her first as Sookie St. James, who was chef at the Dragonfly Inn and Lorelai's best friend/business partner. And since the original TV series ended in 2007, the actor has become well-known for her hilarious comedy movies and fashion line. TVLine confirmed Melissa McCarthy's appearance as Sookie in Gilmore Girls revival — and boy was it worth the wait. Be aware that there are SPOILERS ahead for Gilmore Girls: A Year in the Life, so turn back now if you don't want to be spoiled for Sookie's big return.
Throughout the Netflix revival's episodes, Lorelai hires famous guest chefs at the Draongfly Inn — big names such as Rachael Ray and Roy Choi — but she fires them, because they're simply not Sookie. So where is Sookie? In the show, the Stars Hollow chef left her impeccably set-up kitchen to get in touch with her inner farmer. As the revival explains, Sookie goes to study new breeds of fruits and veggies with real famed chef and food educator Dan Barber at his Blue Hill Farm in upstate New York — and that leaves the Dragonfly Inn kitchen Sookie-less for three of the four episodes.
And then by "Fall," Sookie returns at the best time possible. Let me set the scene: Luke and Lorelai have agreed to get married and Lorelai is finalizing preparations for it. Lorelai walks into the Dragonfly Inn kitchen and she can immediately tell something is different and she says, "Sookie." She calls out her best friend's name several times, until Sookie herself pops out from below — along with an unruly icing bag (a moment that you'll recognize from the series trailer). It turns out that Sookie has made not just one wedding cake for Luke and Lorelai, but a whole entire collection.
She couldn't decide which one, so she made a whole bunch — one with Luke's name, another with daisies, and even one that she calls "The Milestone Cake." It's a cake that has what looks like a map of Stars Hollow and all of their friendship milestones — including Sookie's sliced finger tip, from the day they met in the emergency room. The cake(s) moment is a nice callback to when Sookie made an epic tiered cake for Lorelai's canceled wedding to Max Medina.
Sookie apologizes to Lorelai for leaving the Dragonfly. "It's a pretty great inn," she says. "I miss it. I mean, I love what I'm doing. It's fascinating." Lorelai tells her that she can always come back and they declare that they're still best friends. But then Sookie gets a whiff of the scents of other chefs in her kitchen and she is not happy about it in that classic Sookie way.
And of course, Michel lays into Sookie when he sees her, pissed that she took for two years and left Lorelai as a "moping, shell of a person" — but he's so happy to hear she's brought her "fat-free magic granola" with her.
No matter what, the Dragonfly Inn kitchen will always belong to Sookie — but as fans have learned, it's way better with her in it.
Images: Netflix (2)