This 'Gilmore Girls' Revival Moment Was So Dreamy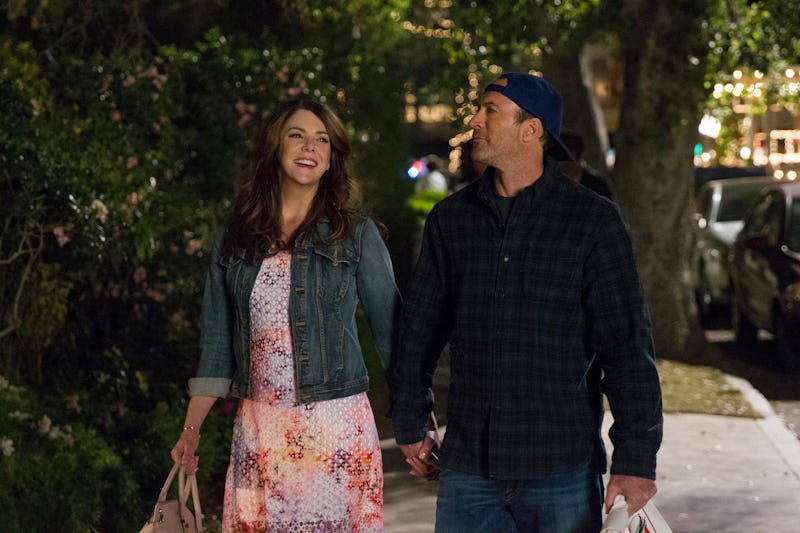 MAJOR SPOILERS AHEAD FOR THE GILMORE GIRLS REVIVAL. Well, they did it, you guys! Luke and Lorelai finally made it down the aisle on in Gilmore Girls: A Year In The Life, and can I just say, it was about time? The pair had been together for the better part of a decade, and I'm glad that they finally decided to make things really official. Parts of the Netflix series were visually beautiful, but Luke and Lorelai's wedding in the Gilmore Girls revival were particularly stunning. Surprisingly, it was all thanks to Kirk.
Lorelai went away to do her Wild thing (the book version from Cheryl Strayed, not the movie) and came back very quickly knowing that she and Luke should finally get hitched. Nothing like a little nature to provide clarity. Anyway, on the eve of their planned wedding, Lorelai and Luke said, "Hey, let's do this right now," and they went to the gazebo to get married by Reverend Skinner (he's always up late on bingo night, anyway). Before this, though, Lorelai had entrusted Kirk (I don't know why) to decorate for her wedding to Luke. Kirk said he had ruined everything, that he had gone over the top and grabbed a glue gun and too much glitter, but their wedding vibe was actually perfect. It was a little mad hatter, and a little ethereal, and plenty Lorelai. Luke, I assume, didn't care what the scene looked like when he got married — he just wanted to be married to her.
I know Kirk has had a lot of jobs, but I think that wedding planner could be one of them, because this is really stunning.
I even love the sign (and guys, November 5 is totally the new June 3).
Though they would have a big wedding the next day, Luke and Lorelai got married with just Rory, Michel, and Lane as witnesses. Rory was still in her pajamas. The whole thing was just perfect — it was such a lovely way for Stars Hollow's favorite couple to tie the knot. Luke and Lorelai have been through so much together, and it's fitting that their wedding be what they had always dreamed of.
Images: Saeed Adyani/Netflix, Netflix (3)