The 'Gilmore Girls' Finale Song Is Important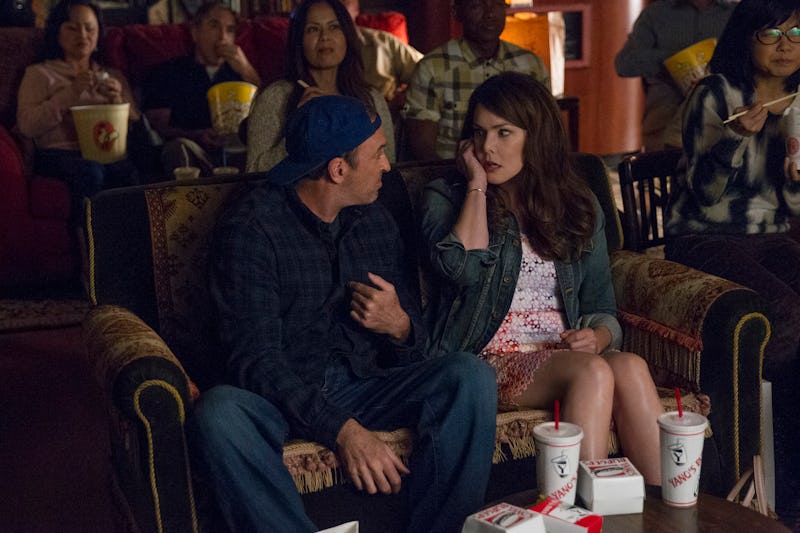 MAJOR SPOILERS FOR THE NETFLIX REVIVAL OF GILMORE GIRLS AHEAD. So, after watching all four of the 90-minute Gilmore Girls revival episodes fans got some serious closure in regards to one couple. Luke and Lorelai are happily married, and this fan can finally die happy. In the "Fall" segment of Gilmore Girls: A Year In The Life, Luke and Lorelai finally decided to get married, and their wedding was the prettiest, best wedding fit for the best couple. But what was Luke and Lorelai's wedding song in the Gilmore revival?
I don't know that you could call it their wedding song, per se — more like their wedding montage song. Luke and Lorelai put together a wedding, and Kirk (who definitely has a future as a wedding planner) designed a gorgeous event with twinkle lights and pink chiffon and tea cups and did I mention all of those little, twinkling lights? They were really something. Luke and Lorelai were supposed to get married the next day, and they decided, hey — It's bingo night. Revered Skinner is still awake. Let's get married for realsies right now and then get married for everyone else tomorrow morning! And that's exactly what they did, with a beautiful, sweeping montage showing them enjoying their wedding venue (aka the town square) and getting married in the gazebo, which was perfect, because where else would Stars Hollow's most famous couple get married? The song played in the montage was also perfect — "Reflecting Light" by Sam Phillips.
If you're a Gilmore fan and you're thinking you've heard the song before on the show, you're right — "Reflecting Light" was also used as the song that Luke and Lorelai danced to at Liz and TJ's wedding. This is the first song that Luke and Lorelai ever really danced to together, making it a meaningful choice for the wedding montage.
Oh, and if you think Phillips sounds familiar, well, she's been doing the music on Gilmore Girls since the very beginning — all of those "ah ahs" and "la las" are her. Of having a role in the Gilmore Girls revival, Phillips told Vox, "Sitting down to write, I felt like it was so easy to compose the music just because I did it for so long and really got to know the characters and the series really well, so it came about very naturally." Phillips recorded an all-new score for the revival, so her soft strings and quiet humming will live on like one of Stars Hollow's residents.
Images: Saeed Adyani/Netflix