Doyle As A Screenwriter Is A Nod To Danny Strong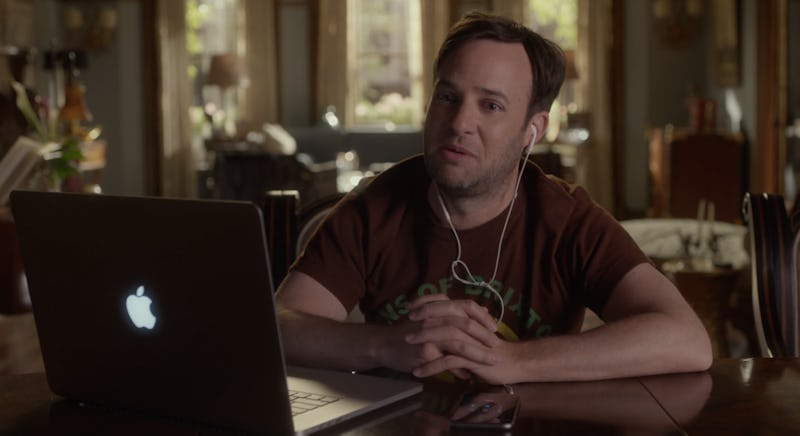 If you were eager to see Paris and Doyle operate as a power couple in Gilmore Girls: A Year In The Life, I come with bad tidings, and unpleasant SPOILERS, so tap dance carefully. The first episode of the Gilmore Girls revival Paris is talking about splitting up with Doyle, saying he's basically become an awful, rock tee-wearing screenwriter who takes trips "on the coast." Depressing. The flip side, though, is that Doyle's career change isn't just a ploy to create a rift in his marriage, it is definitely an homage to the success of Danny Strong, the man behind the former Yale Daily News editor and a longtime Hollywood veteran who made good.
While Strong has hardly been a leading man, we've seen him pop up all over the place since the late '90s, peppering the screen with guest spots and occasionally recurring gigs. In between said recurring roles on Buffy the Vampire Slayer and our very own Gilmore Girls, he penned a black comedy that could place himself as the protagonist. Nothing materialized from the venture except for an interest in screenwriting, which Strong formally put off until 2008, when he penned the screenplay for the HBO movie Recount.
From that point forward, Strong has been a power player behind the camera. He did another political HBO film, the Sarah Palin centric Game Change that garnered him the primetime Emmy for Outstanding Writing for a Limited Series, Movie, or Dramatic Special. And his credits don't just include TV movies, he was able to latch onto a big screen franchise by writing the screenplay for Hunger Games: Mocking Jay parts one and two. But his real claim to fame? Strong is one of the co-creators of Fox's Empire, the hit series following the fictional recording dynasty that is the Lyon family.
So making Doyle into a screenwriter in the show definitely references Strong's real life big time. In fact, there may even be a deeper meta reference in there, if you really look into it. When Paris dismisses an employee halfway through "Winter," she growls, "Don't stand there shaking, just go, apologize to your parents, tell them you'll pay them back for the two semesters you spent studying Buffy the Vampire Slayer's affect on the feminist agenda." Snappy pop culture reference or dig on the show that her husband got his start? Just throwing it other there.
Ultimately, Strong's parlayed his talents in more prestigious projects than the next Michael Bay film (which Doyle is currently working on and he gets very defensive about it, so don't poke that bear). Still, though Doyle's new career path is definitely a way of honoring how far Strong has come in the past 20 years... although he'll always still be that neurotic Yale University editor to us.
Images: Getty (2)