The Most Unique Secret Santa Ideas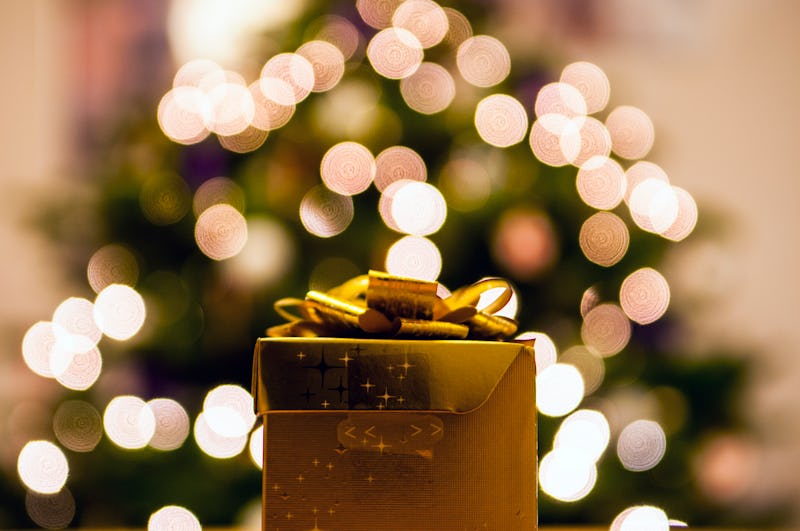 It's that time of year again: The season for sugary coffee drinks, holiday movies, and ignoring the pleas for mercy from your bank account with every gift you purchase. The holidays have their ups and downs, but whether you're a Scrooge or break out Miracle on 34th Street the day after Thanksgiving, virtually everyone can agree on one thing: Coming up with creative Secret Santa gift ideas is the worst part of the season — and yes, I'm including the hangover you endured after chugging a bottle of wine at Thanksgiving. A woman can tolerate only so many political discussions without help.
If you've been blessed enough to have avoided it so far, Secret Santa is a simple concept. Members of a group, usually an office or some kind of organization, are assigned someone to anonymously give gifts. Sometimes you reveal your identity at the end; other times, it's forever a mystery. It's a cute idea, but if you don't know your assigned recipient very well, finding a present can be harder than you'd think, especially considering most Secret Santa exchanges have a price limit.
Usually, that means it's time for generic gifts — fuzzy socks, candles, or the most impersonal present of all, a gift card to a coffee shop. But if you're bored with your own selections or want to wow your coworkers with your gift-giving skills, here are 13 Secret Santa ideas you won't see anywhere else in the office.
1. Sushi Cat Stickers
These stickers from Urban Outfitters combine two of the greatest things on this green Earth: Sushi and cats. They're perfect to decorate the office cat lady's phone case.
Sushi Cat Stickers Set, $6, Urban Outfitters
2. Donut Phone Case
Everyone could use an extra phone case, and donuts are probably the sweetest (and least offensive pattern) on the planet.
Donuts iPhone Case, $8.50, Amazon
3. Crocodile Flower Pot
No office desk is complete without a little decoration. This vase is a good size for succulents, which are super hard to kill. The crocodile vase is pictured above, but there are a number of other options available.
Crocodile Succulent Vase, $11.99, Amazon
4. Shark Laser Pointer
Is this gift useless? Yes. Is it also the coolest present anyone will ever receive? Heck yes.
Shark with Frickin' Laser Pointer , $8.99, Thinkgeek.com
5. Scratch Art Rainbow Mini Notes
Now your coworker can leave passive-aggressive notes on the office fridge in style.
Melissa & Doug Scratch Art Rainbow Mini Notes, $6.24, Amazon
6. Space Capsule Tea Infuser
This tea infuser from Thinkgeek is out of this world. (It had to be said.)
Space Capsule Tea Infuser, $9.99, Thinkgeek.com
7. Mini Instax Squad Picture Frame
If you've been assigned a younger coworker for secret santa, they'll love this picture frame.
Mini Instax Squad Picture Frame , $6, Urban Outfitters
8. Worth A Thousand Words Notecard Set
This set of 20 notecards features Polaroid-effect prints that look like they're straight from an Instagram feed.
Worth A Thousand Words Notecard Set, $14.99, Modcloth
9. White Chocolate Peppermint Stirrers
These peppermint stirrers make any hot drink (and let's face it, the drink is always coffee) that much sweeter.
White Chocolate Peppermint Hot Cocoa Stirrer Gift Set, $6.99, World Market
10. Celestial Hobbies Notebook
If you have a coworker who's an amateur astronomer or really into astrology, they'll love this notebook with a design inspired by vintage astronomy charts. To go with the theme, suggest using it as a dream journal.
Celestial Hobbies Notebook, $11.99, Modcloth
11. Laboratory Beaker Mug
Your coworker will know exactly how much coffee they drink every day with this lab beaker mug. Whether that's a good or bad thing depends on their coffee intake.
Laboratory Beaker Mug, $6.99 - $10.49, Thinkgeek
12. The Big Book of Awards for Grownups
After the disaster that was 2016, everyone can use a pick-me-up. This book of card stock awards for adults is an optimistic way to end the year.
The Big Book Of Awards For Grownups, $19.99, Modcloth
13. Cavallini 2017 Vintage Map Weekly Planner
As useful as phones may be, they're never as satisfying as filling out a planner. This 2017 weekly planner is sure to help your coworker keep track of what's to come in 2017.
Cavallini 2017 Vintage Map Weekly Planner, $12.50, Amazon
Images: Tookapic/Pexels, Urban Outfitters (2), Amazon 4), Thinkgeek (3), World Market, Modcloth (3)