Why This 'Oceans Eleven' Cameo Is Still Amazing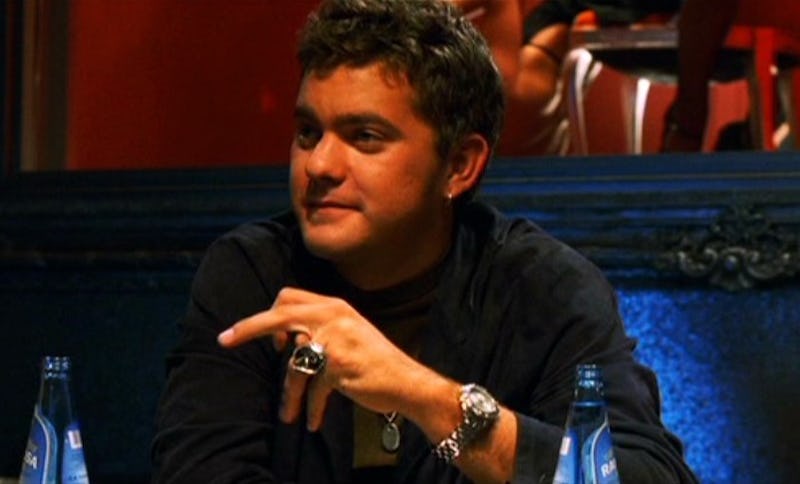 I have a confession to make. When Oceans Eleven was first released in theatres back in December 2001, I wasn't the least bit interested in it. Sure, it had the visual appeal of George Clooney and Brad Pitt bolstering it, but overall it just seemed like too much of a guys' film to really entice me. It wasn't until the movie was released on DVD that my boyfriend at the time said the magic words which instantly piqued my interest in seeing the movie — Joshua Jackson stars in Oceans Eleven . And I was sold. Little did I know that the man I knew and loved as Pacey Witter had only a small cameo in Oceans Eleven and not anything resembling an actual, starring role.
But still, I watched the entire movie, I cheered at Jackson's briefest of starring moments, and I even totally enjoyed the overall movie, too. It's been fifteen years since Oceans Eleven opened in theaters, however, and the Poker scene within which Jackson's cameo appears is still the main one that I remember from the movie. There's various reasons for this, a core one being that my little heart has never quite recovered from my Witter crush, but another being that the scene was a perfect time capsule of teen stars from that precise moment.
The poker scene in question has Pitt and Clooney's characters teaching a table full of teen stars (starring as themselves) how to play poker. The teen idols present for the lesson are Topher Grace (That '70s Show), Holly Marie Combs (Charmed), Shane West (Once And Again), Barry Watson (7th Heaven) and of course, Jackson.
And though many of these stars have enjoyed successful roles since then (notably Combs, who plays Ella Montgomery in Pretty Little Liars, and West who's starred in shows including ER, Nikita and Salem), it's Jackson who has managed to maintain the most consistent career since that time. As well as formerly starring in the hit sci-fi show, Fringe as Peter Bishop, Jackson is currently evoking all sorts of confusing, swoon worthy feelings as the perpetually angst-ridden Cole Lockhart in The Affair.
Though brief, Jackson's cameo in Ocean's Eleven also seemed to foreshadow a future pop cultural trend for paying tribute to teen idol stars and characters and their lasting effect on an entire generation. But in particular, it's interesting to note just how notable this trend is for the two male leads from Dawson's Creek.
Both Jackson and the ever charming James Van Der Beek (who played Dawson Leery on the show) have managed to satirize the teen idol personas of their past by delivering hilariously on-point cameos as either their former teen show character, or as themselves, in a variety of comedies.
Having playfully provided a cameo as Dawson in the first Scary Movie movie, poked fun at the lasting appeal of the do-gooder character in Funny Or Die PSA's and starred as himself in the sadly short-lived Don't Trust The B---- In Apartment 23, JVDB is obviously the undisputed King of these parody appearances. But Jackson's proclivity for providing a great cameo still stands just as strong.
Jackson's cameo in season two of Unbreakable Kimmy Schmidt , for instance, provided one of the funniest and most unexpected highlights of the series. Starring not as himself, but as a mini-mart clerk called Pervis (whom Kimmy initially mistakes for being the actual Pacey), Jackson makes some astute observations concerning Pacey and Joey's relationship in the series as well as offering some essential takeaways on what Dawson's Creek could teach about love.
Back in 2010, there was also the Funny Or Die short, Pacey-Con, in which Jackson tries to rally up support for a Dawson's Creek convention which celebrates all the "people who dedicated their lives ... to Pacey". Proving once and for all that Dawson's Creek might have ended in 2003, but that pop culture still hasn't quite gotten over the show, it's characters or the appeal of it's main cast (and, full disclosure — neither have I).
So, though Oceans Eleven was a great, fun movie, I have to say that my memory of it remains completely overshadowed by Jackson's cameo role in it. And without a doubt that seems to prove that fifteen years on from that film's release, my mind is still clinging on to the one sales point that got me to watch the movie in the first place.
Ocean's Eleven provided the first of many cameos from Jackson, as well as the first of a whole bunch of guest appearances paying loving tribute to the lasting pop cultural impact of Dawson's Creek itself. And in 2016, that impact is still felt strongly by those of us who just cannot dispel how affectionately we look back on the pop culture obsessions of our teen years. And hey, long may they reign.
Images: Warner Bros.; Netflix