How To Celebrate National Cookie Day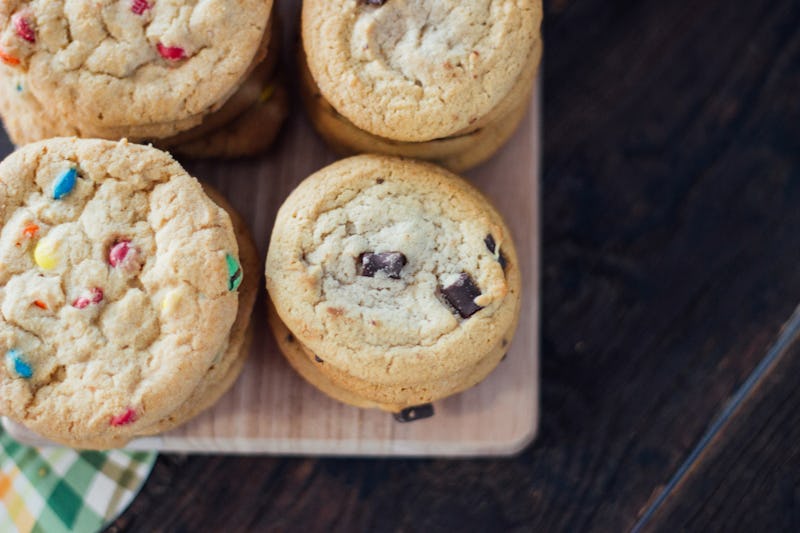 OK, some national holidays are not that exciting — like, National Clean Your Refrigerator Out Day, or National Vinegar Day. They don't really evoke intense excitement and joy like some of the other tastier national holidays... like, say, the ones all about sugary dessert treats. And speaking of tasty, you're going to want to get your paws on these super easy cookie recipes for National Cookie Day, which is a real thing and is really happening on Dec. 4! Obviously, to celebrate this sweet holiday, one of the things to do is bake a fresh batch or 12 of our favorite cookies — because that's what Cookie Monster would want us to do. That said, if Cookie Monster is your role model, you might want to consider throwing a cookie party or baking a few batches and bringing them into work with you. It's a foolproof way to get some extra brownie points (er, cookie points?) from your co-workers. It also ensures that you'll have a serious cookie supply throughout the day.
Thankfully, cookies are super easy to bake, even if your kitchen appliances are just as confusing to you as mechanical engineering. But, because I like any excuse to look at pictures of cookies the internet, I've put together a list of some extraordinarily easy-to-follow recipes so that you can get your bake on... without wasting a whole day burring things and getting frustrated. Try out some of these recipes for a fool proof National Cookie Day celebration:
Best Flourless Peanut Butter Cookies
These ooey gooey peanut buttery cookies are easy to whip up and are the perfect mid-day energy revival snack. Check out the recipe on Averie Cooks.
Cream Cheese Cookies
Feel free to play around with these Averie Cooks cookies, they have cream cheese in them so they're basically breakfast. Right?
Oat Chocolate Chip Cookies
These cookies will transport you to your grandmother's house and make you feel like a kid again. Check out the super simple recipe on A Cozy Kitchen and revisit these favorites.
Sugar Cookies
These deliciously yummy cookies are brought to you by Deliciously Yum. They're incredibly easy to make and you can dress them up and make them as festive as you want.
Double Chocolate Chip Cookies
If you're a chocolate lover, you're going to want to bake these cookies. Follow the basic recipe from Deliciously Yum and tuck some away in your freezer for future chocolate hankerings.
M&M Cookies
These cookies serve as a time travel portal to the high school cafeteria in the best possible way. Check out the recipe on Deliciously Yum.
Potato Chip Shortbread
This dream recipe by Cookies and Cups is a mash up of your two favorite snacks. It's salty, it's sweet, it's a perfect harmony.
Butter Crunch Cookies
These sweet, sweet butter crunch cookies involve some instruction following but I believe in you, you can do it! This Cookies and Cups recipe makes it simple.
Salted Caramel Cookies
If you're into fancy cookies, these are your jam. They're incredibly sweet so you might want to bring them to work or share them with friends. Check out the recipe on Cookies and Cups.
Lemon Sugar Cookies
These lemon cookies are surprisingly fresh. They're perfect for breakfast if you're into morning cookie time. Check out the recipe on Baked by Rachel.
Snickerdoodle Cookies
Get your holiday groove on with these festive cookies by Baked by Rachel. They're perfect for December vibes and go great with coffee or tea.
Gingersnap Cookies
If you're feeling adventurous, you'll have a lot of fun making these sophisticated cookies. Check out the step-by-step recipe on Baked by Rachel.
Image: Pexels