What Will Dating Apps Look Like In 2017?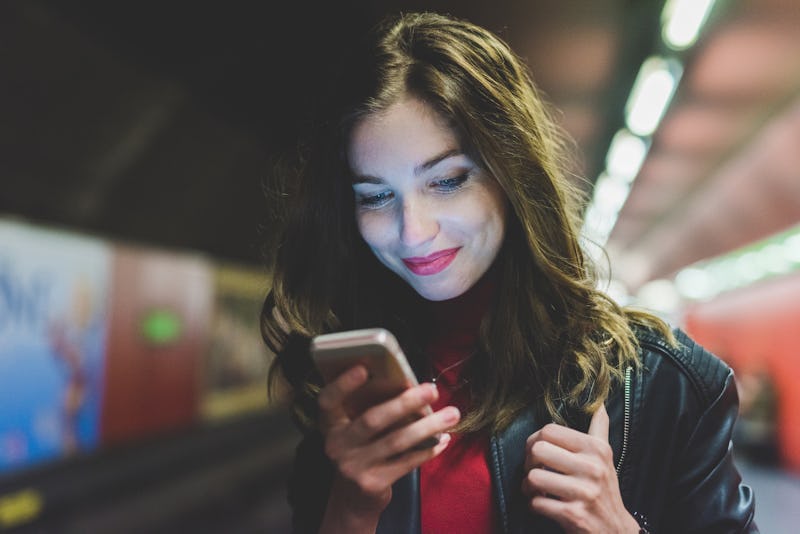 While it might be tough to believe — dating apps and sites are still, technically, a new thing. While online dating now has two decades (yep — 20!) under it's matchmaking belt, swiping right or left still has a long time to go and many ways it can continue to evolve. That's why so many dating experts predict a lot of change — both from the technology side of the app and the way singles digest the content — in the coming year. If 2016, taught us anything, experts comment, it was about transforming behaviors surrounding virtual romance. Many singles became burned out from the endless swiping and started to thirst for something more meaningful.
"Fast, impulsive, sexting, quick hookups, [and] isolation from real world dating enables singles to hide out, isolate, avoid, not learning how to date, or follow through with dating and love skills for life partners," Dr. Wendy O'Connor, Technology Communication Expert and Licensed Family & Relationship Therapist tells Bustle. "[It] taps into singles with social anxiety in positive and negative ways. [It] does not help singles learn the social skills needed in order to build a long-term secure attachment in real life or technology. This year, we started to separate the players from the serious daters seeking a committed relationship."
So what's ahead for 2017 online and in your app store? Here's what dating, technology and relationship experts predict for the coming 365 days of looking for love:
1. Apps Will Find Ways To Be More Selective
"People love online dating — it's a way to meet tons of single people, people you would ordinarily not meet," Karenna Alexander, New York City-based dating coach and matchmaker. "Even though I am a matchmaker and do old-fashioned matchmaking, I have to say, half of my coaching clients are dating people they have met online and several of my coaching clients have married people they met online. So, even though I believe in old-fashioned matchmaking, I really do think online dating is a great thing. But like all good things there are drawbacks. The same thing that is so good about it — the quantity — is also what is bad about it. The fact that there is an endless sea of people causes people to take it more casually. What I expect will happen is that the apps (Tinder, Bumble) will figure out ways to be more selective and weed out people who may not be as serious on the sites. Many people who are swiping are married, or have no intention of ever meeting anyone live, which leads to a lot of frustration. I predict the apps will start finding ways to make their apps more selective, through a better screening process and through more fees."
2. People Will Get Offline Faster
"The online dating trend for 2017 will be a move to get offline faster," Online Dating Entrepreneur Michelle Stansbury, founder of The Date Spot. "Although we are more intertwined with our technology than ever, there is a growing movement towards real human interaction, especially with dating. Using technology to get offline faster during the online dating process and engage in a personal, meaningful way. One in three people who have used online dating has never actually gotten offline with someone they met on any of those sites. And the average Tinder users spends a staggering hour and a half a day on the app. The industry is ready for a move to focus on the dating part of 'online dating.'"
3. They'll Be Taking It More Old-School
"Trending already beginning into the new year, [is] old-fashion dating, courting, taking it slow, clarifying intentions for seeking lovers versus serious relationships leading to marriage and family goals," Dr. O'Connor says. "More singles [are] burned out [and] want more, deeper meaningful connections. Having sex and getting naked with someone is easy, sitting down for a cup of coffee and having an intimate discussion — that's the hard part. Learning how to tolerate vulnerability and becoming emotionally intimate. We will see more of the old-school ways of courting where singles really do stop and smell the roses. Not emojis."
4. There Will Be More Apps Geared Toward Marriage
"A trend [is] more traditional dating sites evolving, sites geared towards marriage rather than just dating," Dawn Michael, certified clinical sexologist, aasect certified sexuality counselor, sex educator, public speaker and author, tells Bustle. "Questions geared towards marriage as the reasons for getting involved on the site — I think that we will see more of these types of sites pop up in the next few years."
5. There Will Be More Multi-Generational Success Stories
"We'll see more photos, videos, and selfies filling up dating profiles with singles meeting more quickly," Julie Spira, Online Dating Expert and CEO of Cyber-Dating Expert. "Add to it the multi-generational growth of online dating, and it won't be unusual to see three generations in a family, from your kids to your grandparents finding love online."
So the moral of the online dating story? There will be a shift that focuses on relationships, and not just hooking up. For those of us who have been in the swiping game for a while and looking for something more, I bet there will be a welcome attitude for this movement. Let's just hope we match with someone semi-decent, semi-soon.
Images: Fotolia; Giphy