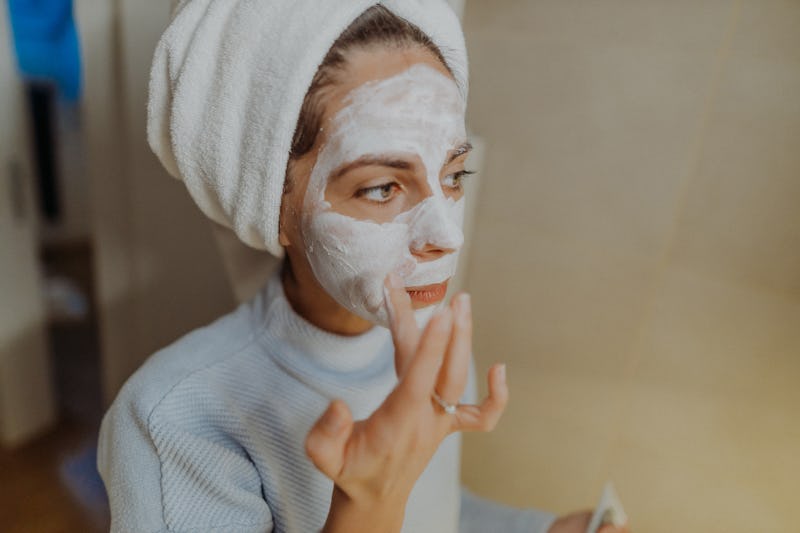 milan2099/E+/Getty Images
Anyone who has ever used a sheet mask knows it's the most fun you can have while doing skincare at home. But what happens when you use more than one face mask at the same time? It's called mask layering, and it's not to be confused with multi masking. But what is mask layering, and why should you be doing it?
To be fair, this isn't an entirely new trend. Vogue promoted layering your face masks in 2014, after all. However, with the rise in sheet masks over the past 12 months, everyone is looking for new ways to use masks to benefit our skin and liven up our beauty routines. Gone are the days of just exfoliating and moisturizing, or only using one face mask at a time. Welcome to an evening in with just you, your favorite wine and two or more face masks.
The name pretty much sums up what mask layering is, but there's a special technique to undergoing this process that several experts recommend to follow.
Tonymoly Sheet Masks x11, $15, Amazon
Joanna Czech, a Dallas based aesthetician who works for Cate Blanchett and Kate Winslet, explained to Vogue why the order of face masks you use is so important: "Always apply exfoliating or purifying masks first, and then hydrating, oxygenation, or rejuvenating masks. Follow up with toner and moisturizer for a lasting glow."
But be warned, Czech recommends only doing mask layering once a week, at most.
Ednae Exfoliating Face Mask, $20, Amazon
Nicolas Travis, founder of Singapore grooming brand Allies of Skin, has also commented on the mask layering trend. His advice involves using mud based masks — which Travis tells you to use last of all. "If you apply a thinner textured emulsion after a mud mask, it'll never be able to properly penetrate the paste," Travis tells Her World Plus.
His advice works logically, although it might not be the first thing to spring to mind for anyone outside of the beauty industry. A lighter mask on top of a heavier mask will never make its way through to its skin: But the other way around will work miracles.
Dead Sea Mud Mask, $18, Amazon
If you thought that mask layering would consist more of having more than mask on at once, it seems that idea is simply a pipe dream. But if you really love slathering numerous products on your face at once, blogger Pretty Gossip suggests wearing a serum under your favorite sheet mask to boost the effect of your mask. Just be sure to let your skin soak in all the product left over after removing said sheet mask.
Vitamin C Facial Serum, $12, Amazon
Essentially, when it comes to mask layering all you need is common sense: Heavy products go last, always. Use face masks as part of your skin routine instead of replacing the whole thing — be sure to follow Czech's advice to tone and moisturize after using your masks. Now go forth and get your glow on.
Images: milan2099/E+/Getty Images; Courtesy Brands