A Holiday Gift Guide For Poetry Readers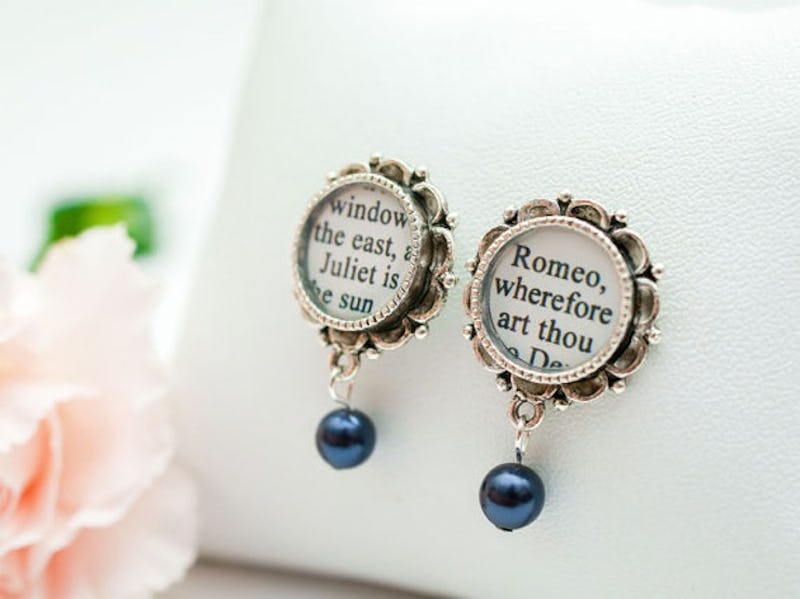 The season of giving has come 'round again, which means exactly one thing (well, at least for us bookish folks.) If you love someone who loves poetry, you're now looking for the perfect holiday gift for a poetry lover. Don't worry, finding literary gifts any reader will love is a whole lot easier than you think — there are tons of great gift ideas for poetry readers, and most of them don't even require you to step inside a bookstore (because let's face it, buying a book for a book-lover is a herculean task to intimidate the most seasoned of gift givers: what if they hate the author you choose, or the style of poetry? Or, the most likely concern of all: what if your lover of verse already owns basically all of the books? This is the season of giving, not the season of stressing!) So, whether you're looking to keep it simple, or you're totally up for breaking the bank this holiday season, the poetry-inspired gifts on this list are sure to impress all the readers on your shopping list — and keep your holiday shopping stress-free.
Check out these 15 gifts for poetry lovers. Don't be surprised if you end up wanting to keep them all for yourself.
1. Poetry Book Club Membership
With a Rumpus Poetry Book Club membership poetry lovers will receive a new copy of a not-yet-released poetry collection each month, in addition to being invited to a moderated web chat with the poet. All books are selected by members of The Rumpus poetry advisory board or an invited guest who will include a post about why they selected a particular book, in addition to being in charge of moderating the monthly author chat. This is the perfect gift for introducing readers to new and surprising poetry collections that might not have otherwise made it onto their bookshelves.
The Rumpus Poetry Book Club M embership, $242 for 12 months, The Rumpus
2. Famous Poets Mug
15 ounces is a heck of a lot of coffee to fit into one mug (and poets, for that matter… there are 40!) — which is why this is the perfect gift for those poetry lovers who have been burning the midnight oil, whether they be readers or writers of verse.
15oz Famous Poets Mug , $13, CafePress
3. Edgar Allan Poe Tee
Printed by hand using a homemade silkscreen and available in eight colors, this tee features the quote: "All that we see or seem is but a dream within a dream" from Edgar Allan Poe's poem A Dream Within a Dream. Love it.
Edgar Allan Poe T-shirt, $26, Etsy
4. Poet's Notebook
Part journal, part reference text, and part poet's workbook, this parchment notebook features writing exercises; quotes and inspiration collected from famous poets; a dictionary detailing the rules of poetic form, meter, and rhythm; and of course plenty of space for creative writing.
5. Emily Dickinson Throw Pillow
I don't know how you couldn't be obsessed with this pillow, to be honest. Napping next to Emily Dickinson is every poet's dream.
Emily Dickinson Throw Pillow, $25, CafePress
6. Literary Candle
Whether the poetry lover is cozying up with a good poetry collection and a latte or they're getting ready to grab the nearest open mic and read some of their own verse, this Reading at the Café candle, by Frostbeard Studio, will help create the ambiance they're looking for. Infused with notes of coffee, chocolate, and book pages — aka: the three best things ever — what more could one want?
Reading at the Café Soy Candle, $18, Frostbeard Studio
7. Poetry-Inspired "Qu'hier que Demain" Ring
Earlier this year American sweetheart Drew Barrymore made headlines by replacing her wedding band with a French-poetry inspired ring bearing the quote "Qu'hier que Demain" which roughly translates to: "More than Yesterday, Less than Tomorrow." If you're up for breaking the bank for your poetic loved one this holiday season, head over to Broken English and check out the 14K yellow gold and blue enamel ring.
"Qu'hier que Demain" Ring, $1550, Broken English
8. Beat Poetry Magnetic Poetry Kit
Magnetic poetry will never stop being cool — but these rearrangeable words have gotten a serious upgrade since I was sticking dirty limericks to my college roommate's mini-fridge. Magnetic poetry now comes in themed collections, inspired by everything from the Beat poets, to bacon, to Grumpy Cat.
Beat Poetry Magnetic Poetry Kit, $13, Magnetic Poetry
9. William Shakespeare Jewelry
I love these handmade Romeo and Juliet-inspired earrings so much I might not actually be able to wait for someone to buy them for me this holiday season. William Shakespeare was, after all, one of the greatest poetic playwrights of all time. Made to order from silver plated bezel, ink, paper, and Swarovski pearls or garnet gemstone beads, the poet in your life will love these as much as I do.
Romeo and Juliet Pearl Drop Earrings, $28, Etsy
10. Charles Bukowski Quote Cuff Bracelet
Charles Bukowski was a German-American poet best known for his brash and beautiful, no-holds-barred verse that continues to shock and amuse readers as much as it enlightens and inspires. This hand-stamped aluminum bracelet is classic Bukowski, bearing the poet's quote: "find what you love and let it kill you."
Bukowski Quote Cuff Bracelet, $20, Etsy
11. Notable Female Writers Tote Bag
Because readers always need more bags to carry their books around in, this tote bag — featuring notable female poets and writers — makes a great gift.
Notable Female Writers T ote Bag , $23, Redbubble
12. Poetry-Inspired Vinyl Wall Decal
Nothing goes better with poetry than wine. And chocolate. And coffee. And this fun vinyl wall decal for anyone who likes to take their poetry into the kitchen.
Wine Is Bottled Poetry Vinyl Wall Decal, $12, Amazon
13. Poetry Magazine Subscription
Since 1912 Poetry Magazine has been sending new poetry to readers every month for over 100 years, and is known for being one of the first publications to discover and/or print poetic legends like T.S. Eliot, Robert Frost, Langston Hughes, Edna St. Vincent Millay, Gwendolyn Brooks, E.E. Cummings, Sylvia Plath, and Carl Sandburg. Plus, who doesn't like receiving a dose of new poems every month?
Poetry Magazine Subscription, $89 for 33 issues, Poetry Foundation
14. Classic E-Reader Cover Case
One of the things I miss most about print books when I'm using me e-reader (other than the paper, the ink, and the smell of the paper and ink) is holding a gorgeous book in my hands. A beautiful, classic book-inspired e-reader cover solves that — and this one is perfect.
Classic E-Reader Cover Case, $25, Amazon
15. Calligraphy Pen Set
This artist-grade pen and ink set is the perfect present for elevating the writing game of the poet in your life. These handmade birch quills are presented in an elegant case, featuring five different colors of ink: the kind of writerly swag that'll make you want to compose some poetry yourself. Maybe the poet in your life will thank you with an hand-written poem.
GC Quill Calligraphy Pen Set and Writing Case , $40, Amazon
Images: Etsy; therumpus.net; CafePress(2); Etsy(3); Frostbeard Studio; Broken English; magneticpoetry.com; Redbubble; Amazon(3); Poetry Foundation