20 Beauty Products To Gift Your Mom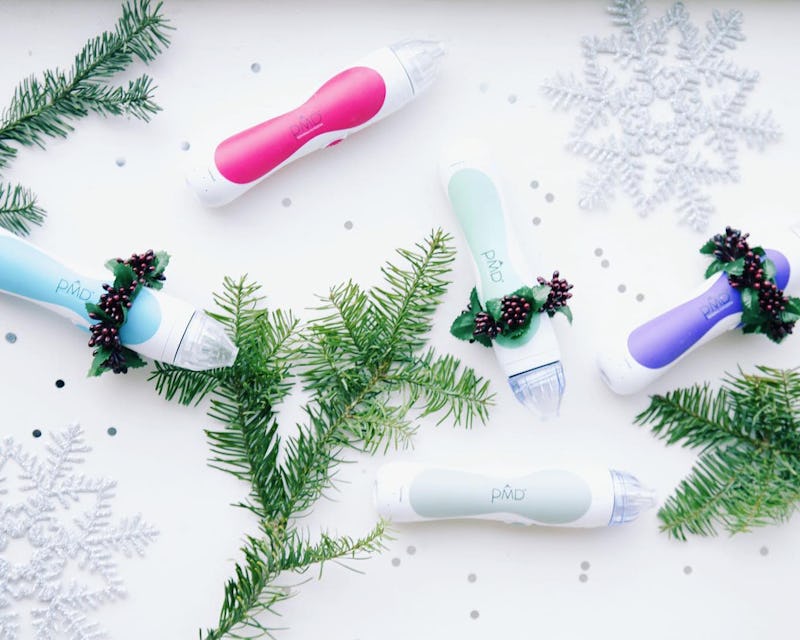 Considering our moms taught us everything we know about hair, skin and makeup (at least until we were old enough to learn how to read a magazine or Google search), what better way to pay them back for all of their advice than with a holiday beauty gift for mom?
In our younger years, we all undoubtedly "borrowed" (OK, stole) products from our moms' vanities, and didn't realize how annoying that must have been until we were old enough to appreciate the value of a $30 lipstick. Now that we're old enough to understand how much time/effort/money it takes to perfect a beauty regiment, we definitely owe them an apology... and a whole lot of new products to make up for the ones we stole back in middle school.
If you're more into giving experiences than gifts, treat your mom to a mother-daughter mani or a couple's massage a la Lorelai and Emily Gilmore while you're home. Not only will she love being pampered, she'll love the fact that she gets to spend more time with you. Or maybe do a combination of both — your mom definitely deserves it all!
Here are the best beauty products that make perfect holiday gifts that your mom will love... it will be hard to pick just one, considering she deserves them all.
1. Anti-Wrinkle Pillow
JuveRest® The Sleep Wrinkle Pillow, $160, Amazon
Move over, wrinkle cream — there's a new anti-aging product in town. The JuveRest has all kinds of "wrinkle fighting features," including a head cradle and sloped neck and back support. Just make sure you and your mom have discussed wrinkle prevention before... Otherwise you may be making an awkward statement by giving this to her! (But it's a lot cheaper than Botox!)
2. Make Your Own Skincare Routine
Gift Card, Amounts Vary, Kiehl's
This is a two-for-one present and fun mother/daughter activity. Give your mom a gift card to the Kiel's apothecary, then go with her to the Kiehl's store to help her customize her own personalized skincare routine with the help of a Kiehl's consultant.
3. Esthetician-Approved Skincare
Ultimate Hydration Skincare Kit For Dryness And Fine Lines, $150, Sonage
This spa industry-insider line is natural and free of chemicals, and will make your mom's skin feel soft and baby fresh.
4. Personalized Haircare
Function Of Beauty, Amount varies, Function of Beauty
Who doesn't love a totally personalized beauty product? Get your mom a gift certificate so she can design her own shampoo and conditioner (including the color and scent) to fit all of her haircare needs. Or, you can design it for her and have them write "For Mom" on it, which IMHO is pretty freaking cool.
5. A Beauty Subscription Box
Birchbox, $10/Month or $110 for the year, Birchbox
Why not remind your mom how much you love her once a month, instead of just once a year? For $10 a box, she'll get five samples every month.
6. Cool Kids Cosmetics
Glossier Phase 2 Set, $40, Glossier
Your mom's not just a regular mom, she's a cool mom! Therefore, she deserves products from all of our favorite brand. Just because the packaging is millennial pink doesn't mean it's just for millennials.
7. New Makeup Brushes
Sephora Collection Deluxe Anti-Bacterial Brushes, $62, Sephora
Is there anything better than new makeup brushes? No. And your mom deserves that level of luxury in her life.
8. A Fragrance Collection
Tocca Meet The Girls Fragrance Collection, $62, Sephora
Ten different scents means she can have one for every purse. Plus, they'll make for a really cute Instagram photo after she opens them.
9. A Bath Set
Amazing Grace Gift Set, $57, Sephora
This amazing-smelling bath set comes with bubble bath, body cream and perfume and is the definition of #treatyoself.
10. Lots Of Soap
Christmas Miniatures Soap Collection, $45, Jo Malone
Remember when you were little and your mom was always asking, "did you wash your hands?" Now, you can return the favor in a super-chic way.
11. A Mask Set
Peter Thomas Roth Mask-a-holic 5 piece set, $70, Amazon
This is the easiest way to introduce your mom to the next hot thing in beauty: Binge masking. This so-crazy-it-just-might-work treatment involves putting on bunch of masks one after another to treat all of your skin woes back to back. Talk about a night of pampering!
12. Skin Rejuvenating Pillow Case
Iluminage Skin Rejuvinating Pillowcase With Copper Oxide, $60, Amazon
This copper-infused pillowcase will help maintain skin's youthful appearance and minimize visible signs of aging as you sleep. Maybe treat yourself to one, too?
13. The Ultimate Lipstick Kit
Bite Beauty Discovery Set, $39, Sephora
Consider this a peace offering for all of the lipsticks you borrowed from your mom (and lost) in your younger years.
14. An "Anti-Aging" Gadget
Arbonne Intelligence Genius Ultra Set, $241, Arbonne
OK, so this is obviously a splurge, but again — your mom deserves it! This new gadget from Arbonne skincare warms up and massages products into the skin more effectively.
15. A Personalized Makeup Bag
Makeup Bag, $11, Etsy
This way, she'll think of you every time she "puts on her face" (suchhh a mom phrase!).
16. A Skincare Kit That Gives Back
Purlisse Skin Survivor Kit, $76, Purlisse
This is the ultimate woman-to-woman beauty gift that gives back, because all proceeds from every purchase go to support Look Good, Feel Better, a non-profit that provides beauty services to women fighting cancer.
17. An Award-Winning Hand & Body Cream Set
Supergoop! Forever Glowing Holiday Set, $52, Aha Life
I'm sure your mom was the first person who taught you how important SPF was. Show her how much you've learned by gifting her this set from Supergoop! which includes an award-winning hand cream and body butter.
18. A Limited-Edition Foundation
Deluxe Original Foundation Collector's Edition, $31-$43, Amazon
If your mom likes to keep her foundation light and natural, give her this collector's edition formula from bareMinerals.
19. An At-Home Facial Tool
You could give your mom the gift of a facial or you could give her the gift of endless at-home facials with the PMD Pro. Show your skin some love by using an eco-friendly, alternative exfoliator, the PMD Pro. This gadget gently exfoliates and removes dead and damaged skin cells, allowing for products to penetrate 20 times deeper. Insane.
20. A Fancy Body Serum
Kayo Daily Remodeling Serum, $46, Revolve
Your mom is probably already slathering her face in expensive serums, but she likely does not have one for her body. This incredible product from Malibu-based Kayo is filled with hyaluronic acid and their omega oil blend, and it'll give her body a radiant, overall glow.
Images: PMDBeauty/Instagram; Courtesy Of Brands