5 Revelations About Sex And Gender In Tokyo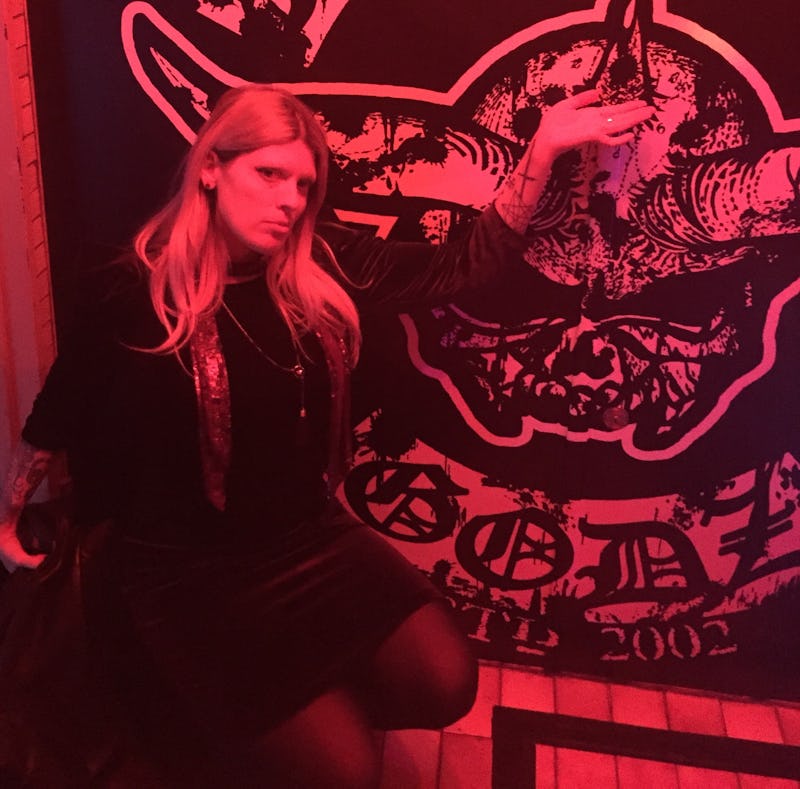 For the uninitiated, Tokyo conjures scenes of bright lights and unknown pleasures. It's a hedonistic paradise plucked from a retro futurist sci-fi novel where anything goes — for men, at least. After recently examining gender and sexuality in Tokyo as part of a delegation from the Carnegie Council, I can affirm that this vision isn't altogether inaccurate — but there's a lot more to the picture than meets the eye.
In 2015, Japan was ranked 101st in gender equality by the World Economic Forum. The East Asian country may boast the world's third largest economy, but was bestowed with this exceedingly low ranking due to political, economic, education, and health-related factors. Given this gender disparity, where women make 30 percent less than men and only an estimated four percent of female sexual assault victims file police reports because conviction of rape is so rare, one might imagine that autonomous female sexual expression would have no place in society, and any inkling of it would be all but hidden. While I found the former to be untrue, the latter hits the nail on the head.
There are plenty of outlets for female sexual expression — maybe even more so than in New York City — but, they are, by and large, hiding in plain sight.
There are plenty of outlets for female sexual expression — maybe even more so than in New York City — but, they are, by and large, hiding in plain sight. As someone who has spent decades studying Japanese culture, I was thrilled to be chosen as a delegate for the Asia Dialogues program to explore this subject. My graduate work was on gender in Japanese culture, and I once served as Gallery Officer for the Japan Society, but I've never had the chance to explicitly look into the explicit side of Japan in a serious way. Such a broad subject undoubtedly requires years to properly examine, but I had to start somewhere.
The trip — my sixth to Tokyo — was indeed short, but a combination of jet lag and a constant IV of iced matcha helped me pack a lot into my time on the ground. From interviewing young women about sexual mores and conversing with professors and gender researchers to checking out sex shops and attending a live kink show, my stay was a mishmash of academia and underground delights.
It would be impossible to detail all the revelations I had while in Tokyo, but these are five vital things I learned about sex and gender as I traversed the city in mid-November:
1. Sex Shops Abound, But There's Only One Women-Owned And Run Sex Shop
Sex shops in Tokyo are plentiful, providing all the kinky gear and goods you could ever dream of. And yet, the inclusive, women-centric sex shops we're spoiled with in big cities across America (hello, Babeland) are nearly non-existent — save for the Love Piece Club.
Founded in 1996 by outspoken feminist Minori Kitahara, the LPC "comes from a female perspective in support of women's sex lives." The company has a frequently updated feminist blog, they support Tokyo's yearly pride festivities, they've put out zines with everything from comics to features on feminist activists, and they're open once a week for women to enter their show room (men are only allowed entrance with a partner) to peruse their wares in person.
As the standard bearer of sex-positive Tokyo, the LPC was a must-see. Once I found the unmarked store within a nondescript office building, I was warmly welcomed and ushered to a table where I could flip through their catalogue as the women in the back were hard at work, snapping pictures of sex toys to put online and filling internet orders. I spent the next half hour checking out the LPC's selection of vibrators, harnesses, books, and toys and settled on a few zines, a mini-vibrator that looked like a devil, and some lube. My exit was accompanied by a chorus of thank you's as I carried out a bag carefully sealed with a sticker that read: "Enjoy Toys and Freedom!" — a glorious goal, if you ask me.
2. Flirtation Is For Sale Everywhere, And Not Just For Men
Men around the world can buy flirtation with ease, but women aren't always given that option. This dynamic is upended in host clubs, where Japanese women can drop money on drinks and the young, hunky gentleman of their choice for conversation, flirtation — and sometimes a little extra.
In Kabuki-cho, the entertainment/red light district of Tokyo, backlit signs sport pictures of spiky-haired, glammed out guys you can get to know — for a price. The 2006 documentary The Great Happiness Space is a window into one popular Osaka host club, where a host on staff notes that his job, above all, is "to cater to [women's] desires."
In the club, hosts and their clients talk about problems, they tell jokes, they share personal details, and most of all, they party. A few women end up having sex with their hosts, but mostly, it's more about flirtation and building a rapport that can span into a years long relationship.
Granted, there can be a variety of dynamics between hosts and their clients, but the fact that women can experiment and flirt with their fantasies in these establishments is one way Japanese culture normalizes and even encourages female sexual desire. You can be sure if one of these opened in New York City, I would be first in line with money to burn.
3. Sex Ed Is Sorely Lacking
Like many countries around the world, the sexual education in Japan does not adequately address the physiological and psychological aspects of sexuality. According to a recent article in The Economist, sex ed guidelines in Japan have barely changed since the 1990s. Students currently receive an average of three hours of sex ed per year, and just over 50 percent of the adult population believes young people over 15 should know how to use a condom.
The failure of the government to execute sex ed on a national level impacts young people in a variety of ways. As the female college students from Sophia University I spoke with explained, Japanese teens mostly find out about contraception from friends — not school. Although condoms were brought to their classrooms in high school, this group of girls noted that they were not shown how to properly use them. Where the educational system fails, however, efforts like "Condom Day," a viral trend which encourages folks to post pictures of themselves with a condom, help to raise awareness about the importance of safe sex.
4. Kink Is Becoming More Mainstream In Japan, Too
The BDSM scene is international. Even the week I was in Tokyo, the London-based kink party Torture Garden was having their own Winter Ball in town featuring a variety of performers from around the world. But while America may have Fifty Shades of Grey to thank in part for the mainstreaming of kink culture (however inaccurate that portrayal may be), Japan has Nana & Kaoru.
While interviewing a few young female fetish performers at the SM Festa — a 10-day event that included shibari, strip tease, and more — this manga was name-dropped as one piece of media helping remove stigma from their practice. Unlike the American pop stars from Rihanna to Lady Gaga who consistently infuse BDSM into their music videos, Japanese pop stars do not. At the same time, however, there are thousands of short-term stay hotels designed for sex (love hotels) peppered across the country, many of which are explicitly kink-themed. Bridging this gap between commonplace adult entertainment and pop culture, Nana & Kaoru began as a comic about young people experimenting with kink (the young, studious Nana finds out the practice helps her relax and do better in school), and has since turned into a phenomenon. The series boasts over 16 titles, an animated adaptation, and two live action films.
5. Gender Roles Aren't As Traditional As You Might Think
Gender and sexuality in Japan, as in any culture, is multi-dimensional, and cannot be reduced to any single narrative. That said, there are trends worth noting. There is admittedly gender disparity in the public sphere: maternity harassment is commonplace, abortion is only legal under circumstances of "economic hardship," and there are fewer female executives and government officials in Japan than in most highly-developed nations. This inequity bleeds into the private sphere as well, where traditional cultural expectations persist which dictate wives be subservient to their husbands and give up their professional aspirations after having children. But there are also those who challenge such views.
While interviewing the 20-something female performers at the kink festival, I was told emphatically that gender inequality isn't something they notice. In fact, women are more dominant in their age group, they pointed out to me, citing the popularity of host clubs and the "herbivore men" trend, named for a new generation of guys who aren't stereotypically macho, and who often expect women to make the first move. "It used to be that the red light districts are where guys go out to buy a girl, now it's girls who go there to buy a guy," one rope bondage artist explained.
Misogyny is indeed alive and well in mainstream Japanese culture, but there are spaces where female sexual agency is thriving. Whether in the kink scene, in Tokyo's sole feminist sex shop, or in host clubs across the country, alternate visions of how women experience and act on their desires are proliferating, offering a whole new lens through which to view sex and gender in contemporary Japan.
Images: Kristen Sollee; Amazon