Hourglass's Holiday 2016 Blush Palette Is Stunning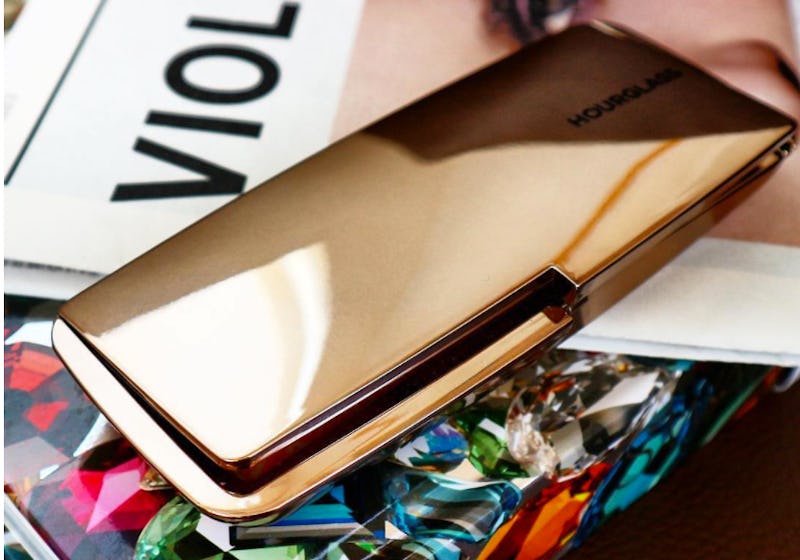 Hourglass does a good palette, everyone knows it. Each year things get a little sweeter with a new introduction to the fam, and the brand dropped the newest addition to the line-up on Instagram with a video. So what's in the Hourglass Ambient Strobe Lighting Blush Palette for holiday 2016? Well, two entirely new colors to deck cheeks with this season, for one thing.
The three-pan palette features two limited edition shades: Brilliant Nude, a tawny brown, and Euphoric Fusion, a grape purple, both marbled with champagne highlighter for the trademark Hourglass soft focus finish. Joining them is the brand's best-selling Incandescent Electra, a cool peach veined with golden powder. Encased in limited edition gold packaging, the Hourglass's holiday 2016 palette is currently available on their website for $62 dollars. Steep for three blushes, but Hourglass's powders have the quality to back up their price tag: the hand-made powders are formulated using an advanced miscelare technique (which means "to mix" in Italian) to create a unique balance of pigment and powder in each pan, according to the brand.
If the shades speak to you, better grab it quick — there are no dates listed for how long the palette will be available for, or whether it will make its way over to retailers like Sephora.
Ambient Strobe Lighting Blush Palette, $62, Hourglass.com
Eep. But given Hourglass's perfect track record with palettes, the investment isn't too big a risk.
Who among us hasn't seen their marble-packaged palette on every beauty fanatic's page for the past few months?
And that gold packaging, tho.
Beautiful inside and out.
Images: HourglassCosmetics/Instagram, Hourglass Cosmetics