Erika Jayne's Clubhouse Is Perfection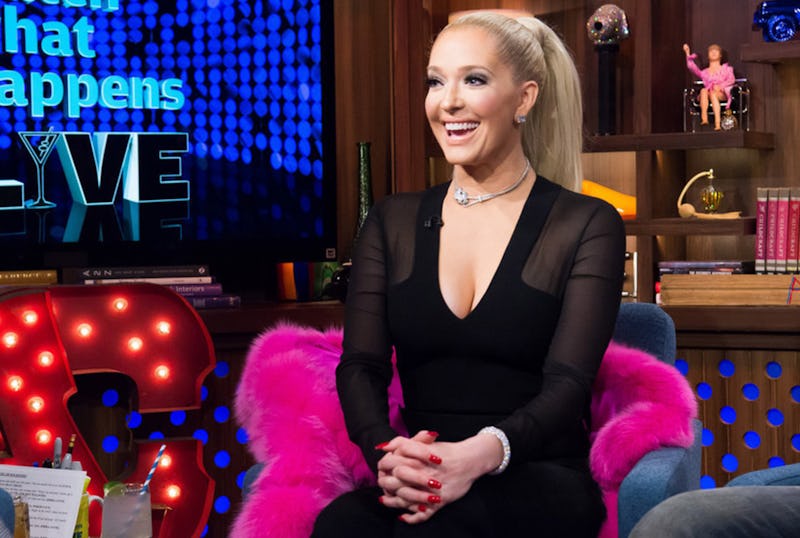 It looks like Andy Cohen is not the only Bravolebrity with a brand new clubhouse. Real Housewives of Beverly Hills star and mesh catsuit enthusiast Erika Girardi now has her very own Pretty Mess headquarters. On a new episode of Daily Dish web series Bravo After Hours, host Carrie Keagan stops by Girardi's personal hangout spot over in Hollywood, and the place somehow manages to be even more fantastic than I thought it would be. Dubbed the Pretty Mess Clubhouse, the space is all about Erika Jayne doing her Erika Jayne thing: there is an area dedicated to watching TV, an area dedicated to Girardi's wardrobe, and an area dedicated to hair and makeup. The possibilities are as glam as they are endless, the Pretty Mess Clubhouse is basically perfect, et cetera. You can check out the tour here.
If Girardi ever wants to swan dive into a couch and fire up a Four Weddings marathon, the Pretty Mess Clubhouse sectional sofa and television situation will have her covered. If she ever feels like doing the Sunday crossword, the Pretty Mess Clubhouse writing desk will be there for her. If she decides she would like to be covered head-to-toe in glitter, her hair and makeup and style team will know what to do. If she is ever compelled to put at least two dozen shimmering, stunning garments on her body at one time, the Pretty Mess Clubhouse clothing racks will have just the things she is looking for. And if she says the word "cocktail," margaritas will magically appear.
Is Girardi's Clubhouse accepting membership applications? Because if so, I would love to submit one. If I was a member of the Pretty Mess Clubhouse club, I would be all about this particular room:
I would spend all of my free time channel surfing under the neon light wall hanging, swaddled in bedazzled leotards. Obviously.
Images: Charles Sykes/Bravo; Bravo