5 New Ways to Ask Your Bridesmaids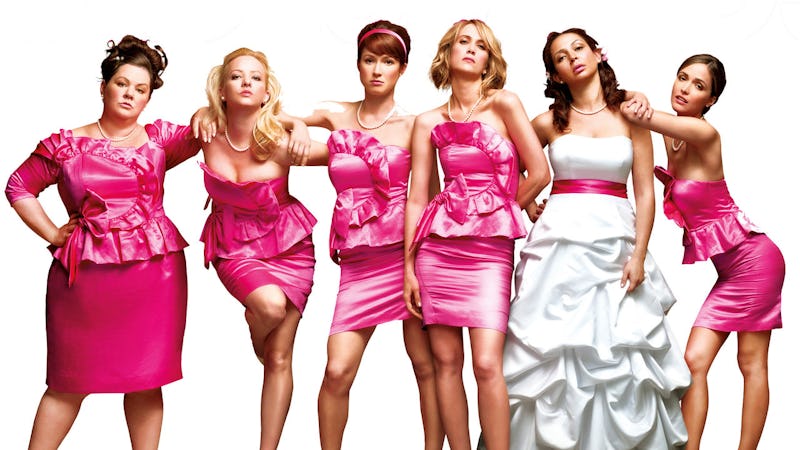 Your boyfriend has (finally!) popped the question, and now it's time to pose an equally important one to your best friends: Will you be my bridesmaid? Since being a bridesmaid is an emotional, financial (a whopping $1,700 per wedding, according to Wedding Channel) and time commitment, you want to put equal thought and effort into how you ask them to be a part of your big day. These five methods are certain to get a resounding yes from your friends — and in your moments of temporary bridal insanity, remind them of why they love you.
1. Photo Strip Magnet
These magnets are an incredibly cute — and cost effective — way to ask your best friends to join your side on the big day. All you need is some magnet paper (Staples has it for $8.99) and a laser printer. Select your favorite four photos of you and each girl, resize them to all be two inches by two inches, and align them in a Word document to mimic the strip you'd get in a photo-booth. Pop the question at the bottom of the strip, hit print and you've got yourself homemade custom magnets for each bridesmaid. The best part? Whenever they are frustrated with your bridezilla ways, all they have to do is glance at their fridge for a reminder of your friendship.
2. Keepsake Box
Remember in Bridesmaids when Annie gives Lillian a keepsake box full of mementos of their friendship as a shower gift? That same idea is a perfect and personal way to ask your bridesmaids (just don't have a colossal freak-out afterwards a la Kristen Wiig). Etsy has some great options for boxes or you could make your own, if you're feeling especially crafty. Then fill each with symbols of your friendship, and tears (of joy!) are practically guaranteed when you ask each member of your wedding party.
3. Wildflower Seeds
Ideal for the eco-conscious or outdoorsy bride, these pieces of heart-shaped confetti are actually wildflower seeds that can be used in a planter or garden. Place them in a cute pouch and secure it with a tag that pops the question, and you're good to go. Another plus: these beautiful gardens will live long past your wedding day, just like your friendships.
4. Customized Champagne
Let's face it: As much as your friends love you, being a bridesmaid can definitely come with it's own set of stresses. But a little bubbly is certain to soften the request. Etsy has a ton of label options, or you could create and print your own design. Cheers to that!
5. A Handwritten Note
I'm a huge advocate of the handwritten note: In the age of emails, texts and even SnapChats, notes have become even more personal and special than before. Check out your favorite spots for stationery and cards — you can even coordinate them to match your save-the-dates and invitations — and put pen to the paper to express what it would mean to have her as your bridesmaid. It's simple, understated, and, most importantly, from the heart.
Images: Apatow Productions; Tumblr, Rinse Repeat, Botanical PaperWorks, Allison Kuhn Photography, Tumblr