The Best Poetry Of The Past Year...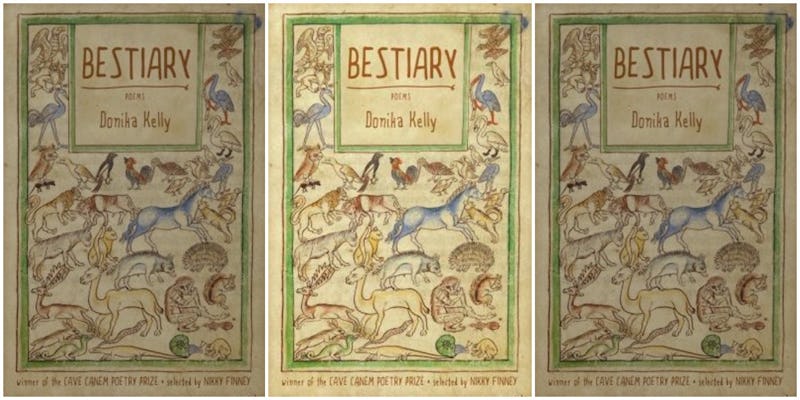 2016 has been a banner year for poetry — based on the look of my bookshelves, at least. Which is why compiling a list of the best poetry collections of 2016 was both easy (because there are so many great collections to choose from) and also really difficult (because there are so many great collections to choose from!) From the debut poets nominated for major awards, to the more seasoned poets who only continue to publish better with age, this year's best poetry collections pushed the boundaries of style and content, celebrated verse that merged the personal with the political, challenged social norms and resisted the status quo, gave voice to those who remain too-long underrepresented, played creatively with language, and examined the beautiful-messy complexity of the human experience.
And I wasn't the only reader who noticed more poetry creeping into her TBR pile this year. According to an article published in The Atlantic in November, poetry went viral after the 2016 presidential election. In the days after the election results were announced, people all over the world were turning to poetry in order to heal their wounded hearts and empower their weakened spirits — which are two things we poetry lovers know poetry does best.
Here are the 12 best poetry collections of 2016... according to me, anyway.
1. Look by Solmaz Sharif
Solmaz Sharif's debut collection, Look, isn't only one of my favorite poetry collections of 2016, it's one of my favorite poetry collections of all-time. Shortlisted for the 2016 National Book Award for Poetry, Look explores the ways humans engage in warfare today: against other countries, against ourselves, against our own language, and against the ways we tell inherent truths about our lives. Incorporating words and phrases from the Department of Defense Dictionary of Military and Associated Terms into her writing, Sharif's collection is jarring, haunting, and especially powerful right now.
Ocean Vuong is another debut poet who will make you feel like something really exciting is happening in poetry right now. His first collection, Night Sky With Exit Wounds, tells a story of war and cultural upheaval, and is written with language that conveys a visceral sense of loss, exposes violent undertones, and grapples with love, desire, grief, conflict, and disruption.
Vahani Capildeo is known as much for her performance poetry as she is for the words she leaves on the page, and you can hear the rhythm of that performer in every word Capildeo writes. Her prose-poem collection, Measures of Expatriation, tells an expatriate story of displacement, separation, and emotional isolation, demonstrating that the expat experience applies to more than that of someone who has left their own motherland for another — we can also expatriate ourselves from relationships.
This collection won the 2016 National Book Award for Poetry, so you know it's one you'll want on your shelves. With raw, edgy, and occasionally-violent verse, in The Performance of Becoming Human Daniel Borzutzky tells a story about how politics destroy people, how systemic violence destroys communities, and how humans struggle with being defined by, and transcending, the borders they face.
You won't experience the full effect of Alice Oswald's poetry unless you read her words aloud — she writes with a mind for sounds, syllables, and the patters of speech, informed and inspired by oral storytelling traditions. Falling Awake revisits tales from Greek mythology, exploring the gods and goddesses in charge of the natural world and their dealings with the human one.
Kate Tempest is another poet — this time working in the long-form poetry — who has written her words with spoken performance in mind. Let Them Eat Chaos tells a story of the small, inconsequential moments in the lives of seven neighbors who live on the same London street but who have never met one another personally. When all are simultaneously unable to sleep one night during a storm, their lives finally have occasion to collide.
Another debut poet to be nominated for the 2016 National Book Award for Poetry, Donika Kelly is one of the more musical, rhythmic poets I've had the pleasure of reading recently. Bestiary explores the world through the stories and legends of mythological creatures — great beasts like the whale and the centaur pound their way across Kelly's pages alongside the less-overt beasts that exist hidden inside the nature of human beings.
A difficult but necessary poetry collection to read right now, H.L. Hix's American Anger: An Evidentiary takes a critical stance against American anger, exploring the function of anger as a staple in American politics (something we're all-too-familiar with now) as well as personal life, and the psychology and philosophy of anger as both a call to action and a debilitating force.
9. Rapture by Sjohnna McCray
Yet another debut poet to shake up the poetry scene this year, Sjohnna McCray is the child of a Korean mother and an American father, who was born in the United States during the tense years of the Vietnam War. His poetry collection, Rapture, explores exactly how this unique family history and the individual histories of his parents have informed McCray's own identity. Rapture takes readers on a journey of the self, asking what if and what if not, and explores the different ways one's unique identity can emerge throughout a lifetime.
10. Sunshine by Melissa Lee-Houghton
Inspired by her own time spent in psychiatric hospitals, Melissa Lee-Houghton's Sunshine is one of the rawest, more painful collections of poetry you'll read this year. Tackling topics like abuse, addiction, and mental health, Lee-Houghton takes on the ecstatic highs and debilitating lows of living a disordered life, writing with both dark humor and an acute awareness of the vast spectrum of human emotion.
Violet Energy Ingots is a poetry collection that tackles vast terrain, exploring human failings alongside the inherent beauty in the world. Poet Hao Nguyen writes about politics and war, the economy, global warming, love and religion, the Mayan calendar, menstruation, the solar system, the inability to find the exact right word when it's needed — and that's just the tip of this poetic iceburg. Nguyen's writing is vivid and kaleidoscopic, and you're just as apt to get lost in her imagery as you are to be moved by her messages.
Katharine Towers' poetry collection, The Remedies, explores the fragile human relationship with the natural world. But while humans are often at fault for meddling with natural rhythms and cycles of the environment, in Towers' poetry it's the human landscape that often seems to become consumed by the nature around it. The Remedies will remind you of the will the environment actually has to survive — that we need the world more than it needs us, and that by destroying it rather than working in humble partnership with it we're only destroying ourselves.