'Conviction' May Be At The End Of A Short Sentence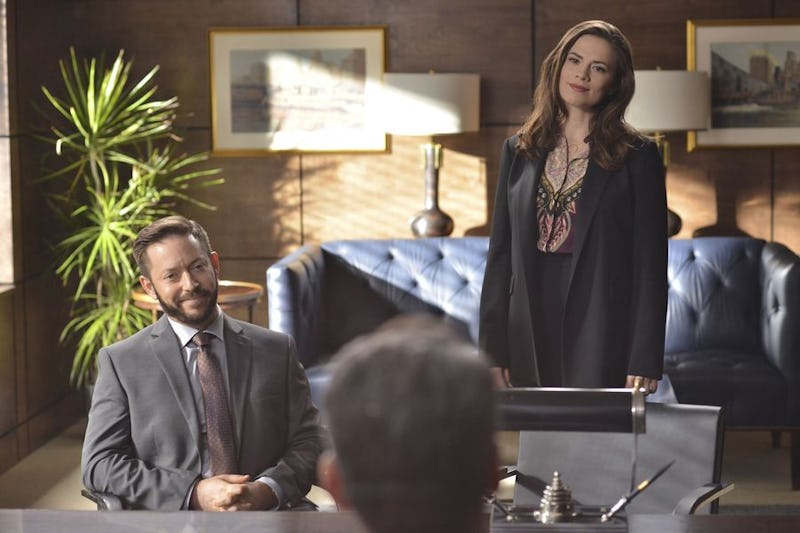 Monday, Dec. 5 is the fall finale for ABC show Conviction, but there's some conflicting reports over whether it's the end of the line for the series or not. Conviction will return for more episodes likely in the winter or spring, but, according to a report by Variety, once its 13th episode has aired... that's it for the show. The outlet reported that there's been no official cancellation call, but that the series was reportedly not picked up for the remaining nine episodes. And, according to The Hollywood Reporter, "ABC is not moving forward with additional episodes ... though the network is retaining the cast options." Considering that no more episodes have been ordered and ratings have been consistently low, it's not looking good for a Season 2.
However, there will be four more episodes for fans to look forward to after the fall finale. But, star Merrin Dungey told TV Guide that, unfortunately, the final episode won't provide a firm conclusion or give the audience much closure. "We were ordered for 13 and we're going to do the full 13," Dungey told the outlet. Since the series was planned for more episodes before being cut short, it's going to leave the ending "open-ended," according to TV Guide. But, even without more Conviction, there will be plenty of other series premiering in early 2017 that could take its place as your go-to legal drama.
Scandal
Delaying the Season 6 premiere of this series until January 2017 just means that the show now has the opportunity to include the real unprecedented presidential election results into the narrative.
Goliath
Given how many big marquee series were premiering this fall, there's a good chance that you missed Goliath, a pretty good legal series from Amazon. It's anchored by great performances and lots of small stories rather than one big one, which gives it a network TV touch on a streaming service.
Making A Murderer
There's still no premiere date for this Netflix series' second season, but with the rising popularity of true crime, it would feel wrong not to nominate this one as a contender, especially given that real-life cases like Adnan Sayed's or Steven Avery's (or, on the other end of the spectrum, Robert Durst's) have captured the public's attention over the past few years.
Better Call Saul
The series just released some of its first Season 3 preview images with the tag that it will return in 2017. So without a premiere date, it might be a little early to get excited, but this series is so good, it's hard not to get prematurely thrilled over what will happen in the next installment of the Breaking Bad spinoff.
Striking Out
According to Deadline, Acorn TV made a deal to distribute Irish crime drama Striking Out in the USA in 2017. It's led by a tough female lawyer trying to make her own firm and seems poised to be the next addictive European series.
Bull
If you want to make sure that your new favorite show doesn't get unceremoniously cancelled, then I'd go for a CBS drama, and fall 2016 saw the premiere of Bull, which you may remember as the story of a young Dr. Phil starring a bespectacled version of Michael Weatherly who looked like a finely aged Chris Pine in all of the promotional photos promising to "Get You Off." As a major ratings hit, it seems unlikely to be leaving anytime soon.
So while it's still disappointing that Conviction likely won't be back — barring a shocking late in the game reversal from ABC — there will be plenty of other shows to watch in 2017 that should fit in a similar niche.
Image: Sven Frenzel/ABC; Giphy (2)