'Luke Cage' Season 2 Will Be Worth The Wait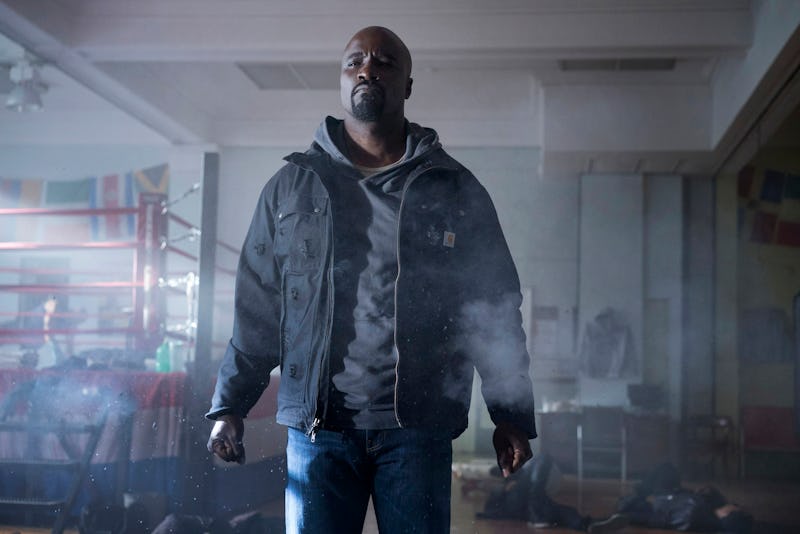 Netflix's own Marvel universe is still going strong — and so is the series Luke Cage. On Sunday, the TV show's Twitter account announced that Luke Cage has been renewed for a second season via a video featuring Pop's Barber Shop and the news flashing in neon in the window. So when will Luke Cage Season 2 premiere? The announcement did not include an exact return date for the series, which stars Mike Colter as the title character. The show debuted to rave reviews in September, so usual Netflix premiere date prediction formula would let me say that it's likely to expect Season 2 to bow a year from now, but Luke Cage is in the Marvel Cinematic Universe — and that makes it trickier to predict.
UPDATE: Netflix announced in March that Luke Cage will return for Season 2 on June 22.
EARLIER: The Marvel Cinematic Universe's Netflix world also includes Jessica Jones, Daredevil, and the upcoming Iron Fist, which debuts in March 2017. These heroes are set to unite in the limited eight-episode miniseries The Defenders in 2017, which has caused both Jessica Jones Season 2 and Daredevil Season 3 to be pushed to 2018, according to Screen Crush. The publication didn't specify a reason for the delay, only that the news came from Netflix Chief Content Officer Ted Sarandos at the Summer TCA press tour. Entertainment Weekly writer Natalie Abrams also confirmed Netflix's order of release on Twitter.
Taking that into account, it's quite possible that fans may have to wait until 2018 or 2019 for Luke Cage's big return. But Luke Cage, Jessica Jones (Krysten Ritter), Daredevil (Charlie Cox), and Iron Fist (Finn Jones) will all appear in The Defenders to ease the wait for more Marvel on Netflix.
Images: Myles Aronowitz/Netflix; LukeCage/Twitter