Kat Von D x Too Faced Heart Palette Is This Price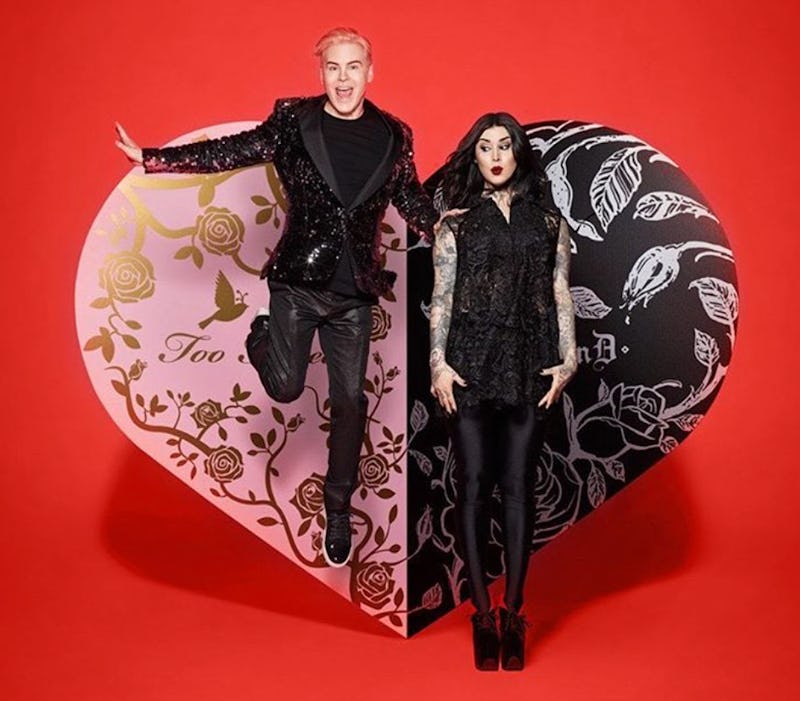 If you get a Sephora gift card this holiday season, you're probably going to want to use it immediately on Monday, Dec. 26. Why so quickly? That's because the Kat Von D. x Too Faced "Better Together" Collection launches both online and in stores on that date. The coolest item in the set, IMO, is the heart-shaped eye palette, which is half-pink for Too Faced and half-pink for KVD Beauty. The magnetically connected palette breaks apart into two halves and is limited edition, as well. It's an amazing makeup mashup that not only fuses both brand's unique aesthetics. It also reminds Sephora shoppers and fans that beauty brands needn't be at odds and that a brand collab is totally doable, possible, and doubly benefits both the companies and their customers. How much is the Kat Von D x Too Faced "Better Together" palette?
According to a post on the Kat Von D Beauty Instagram, the palette, which is a Sephora exclusive, will set you back by $65. But since each half includes all-new eyeshadow shades from each brand as well as a full-sized Too Faced Better Than Sex Mascara and a Kat Von D Tattoo Liner, it's a true makeup treasure chest with a lot of elements and is a killer value
I am making a beeline for this baby the day after Christmas, that's for sure.
You get six shadows from each brand in a cool, display-worthy palette.
The beauty of this palette is that it can introduce the Too Faced customer to KVD's dark and edgy offerings or it can totally expose the Kat Von D-evotee to Too Faced's powder pink, good-girl-with-a-wink style.
This is a previous post with all the details and that offers a good look at the palette itself. Get ready for a #ByeMoney moment on Dec. 26, thanks to KVD x Too Faced.
Images: Kat Von D/Instagram (1); Kat Von D Beauty/Instagram (2)