15 Long Ass YA Books That Are Totally Worth It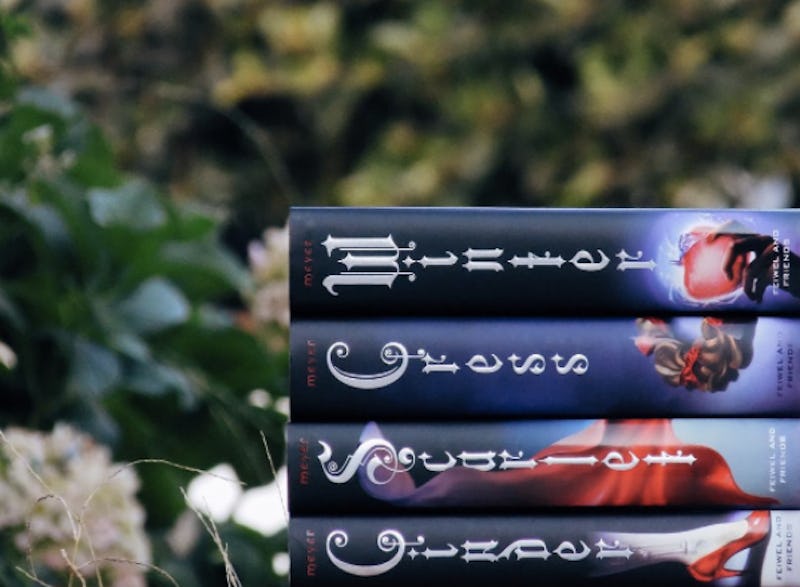 I like big books and I cannot lie. There is something extremely comforting about starting a really long book. You walk into the story, make yourself comfortable, and settle in for a while. But the longer the book, the more pressure there is to keep the action and suspense going. Some of these, like The Diviners by Libba Bray, and Goblet of Fire by J.K. Rowling, are part of already well-loved fantasy series. Others like The Miseducation of Cameron Post by Emily M. Danforth and The Unexpected Everything by Morgan Matson are contemporary standalone novels that transport you into their worlds.
Sixteen years ago books by Amelia At-water Rhodes and Annette Curtis Klause came in at under 300 pages. Nowadays, it isn't that uncommon for YA novels to go over five or six hundred pages. Anyone who has sat through Moby Dick and Anna Karenina understands how much of a commitment these tomes are. But the following list of books doesn't feel like work at all. In fact, I'd happily read an extra 200 pages by the following authors. You want to live in the magical streets of New Orleans, or head fast into space, or fight alongside Bitterblue. Let's get down to business.
1. The Miseducation of Cameron Post by Emily M. Danforth
Emily M. Danforth's literary debut from 2012 is more relevant than ever. When Cameron Post moves to a small Montana town and is outed as gay, her ultra-religious aunt tries to "fix" her. Cameron Post will be brought to life in a movie starring Chloe Grace Moretz and Sasha Lane.
Total page count: 470
2. And I Darken by Kiersten White
Not just one of the best covers of 2016. A gender-reversing feminist historical fantasy about Lada, a fierce and brutal princess who longs to fight for her destiny.
Total page count: 475
3. Seraphina by Rachel Hartman
Humans vs. dragons in this epic fantasy. Seraphina Dombegh tries to protect her own secret as she joins the investigation of a dead monarch. The sequel, Shadow Scale, comes in at 602 pages. But please start here.
Total page count: 499
4. The Unexpected Everything by Morgan Matson
Andie is a politician's daughter. After a scandal flips her world upside down, she has to prepare for the unexpected things in life.
Total page count: 519
5. Salvage by Alexandra Duncan
Ava lives in a male-dominated merchant ship. After a calculated betrayal, she flees to a floating continent in the Pacific Ocean where she must fend for herself. Ultra feminist science fiction.
Total page count: 520
6. Beautiful Creatures by Kami Garcia and Margaret Stohl
A magical girl falls in love with a human boy. They are connected by centuries of lore, curses, and a doomed fate. A lush goth set in the present, but harkens to the past.
Total page count: 563
7. The Casquette Girls by Alys Arden
After a storm leaves her home of New Orleans devastated, Adele le Moyne finds herself thrust into a world of myths and monsters that date back to her own ancestors.
Total page count: 565
8. Bitterblue by Kristin Cashore
Queen of Monsea, Bitterblue must uncover the truth behind the decades-long spell that has hold of her kingdom.
Total page count: 576
9. The Diviners by Libba Bray
Set in the roaring 1920's, Libbra Bray brings this era of jazz, gin, and flappers to life — with a touch of murder, magic, and mystery, of course.
Total page count: 578
10. Illuminae by Amie Kaufman and Jay Kristoff
In the year 2575, two megacorporations are at war over a planet. Kady and Ezra, freshly broken up, are caught in the middle. But how can they save the planet when they couldn't save their relationship?
Total page count: 600
11. Tilt Ellen Hopkins
This standalone novel in verse deals with teen pregnancy, HIV, and self-harm in the powerful and compassionate way only Ellen Hopkins knows how.
Total page count: 608
12. Last Sacrifice by Richelle Mead
If like me, you're pissed that Vampire Academy isn't getting a second movie, dive back into the series. In the final installment, Rose is framed for the murder of a royal. Her whole life has been dedicated to saving others, now it's their turn to save her.
Total page count: 608
13. The Beauty of Darkness by Mary E. Pearson
If you haven't started this trilogy, please remedy your life choices. As war comes to her kingdom, Lia assumes the role of leader. Truly epic.
Total word count: 679
14. Harry Potter and the Goblet of Fire by J.K. Rowling
Order of the Phoenix might be longer, but Goblet of Fire is my favorite. Harry couldn't have pulled off the tournament on his own, and it's Hermione's time to shine.
Total word count: 734
15. Winter by Marissa Meyer
The final installment of the Luna Chronicles brings together the title characters from books 1-3. In this sci-fi retelling of Snow White, Winter launches a revolution against her evil stepmother.
Total word count: 832
Images: Readsleepfangirl /Instagram