9 Weird But Innovative Underwear On Amazon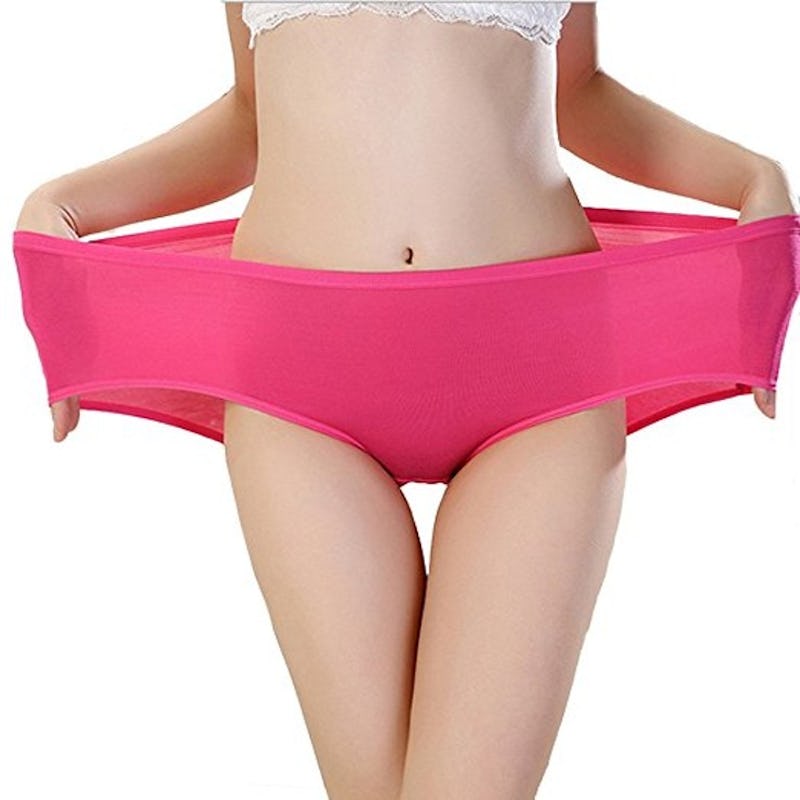 If your family is anything like mine, then underwear is the go-to fallback gift idea for all birthdays and holidays. After all, you can never have enough of something that takes a constant beating, needs perpetual washing, and gets worn daily. Basically, it's always good to have tons of backups. Still, innovative underwear designs can go a long, long way if you're looking to spice up a gift that's a little bit "been there, done that." Best of all, you can purchase these weird but innovative pairs (for yourself or for someone else) right from the comfort of your own home on Amazon, so you don't even need to venture to the store.
While there's nothing particularly wrong with your standard pair of nylon-spandex panties (and you've been doing just fine with an underwear drawer full of them), unusual underwear designs can turn your panty-wearing experience into something that's way more comfortable, practical, and innovative than you ever thought possible. These weird but kind of genius inventions help to solve basic everyday problems, like when you're headed to the bar sans wallet and you've got nowhere to keep your ID. Someone was clearly doing a bit of out-of-the-box thinking here, but personally, I'm pretty damn impressed by the underwear-related brainstorming that's apparently been going on in the fashion and tech industries.
TEERFU Bamboo Underwear Boyshorts, $15-17, Amazon
This five-pack of TEERFU Bamboo Underwear Boyshorts is actually made with bamboo fibers that make them the most breathable, lightweight, and soft underwear you might ever wear. They're also ridiculously hygienic, given that bamboo is naturally antibacterial and prevents the growth of mites and odor. Finally, their all-over stretch and comfortable seams ensure that you get all the movement you need without any pinching or rolling.
Everbellus Seamless Butt Lifter, $15, Amazon
If you're looking for a little bit extra support in the trunk, these Everbellus seamless butt lifter panties are your answer. The fabric itself is seamless, breathable, and lightweight for invisibility underneath clothing, but they've also got two comfortable pads that lift and define to provide you with natural looking curves. "My butt looks like I have been squatting for days," says one happy reviewer.
Barbra's Travel Zipper Pocket Girdle Panties (S - XXXXL), $26 - $28, Amazon
Yep, you read that right. These travel zipper pocket girdle panties actually have a hidden zippered compartment where you can stash your valuables while you're traveling, working out, or at a concert. They come in a pack of six different colors, so you can match with any bra you own, and the pocket is roughly 6 inches by 6 inches — big enough to hold your passport, money, or ID. They have a high-rise design and triangular stitching for a slim, body-hugging fit. Put simply, "They are comfortable, slimming (like a panty-girdle), and practical."
Warner's No Pinching No Problems Seamless Panties (S - XL), $6 - $47, Amazon
With tons of rave reviews, there's definitely something genius about these Warner's No Pinching No Problems seamless panties. Their wide waistband and seamless stretch means that you've got an amazingly comfortable pair of panties that won't ever dig, roll, or ride. The high band helps to smooth everything out without being overly confining, and people have great things to say, like: "Most comfy underwear EVER… Stays where it is supposed to with no riding, rolling or digging in. I work long hours on my feet and I am grateful to find these undies!"
FOXERS Boxer Briefs With Pockets (XS - XXL), $23 - $30, Amazon
I'm in love with these FOXERS boxer briefs with pockets, all because of their ultra-soft cotton fabric and innovative design. They've got side pockets, a button-down front, long legs and a roomy fit to prevent against chafing, and a stretchy waist for the best fit possible. Reviewers love them for everything from travel to sleeping, and they come in over 25 fun styles and patterns.
Menstrual Period Briefs (S - XXL), $16, Amazon
You might have heard of menstrual panties before, but these menstrual period briefs bring comfort and leak-proof support to a new level. Yes, they provide a broad fit and a cellulose fiber lining that absorbs even the heaviest cycles, but because it's made primarily from bamboo fabric, it's also antibacterial and way more hygienic. In addition to all that, this pack of three is also breathable, comfortable, and stylish.
ExOfficio Give-n-Go Sport Mesh Hipkini (XS - XL), $18 - $37, Amazon
If you're big into sports, travel, or camping, these ExOfficio Give-n-Go sport mesh hipkinis are the pair for you. Not only are they made out of a careful combination of fabrics to create an ultra-breathable lightweight mesh that dries faster than anything else, but they're actually infused with an antimicrobial treatment that helps to fight odors and keep everything clean, no matter how much you move or sweat.
Hesta Organic Cotton Basic Panties (XS-XL), $23-30, Amazon
If you think organic is just for the product aisle, think again. This three-pack of Hesta organic cotton basic panties might look basic, but they're actually the most ideal choice for sensitive skin, because they use organic cotton, no synthetic dyes, no bleaches, and have a soft, stretchy fit. "These are the best cotton panties I have found in years," says one reviewer. "The lace waist fits well without being tight, providing a smooth line under clothes. … Finally a lovely, attractive, and comfortable pair of cotton underpants that have good coverage."
Women's Drawstring Boxer Briefs (5-9), $42, Amazon
These Women's Drawstring Boxer Briefs are another incredible option for people with sensitive skin – especially those who get a reaction to elastic. They're made with nothing but 100 percent organic cotton, and contain zero chemicals or synthetic ingredients. Instead of elastic, they have a cotton drawstring and cotton seams around the legs for ease and vitality no matter what you're doing. "If you have allergies to spandex, elastic, and lycra or synthetic materials that most underwear available for women is made of, then I recommend these," says one reviewer.
Bustle may receive a portion of sales from products purchased from this article, which was created independently from Bustle's editorial and sales departments.
Images: Amazon (10)