You Can Dance To The 'Hairspray Live!' Soundtrack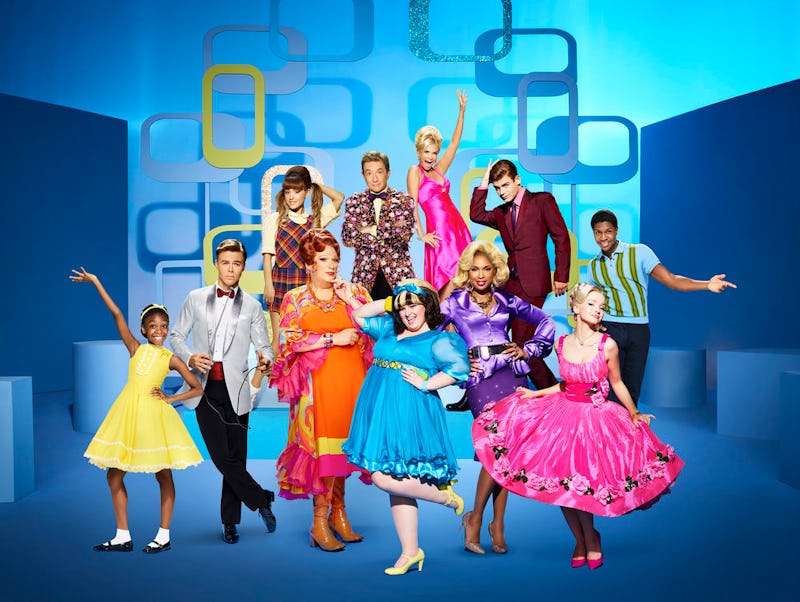 The nicest kids in town are back when Hairspray Live ! airs on NBC on Wednesday, Dec. 7. Along with newcomer Maddie Baillio in the role of Tracy Turnblad, the musical stars Ariana Grande, Kristin Chenoweth, Harvey Fierstein, Jennifer Hudson, and Martin Short, among many others. Based on the previews, it's clear that NBC put a lot of time and effort into perfecting this particular adaptation. So, wanna get started on your twirls, splits, and tapping? Here's where you can listen to the Hairspray Live! soundtrack ahead of (and after) its live broadcast.
The cast recording features 19 tracks, including a mix of songs from the 2002 Tony Award-winning Broadway production and the 2007 feature film. Although there are some new tunes, such as a finale duet called "Come So Far (Got So Far to Go)" that Hudson (as Motormouth Maybelle) sings with Grande's Penny Pingleton, there's also a healthy amount of songs fans will recognize if they're familiar with the musical. And there's even one that was cut from the movie version, as songwriters Marc Shaiman and Scott Wittman confirmed to Playbill that, yes, the showstopper "Mama, I'm a Big Girl Now" is indeed going to be performed by Kristin Chenoweth, Andrea Martin, and Harvey Fierstein.
Hungry for more? Pick your player of choice to stream the soundtrack and see if you can stop the beat.
Spotify
Don't worry about ruining your work day — you can still be productive by streaming the entire album on Spotify. I won't tell when you rock out.
Apple Music
For the iOs lovers or for those on the go who only have their iPhones, Apple Music is streaming the soundtrack. You can also buy it from iTunes for $10.99 to own it forever. Happy listening!
Amazon
The full soundtrack is also available for unlimited streaming at this link with Amazon Music Unlimited, which is currently offering a one-month free trial. And if the music really tickles your fancy, you can buy it from Amazon for $10.99.
No matter how you choose to listen, I guarantee you'll enjoy rocking out to some of Hairspray Live!'s greatest songs, just like Tracy Turnblad.
Images: Brian Bowen Smith/NBC; Giphy (2)