Powerful Ads Treat Makeup Like... Makeup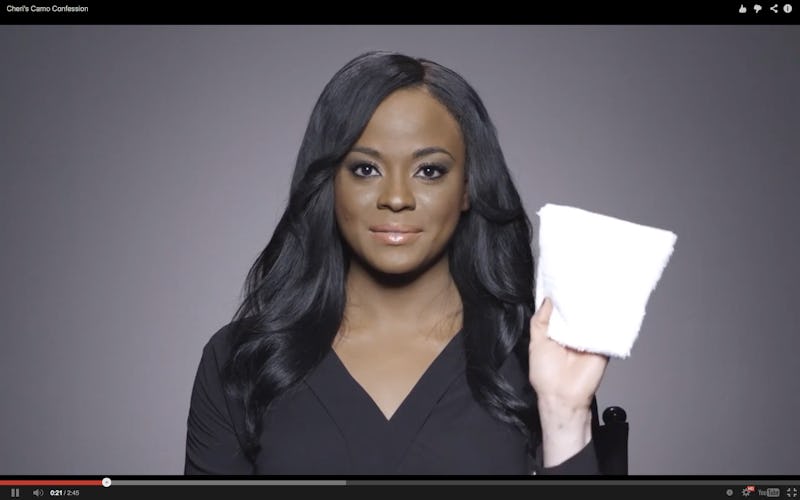 Beauty advertisements tend to be aspirational at best and wildly unrealistic at worst, implying that their products aren't just products, but magical potions designed to make you the prettiest princess at the ball, improve your love life, and keep you young forever and ever and ever. Now, amazingly enough, a new pair of videos by Dermablend (a brand of foundation known for its heavy-duty coverage) refuses to pretend that foundation is anything but practical, dot-it-on-your-face-and-blend makeup, and the result is incredibly moving.
The videos feature two gorgeous young women, both of whom suffer from a severe skin condition. Cheri Lindsay has vitiligo, a skin pigmentation condition, which began rapidly spreading across her face and body during her sophomore year of college; Cassandra Bankson has dealt with severe acne since the third grade. The women pose against a black background and present their beautifully made-up faces to the camera — before wiping it all away with a washcloth.
Cassandra says,
School was really hard for me. I got acne in the 3rd grade, and it progressively got worse. I was called "freak of nature," "exorcist," — and there was a point where my grandfather was actually on his deathbed, and he means the world to me, and I was told it was a good thing he was dying because he would never have to see my face again. When you hear things like that on a daily basis, it becomes really really hard to love yourself.
Cheri says,
All of this came within the past 3 years or so, and it was shocking to me at first, because of how much came so fast. It's not that easy to deal with…. I chose to just find an alternative, something I could put on my face that could help people look through the initial shock of, "Oh, half her face is white but she's a black girl." Nobody's 100% perfect.
Tears! And what's especially amazing about these ads is that they don't bother engaging in any sort of shallowly empowering dialogue about beauty. They don't try to turn makeup into something it's not. (What makeup is: "cosmetics such as lipstick or powder applied to the face, used to enhance or alter the appearance." What makeup is not: fairy dust, essence of happiness, the Fountain of Youth.) These ads are extraordinarily straightforward about the ultimate function of foundation: to cover. To create an even — wait for it — foundation. It's practical. It's paint. And for Cassandra and Cheri, this simple, utilitarian product is a literal means to a better day-to-day life.
What Cassandra and Cheri seem to be saying is that the "real them" is them, their entire personhood, and not simply their faces. Makeup is not the real you, nor is it out to destroy the real you. It's just makeup. It's okay to cover up.
Watch the ads here:
Image: Dermablend