Where To Buy Make Up For Ever x Jessie J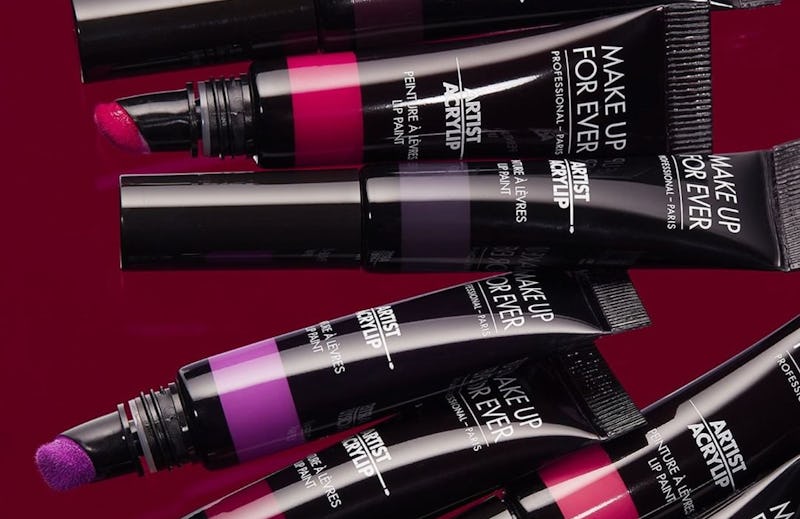 Epic collabs are old news for Make Up For Ever, but against all the odds, their latest celebrity partner is here and ready to fill the shoes of Icona Pop and Charlie XCX. These partnerships, part of the brand's Artist franchise, are basically powerful pop Santas, delivering huge ranges of new products in Make Up For Ever expert formulas. Just look at this summer's 45 shades of Artist Rouge lipstick, or spring's 20 colors of Aqua XL Eyeliner Pencil. Expectations, raised. So where can you buy the Make Up For Ever x Jessie J collaboration?
Past Artist launches have gone out to both Make Up For Ever's website and Sephora, so there should be no trouble getting your hands on the launch come Jan. 17: In just over a month Make Up For Ever is dropping ten shades of Acrylip, a high-shine lip paint that's going to redefine pigmented (think literal acrylic paint). Paired with Jessie J's high-impact looks and inclination for transformation, the product makes complete sense — it's the definition of committing while you're in, and then wiping it away for something new. Want to see the Acrylip in action? Jessie J released a remixed version of Frankie Valli's "Can't Take My Eyes Off You" to celebrate the collab with an all-out sensory experience. Rest assured, this isn't your parent's wedding song.
Commenting on the video, the artist told WWD, "The music video is a way to connect fans with these new, high-performance products through song and a unique visual experience. I had creative freedom to drastically change my look throughout the video using makeup. I even changed my hair color with each look, to celebrate past, present, and looks I have never done."
The video is fittingly sultry, as is the following information: Where both previous Artist collaborations were one-and-done product deals, this will be the first of four product launches Jessie J is releasing with Make Up For Ever over the next year. Speculation, starting now.
For the time being, you can get a hold of the Acrylip at Sephora and MUFE's website for $24, although no telling how the current stock will stack up to what's being released on Jan. 17. Just have to watch until then...and try to get this song out of your head.
Images: MakeUpForEverOfficial/Instagram