JFK In 'Jackie' Is A True Doppelganger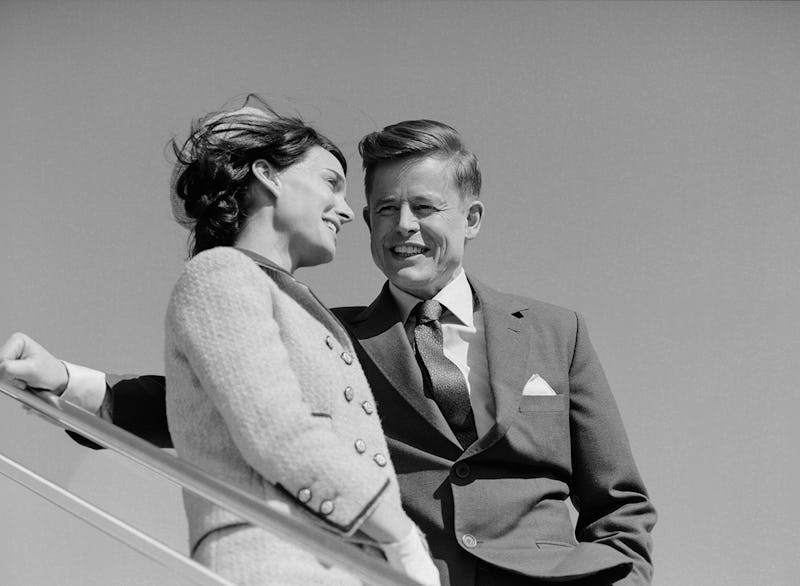 If you find yourself sitting in the movie theater watching Jackie and doing a double take when JFK comes on the screen, you won't be alone. The movie, which follows the events leading up to and following JFK's assassination and focuses on Jackie Kennedy, is already earning major Oscar buzz for star Natalie Portman. But, given the film's JFK's eery resemblance to the real man, Jackie could very well earn some Oscar buzz for best onscreen resurrection, or at least best special effects. The actor who plays JFK in Jackie looks so much like the real president that you'd be forgiven for thinking he was actually a Kennedy himself.
Danish actor Caspar Phillipson plays JFK in Jackie — and, no, he is in no way related to the actual President Kennedy. Prior to Jackie, Phillipson has spent his entire on screen career working in Scandinavian film and television. Off screen, he performs in musicals — according to his unverified Twitter page, he recently starred in a production of Pillars of the Earth . The essentially unknown actor only appears in a few scenes in Jackie and has very little dialogue, but what is most striking about his performance is really how much he looks like JFK. Phillipson might just be the most convincing on screen JFK ever. Here's a photo of the actor at a recent Jackie event:
And here is a photo of JFK:
The resemblance is pretty insane, right?
The focus on physical resemblance to cast JFK makes sense. When Larrain signed on to the film, he was determined to make Jackie Kennedy the focal point at all times. And, according to an interview with Film Comment , that meant asking screenwriter Noah Oppenheim to cut all scenes that didn't feature Jackie from the script. So, it's understandable that his top concern when casting JFK would be looks and dependability over name recognition. Hiring another well-known actor to play opposite Portman's Jackie Kennedy would have, no doubt, distracted audiences and made the film more of a Hollywood spectacle. Hiring a dead ringer for JFK could only make the movie more authentic.
In the end, Phillipson's casting as JFK in Jackie is freakishly good, and I think we'll all be surprised if the actor never plays the former president again.
Images: Fox Searchlight Pictures