Urban Decay's New Complexion Primers Are Amazing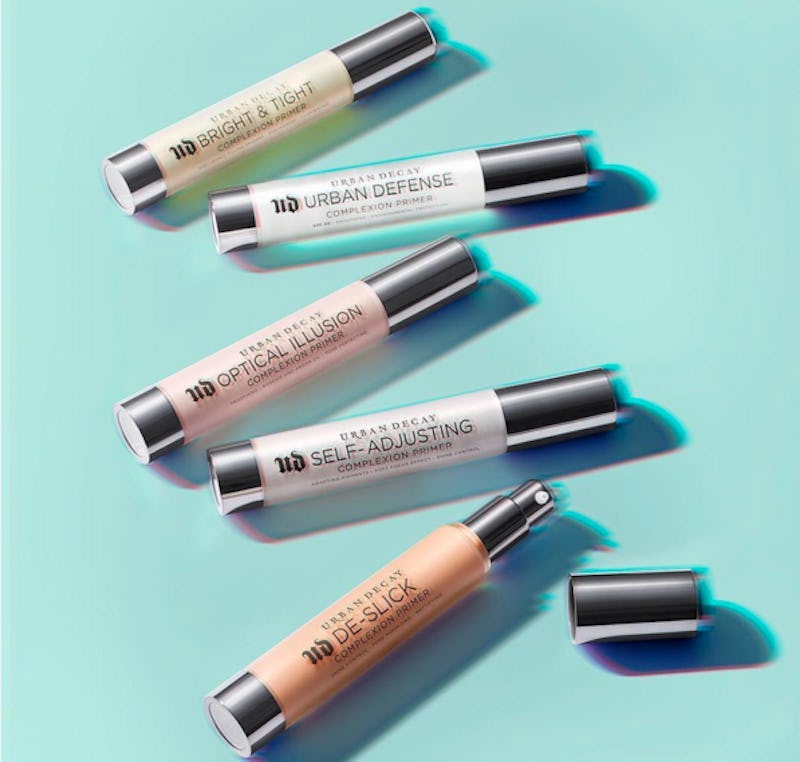 If you have long been a fan of UD's famous pore-perfection complexion primer potion, with all of its fabulous brightening and tightening properties, then you're going to love the brand's latest product launch. A recent post from the cosmetics label on social media has got many fans wondering — what's in the Urban Decay Urban Defense Complexion Primer Collection? Here is the 411.
Urban Decay has recently taken to Instagram to make the announcement of a brand new collection of face primers, and it's definitely something to get excited about. The line is comprised of five different complexion primers, each targeted for a specific purpose. It includes "Bright & Tight," which is likely aimed at brightening and firming skin, "Urban Defense," which I assume contains UV protection, "Optical Illusion," that sounds highly intriguing, "Self-Adjusting," and "De-Slick." The brand captioned the first photo of the new products, "Introducing our 5 new Complexion Primers, each targeted for a different skin concern." Unfortunately, not much additional information has been released, but judging by the look and the names of these babies, I'm sure they won't disappoint.
The brand already slays the primer category, offering a plethora of different kinds such as their signature eyeshadow primer potion.
Eyeshadow Primer Potion, $22, U rban Decay
As well as another targeted towards anti-aging with wrinkle-fighting properties.
Eyeshadow Primer Potion Anti-Aging, $24, Urban Decay
So there's no doubt in mind that their new complexion primers will be next-level amazing.
The collection is set to launch in Spring 2017. Keep your eyes peeled on Urban Decay's social media for more information soon!
Images: Urban Decay (2); UrbanDecayCosmetics/Instagram (1)