The Cost To Stay At 'Timber Creek Lodge' Is High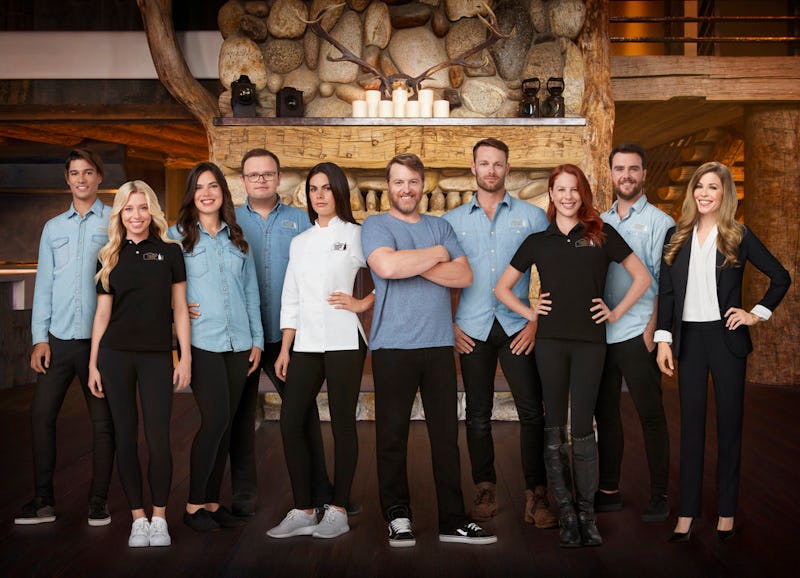 Bravo has a way of bringing fans into worlds that they wouldn't ever get a chance to view under normal circumstances. Shows like Below Deck let viewers see how the other half lives and, man, do they live large. The network's newest reality gem is kind of an offshoot of the short-lived Après Ski. Timber Creek Lodge, premiering Dec. 5, follows the crew of an exclusive Canadian ski resort that serves to extremely wealthy clientele. Basically, these people will cater to your ever whim and need if you have the Benjamins to pay for it. But exactly how much does it cost to stay at Timber Creek Lodge ?
Well, apparently it is so exclusive that they don't release the actual rates for this one-of-a-kind experience. According to the website, you actually have to contact them for information about booking and from there, you can basically customize your own vacation activities according to your wildest dreams. (Bustle reached out via the contact form for rates, but has not yet heard back.) Although there aren't exact rates listed, it is easy to see that this place is completely out of reach to the majority of us here on Earth. It isn't exactly the hotel down the street that will give you a continental breakfast free of charge. To give you a slight idea of what we are working with, they require a non-refundable $1000 deposit to begin with.
The amenities listed can really only be described as otherworldly. Just as a jumping off point, their website says that they can charter a helicopter, private car, limo, or plane to get you from the airport upon your arrival. Once you have traveled there via your chartered private helicopter (or limo, or whatever), you get to choose your activities. Do you want to ski with an Olympian? Well, they apparently have gold medalists "on speed dial." If you decide you want to check out the night life, their company owns five of the hottest bars/clubs around, so they will put your name on the VIP access list simply at your request.
After searching tirelessly, it looks like they keep their pricing information pretty buttoned up. They don't even show up in Yelp or TripAdvisor. I guess when you are super fancy, there is no need to rely on Internet review sites for business. The wealthy will find you. But, if you don't have an endless supply of cash, you can live vicariously through the people that do on Timber Creek Lodge, premiering Dec. 5 on Bravo.
Images: Eike Shroter/Virginia Sherwood/Bravo; Brendan Meadows/Bravo