You Holiday Shindig Needs These Napkins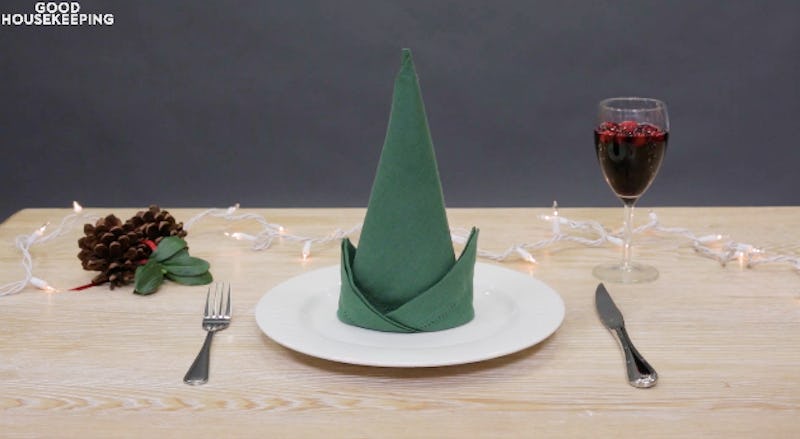 The holidays are the perfect time to try out your new fancy persona. You know, the kind that showers every morning and has sheets that are not from Target and uses actual cloth napkins. And folds those cloth napkins into shapes. Need some inspiration? Here are 10 holiday napkin folding ideas for 2016. If your New Year's resolution is to truly become that fancy persona, now would be the time get a head start — because hey, this year has been an actual dumpster fire, so why not at least try to end on a high note with some cloth napkins folded into butterflies? I like that idea. It gives us something to aspire to.
Folding your napkins into a festive shape is such an easy way to impress your guests. Sure, you're drinking out of plastic champagne flutes, but the napkins were in the shape of Christmas trees! So this is a fancy occasion. Most of these tutorials will be especially easy for fans of origami, but even the most three-dimensionally-challenged of us can get through at least one of these bad boys. I promise. Consider it one of the many ways one may totally win a holiday party (because yes, that is a thing).
Happy folding!
1. Oh, Christmas Tree...
Of all the Christmas tree tutorials out there, this one is arguably the most arresting. It's a three-dimensional tree that stands up on its own and can support the weight of an ornament. That's pretty amazing.
2. But Who Says All Trees Are Christmas Trees?
Hey dude, the environment is always in season. This tree is simple, classic, and reserved, and aesthetically soothing.
3. Star of David
Ugh, this is so cute and so relatively simple as far as tutorials go! All Hanukkah hosts, take note!
4. And a Non-Denominational Star
You know the whole "Scandinavian holiday" aesthetic? It's this. It's this napkin.
5. And Another Non-Denominational Star
Stars are popular because they are classy and look cool.
6. Fancy Pouch
Napkin pouches tend to be a bit easier in terms of execution, and they're great if you want to incorporate silverware into your place setting as well.
7. Elf Hat!
Yes, you read that correctly! Elf hat! It's a napkin, but also a costume! Wow!
8. A Classy Fan
Classic. Impress all of your guests with this true fan moment. They'll be like, "Am I underdressed for this dinner?" and you'll be like, "Yeah, probably. I mean, have you seen my napkins?"
9. Snowflake
As is true with a few other napkin tutorials, this one comes with the option to incorporate some sort of addition adornment, whether it be an ornament or a charm. Personally, I vote for chocolate.
10. Holiday Butterfly
OK, fine, there's no such thing as a holiday butterfly... but there should be. Let's make it happen.
Image: Good Housekeeping/YouTube