It's National Brownie Day, Everyone!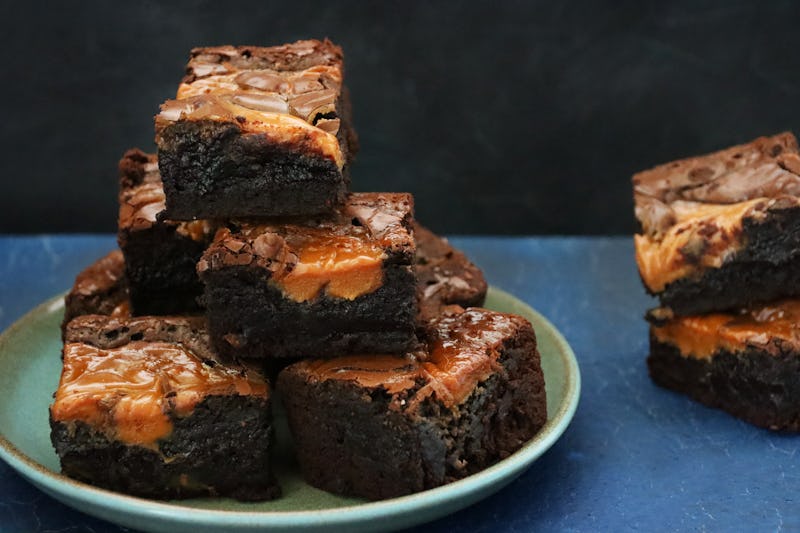 mtreasure/E+/Getty Images
What's that one snack that can instantly cheer just about everybody up? Well, as these quotes about brownies for National Brownie Day prove, it's... well, brownies! (Big shocker, I know). But seriously, who doesn't love a nice, warm brownie fresh out of the oven (especially when it's paired with an ice cold glass of milk)? OK, I've got to stop visualizing this, because it's about to make me drool.
If you didn't know, now you do: Dec. 8 marks National Brownie Day. So, what exactly does that mean? Well, I suppose that's really up to you: You can celebrate the day by baking up some homemade brownies for your best friends and closest family members, or you can spend it eating store-bought brownies on your couch in your underwear all night. Either way, I'm not judging, just so long as you do get some brownie goodness involved in your day.
In addition to your chocolate intake, make sure that you take in these delicious brownie day quotes as well. From Linda Sunshine and Charles M. Schulz to Audrey Hepburn and Regina Brett, these people know what they're talking about when it comes to brownies. Now get to baking, eating, and reading!
1. "You would be amazed by what you can give up, lose, or break, and yet still be a person who gets happy over brownies." — Augusten Burroughs
2. "A basic rule of baking is that, in general, it's almost impossible to make an inedible batch of brownies." — Linda Sunshine
3. "All you need is love. But a little chocolate now and then doesn't hurt." — Charles M. Schulz
4. "What's the point of having a book club if you don't get to eat brownies and drink wine?" — Jami Attenberg
5. "I just think about how saying that you love someone can make your heart feel like some sort of brownie sundae, warm, gooey, sweet and good." — Carrie Jones
6. "Childhood smells of perfume and brownies." — David Leavitt
7. "After we put my son to bed, my husband and I curl up and watch a movie or TV. That's when I finally put up my feet and have my glass of wine and a brownie." — Kara Goucher
8. "Anyone who tries to make brownies without butter should be arrested." — Ina Garten
9. "Let's face it, a nice creamy chocolate cake does a lot for a lot of people; it does for me." — Audrey Hepburn
10. "I've learned that you know husband still loves you when there are two brownies left and he takes the smaller one." — H. Jackson Brown, Jr.
11. "When it comes to chocolate, resistance is futile." — Regina Brett
Images: mtreasure/E+/Getty Images; Giphy