Huda Beauty Is Launching Metallic Liquid Lipsticks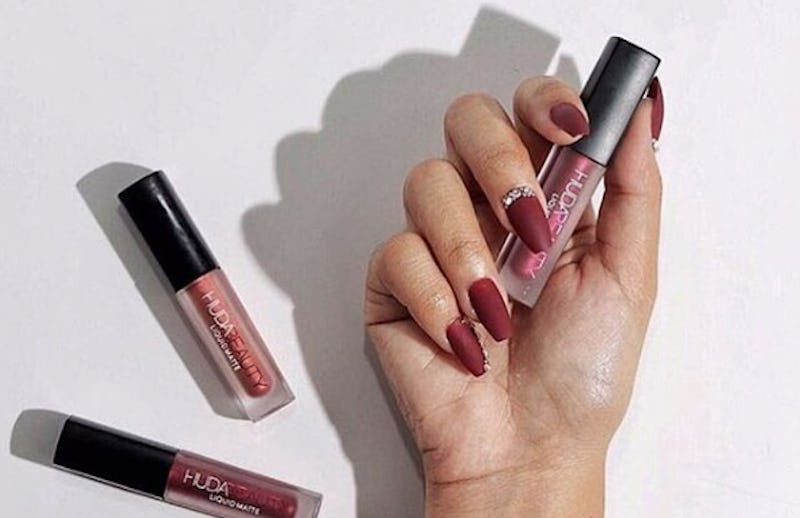 Just when you thought the brand couldn't get any better this year, they pull out something completely unexpected. Expanding their Liquid Matte Lipstick line in a big way, Huda Beauty is creating metallic lippies. *Cue the freakout.* The idea might not be anything new, but it's a first for the company. When are Huda Beauty's Metallic Liquid Matte Lipsticks coming out, you ask? Nothing's official yet, but all the social media signs point to soon.
When founder of Huda Beauty Huda Kattan announced that she would be rolling out the Liquid Matte Lipsticks this year, they were a classic even before the hit the online shop. Now that they're here, they're just as loved. Now the instant obsession is getting even better. According to Allure, Kattan announced the new liquid lipsticks on her Instagram story. The two metallic colors will be included in the brand's Huda Beauty Liquid Matte Mini Kits, which Allure reports are coming next month.
Don't let that news get you down though. You might not be able to rock the shiny lips for the holiday season, but this is still pretty major news. According to the IG story posts, there will be a bright metallic pink called Showgirl and a nude called Socialite.
Does it get any more gorgeous? I think not. This isn't the only new product that Kattan has in the works either. According to Allure and the founder's Instagram story posts, Huda Beauty is creating foundation as well. Kattan said on her Instagram story that it wouldn't be out any time soon though.
This isn't the first time they've surprised fans with something new this year either. Earlier this season, they launched a Liquid Matte Vault with all 16 of their shades inside. Oh, and on top of al of that, the brand created a new style of lashes as well.
This past year was a huge one for the makeup brand, and it looks like 2017 is going to be the exact same way. They're definitely starting out with a bang.
Images: ShopHudaBeauty/Instagram (1)