'Game Of Thrones' Actor Peter Vaughan Has Died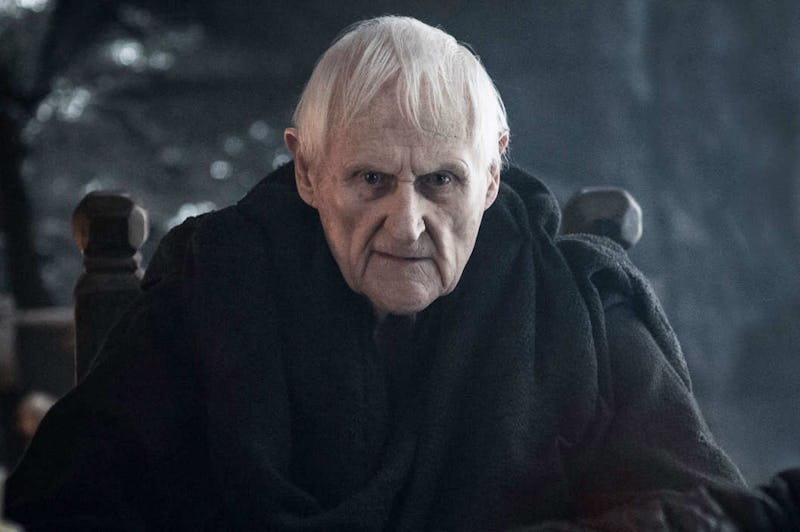 Sad news for Game Of Thrones fans on Tuesday: Peter Vaughan has passed away. The actor, who played Maester Aemon on the HBO series, had a prolific career prior to his role on the super popular show and leaves behind an impressive legacy. With its huge fan base, Vaughan's role on Game Of Thrones helped make the actor recognizable. First appearing in Season 1 of the series, he left in Season 5 when his character Maester Aemon passed away. It's a moment that will become even harder for fans to watch knowing that the man behind the Maester has passed away in real life as well.
The actor had an impressive life, having been born in 1923 and going on to serve during World War II. He also had the chance to act opposite Frank Sinatra in the movie The Naked Runner in 1967. His talent will be truly missed.
Vaughan was especially proud of his work on Game Of Thrones, and spoke to the Shropshire Star about the opportunity in April 2015. The actor said, " Game of Thrones has been a success because it is an absolutely wonderful story... It has a universal appeal." Clearly, he valued his role on the HBO show, and was as excited as viewers to watch the story unfold every week. The unforgettable Maester Aemon will be remembered for years to come, along with several of Vaughan's other roles in classic movies.
The British actor's prolific career included roles in Terry Gilliam's 1985 classic Brazil, The Remains Of The Day, and The French Lieutenant's Woman, which starred Meryl Streep. He regularly had arcs in British TV shows, and his versatility is undoubtedly the reason he continued to work in the entertainment industry for as long as he did. BBC News said of Vaughan, "in a career lasting seven decades he became an ever-present figure on stage, screen and television." Not many actors can boast an acting career spanning over 70 years, particularly one that ends with a role on one of the most successful television shows around.
Vaughan's talent, and ability to become any character, will be greatly missed.
Images: HBO; Giphy