Cheap Online Gift Ideas Under $25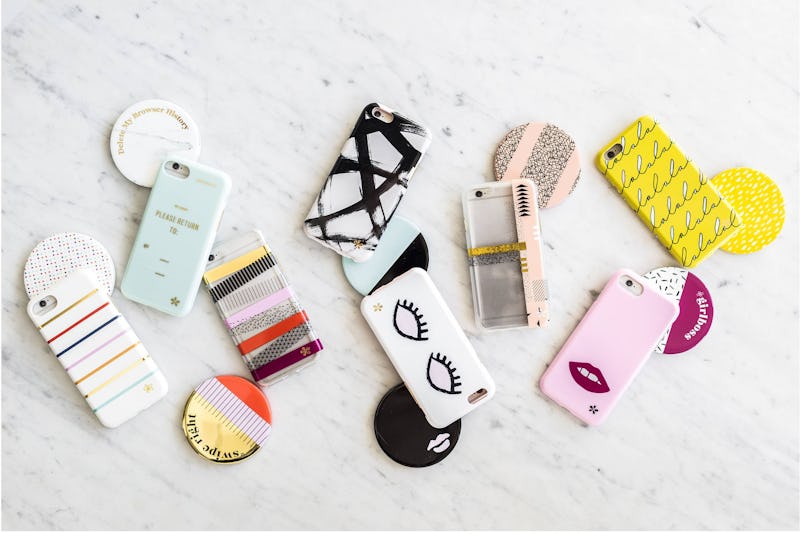 aThe holidays are without a doubt the perfect time to show someone you really care about them. It's the time where you can express how much you love someone by traveling to be together, exchanging gifts, sharing a meal, and other magical moments. So nothing can be more of a buzzkill from sharing such beautiful moments than not having enough money. Wait, before you start crying — these cheap online gift ideas are all under $25 will save you from distress. Cue sigh of relief.
These gifts range from all types of people in your life, including coffee-lovers, Harry Potter fans, foodies, and even workaholics. With a quick scroll you will notice that all of these gifts are thoughtful enough where people won't even take notice to the little amount you actually spent. Such a win-win!
So forget spending so much money on the holidays this year, because holiday shopping just got a whole lot easier. Especially if that means shopping on the couch after work, in your pajamas with a glass of red wine in your hand avoiding holiday shopping madness. You can spend that worrying energy on other things, such as travel plans and baking cookies. Or binge-watching Gilmore Girls: A Year in The Life for the tenth time. I certainly won't judge.
Monogrammed Zip Pouch, $19, Etsy
If you're looking something for a bit more personal, especially for the makeup lovers, this is perfect. Pick from a variety of patterns, threads, and even monogramming designs to create the perfect cosmetics pouch. While the monogramming will cost $18.95, a plain pouch only costs $12.95!
Birthday Cake Popcorn, $25, Maddie & Maize
Tired of making goodies for people? Maddie & Maize, a popcorn company located in Minnesota, offers numerous delectable flavors of all natural, non-GMO organic popcorn for you to choose from. Order a small for six cups of this goodness, or a large for 30 cups. Other flavors include Lemon Raspberry Wedding Cake, Dark Chocolate Caramel, Cookies & Cream, Bourbon Barbecue, White Cheddar, and Coconut Curry. Make sure to order soon, because supply is limited!
Black Faceted Acrylic Cold Cup, $14, Starbucks
It probably feels very early to be thinking about the summer months ... but if you have a friend or family member who loves making smoothies in the morning during the summer, thinking ahead may be super thoughtful. Especially with a stylish cup like this one.
The Curated Closet, $25, Anthropologie
This is for all of the people in your life trying hard to be a minimalist. This book walks the reader through ways in which to curate the perfect closet, from infographics to weekly wardrobe arrangements. Plus, it's just a really beautiful book for the coffee table.
Mike & Dave Need Wedding Dates , $20, Amazon
Want to give a gift that keeps giving? At this low price you can buy the movie for a sibling or relative that you know you're spending the holidays with, and suggest to watch it during their visit! What better way to celebrate the holidays then a movie night with hot cocoa?
Pet Holiday Holiday Cookies Macaroon Dog Treats, $5, Pet Smart
The pup needs a present too! Why not treat him/her to something delicious while you feast on Christmas dinner?
Limited Edition Golden Monogram Mugs, $10, Anthropologie
They are cheap enough for you to buy one for every single coffee-lover in your life. Which, I'm so sure, the number is endless.
Hi Door Mat, $20, Etsy
Winter means dragging snow and sludge into homes, so a doormat will easily be a perfect and practical gift for anyone. Especially if it's as cute as this one! This particular Etsy shop will make any color you like.
Instax Mini 8 Bunny Selfie Mirror, $8, Urban Outfitters
How many times has your bestie wasted her Instax Mini 8 film trying to take a good selfie? Because this will solve all of their problems. This little bunny mirror will attach on the front lens of their Instax Mini 8, helping your bestie create way better aim for that selfie.
Moleskine Notebook Harry Potter Large Ruled Marauders Map, $25, Barnes & Noble
Let's be honest, everyone knows someone who is a huge Harry Potter fan. Give in to their obsession with this Marauders Map notebook. It's a 240-page notebook that comes with a set of Harry Potter themed stickers, and Harry Potter themed designs and maps throughout.
Paddywax Small Concrete Candle, $14, Urban Outfitters
Candles are always the best gift for homebodies and introverts, especially when the design is a prime home décor upgrade. The colors of the candle match the scents, which include Sea Salt & Sage, Amber & Smoke, Bergamot, and Tobacco & Patchouli.
Multi Glitter Stemless Tumblr, $13, Paper Source
This is for the friend, or even cousin, who loves cocktails on the beach or always seems to get wine on her dress when she's drinking.
Men Plaid Open-Fringe Knit Scarf, $15, Forever 21
Is your man a bit edgier and can't stand the typical plaid scarf? Get him this black and white fringe scarf to heighten his current grunge phase.
Women's Fur Mini Bag, $25, Target
For the trendsetters in your life, help them stay on top of their game with this mini fur purse. With the gold chain and luscious fur, this purse seems to look way more expensive then a mere $25! Comes in light pink and black.
iPhone 6/6s Case with Mirror Power Bank, $25, Target
Everyone has that friend whose phone charger dies faster than a mayfly, and seems to ask for a phone charger in every situation. These iPhone cases are the solution, each coming with a phone case and a matching power bank.
Portable Wireless Keyboard and Mouse Combo , $20, Amazon
This is for all of your freelancing friends who need a home office upgrade. Tag team with someone who can buy them a matching laptop stand, and pair with this wireless keyboard and mouse in either gold/white or black!
Hammered Mini Cocktail Shaker, $16, Anthropologie
Have someone in your life dreaming about putting together a bar cart? Help them get started with this trendy looking cocktail shaker. It's mini (holds about 8.5 ounces) yet perfect for someone who is just starting to collect.
Cable Knit Hat, $13, Forever 21
What better way to truly love someone then give them something they desperately need? With winter upon us, a new knit hat to kick off the upcoming cold season is probably the most practical gift of them all.
Small Black and White Stripe Weekly Spiral Planner 2017 , $20, Amazon
This is for all of those motivated and driven friends you have — the ones who have their schedules color coded and planned down to the second. Or, if you're feeling bold, this could be a great gift for the super disorganized friend as well…
Jacquared Knit Socks, $4, H&M
Also, if you have any men in your life obsessed with collecting patterned socks, these socks are at a very cheap price. Plus, the deal is currently buy two get one free!
Images: Courtesy of Brands