Relive The Good In 2016 With These Moments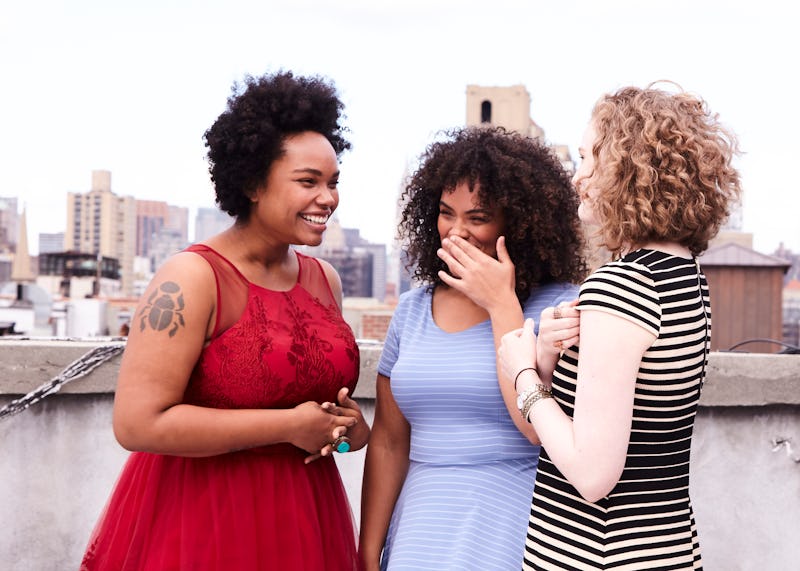 The last 12 months have been, in a nutshell, kind of depressing. Whether it was the U.S. election, terrorist attacks across the world, police shootings, deaths of various cultural icons, or even just celebrity couples constantly breaking up, it seems like something was continually going wrong. While it can be easy to wallow in the bad, there were still some overlooked good moments from 2016 you should remember from a seemingly horrible year.
Before jumping into 2017, it's a good time to reflect on the positive impacts humans have made. In 2016, America, as well as the rest of the world, made a lot of advancements, even if all of the negative stuff might seem a bit overwhelming. The U.S. nominated its first female presidential candidate, had many champions emerge from the Summer Olympics in Rio, and even produced some awesome culture (Beyonce's Lemonade album?). Heck, 2016 even gave us another Harry Potter movie. And if that's not something to celebrate, I don't know what is. However, a lot of less discussed positive things came out of this year, and they're worth bringing to your attention.
Below, you'll find events that cross the spectrum of medical, environmental, and humanist advancements and good news from across the world.
India Helps The Environment In A Big Way
In July, India residents set a world record by planting nearly 50 million trees in a single day. 50 MILLION TREES. According to National Geographic, the record has not been confirmed by Guinness World Records, but it's an impressive feat nonetheless. The day of planting was reportedly part of a pledge the country made during the Paris Climate Conference held in December 2015.
Dumping Ice On Your Head Actually Helped ALS
Back in the summer of 2014, it was hard to be on social media without coming across someone who had posted an Ice Bucket Challenge video. But it seems that the viral trend did actually make a difference. The attention the challenge brought to the disease led to an outpour of donations ($115 million in eight weeks, according to CNN), which was used to fund Project MinE. In July, researchers discovered a gene linked to ALS. This breakthrough gives a little more hope for treatment for those suffering from the disease.
Solar Power Took Flight
A plane powered by solar energy completed its flight around the world halfway through the year. Pilots Bertrand Piccard and Andre Borschberg took the 502 hour, 26,000 mile flight across the world in Solar Impulse 2 —a plane that moved only about 45 miles an hour. They started and ended their journey in Abu Dhabi, but made touchdowns in places like Japan, China, Spain, Oklahoma, Ohio, and New York.
India Also Contributed To Solar Power
At the end of November, India released images of the largest single solar power plant in the world. According to Al Jazeera, the solar plant could provide power up to about 150,000 homes. What might be even more impressive is that the plant was reportedly built in just eight months. The goal is to use solar to power 60 million homes by 2022. It's an ambitious project, but it seems like when India commits to something, they go all in and the results are incredible.
Pakistan Took Action Against Honor Killings
In October, the country passed a law mandating jail time for honor killing convicts. Families are no longer able to pardon those who kill "shameful" females, and perpetrators will serve 25 years in jail if convicted. While it's not likely to eradicate the horrible practice entirely, it's definitely a step in the right direction.
Malawi Saved Elephants
In danger from poaching and a shrinking habitat, Malawi is moving 500 elephants to a new wildlife preserve that can better accommodate their needs.
Rabbis Stood Up For Trans Rights
The Rabbinical Assembly passed a resolution that affirmed the rights of transgender and non-conforming people. The resolution details the ways in which the conservative community will work to be a safe space for transgender people and reaffirmed a commitment to educating themselves about their needs to create an inclusive setting.
Strangers Showed Up For A Homeless Veteran
Two hundred strangers attended a homeless veteran's funeral in a showing of solidarity. Maj. Jaspen Boothe found out that only four people were planning to attend Serina Vine's funeral in June, she spread the word on social media, and hundreds showed up to pay their respects to the veteran who served in World War II.
Taiwan Elected A Female President
Tsai Ing-wen became the first female president elected in Taiwan in January in a landslide victory.
Stolen Paintings Were Returned
Two paintings by Vincent Van Gogh that had been stolen from Amsterdam's Van Gogh museum in 2002 were found during a raid of a group linked to the Italian Mafia. The two paintings, "Congregation Leaving the Reformed Church in Nuenen" and "Seascape at Schevenigen," were from the 1880s.
These are just some of the ways 2016 has actually produced some accomplishments. Hopefully in the next year, things will just keep getting better.
Image: Hannah Burton/Bustle (1)