'Hairspray Live!' Is Missing One Beloved Song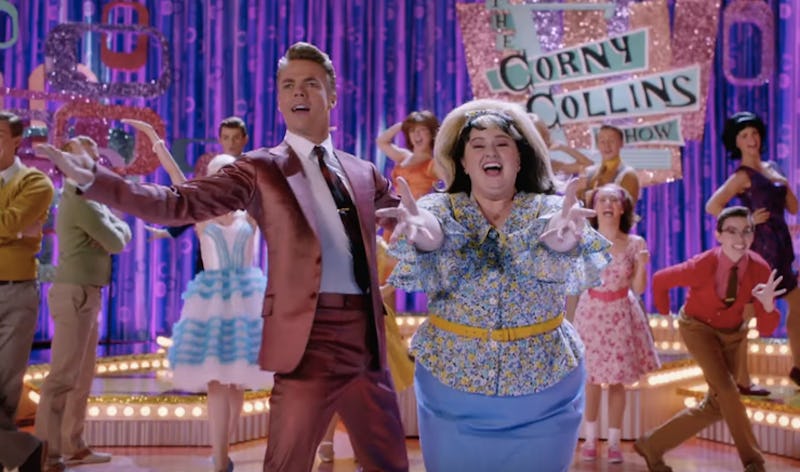 The latest musical to come to our small screens is NBC's Hairspray Live!, which airs on Dec. 7. Fans of the Broadway musical should get ready to belt out their favorite tunes (apologies in advance to my neighbors), because most of the show's original songs will be included — and they'll be performed by the likes of Kristin Chenoweth, Jennifer Hudson, and Ariana Grande. But, I must warn you in advance that one beloved song didn't make the cut and you may be wondering why "The Big Dollhouse" isn't in Hairspray Live!
Although creators strived to keep the live version true to the Broadway show, Playbill reports that "The Big Dollhouse" and "The New Girl In Town" have been cut. The former is the opening song for the show's second act — so it seems like an odd song to exclude from Hairspray Live! Although creators haven't provided a specific reason for why this particular song didn't make the cut, songwriters Mark Shaiman and Scott Wittman told Playbill that the NBC broadcast will blend elements of the 2002 Tony-winning Broadway production and the 2007 film — and this meant that several songs had to be cut from each version. The outlet reports that Shaiman told press:
"We basically used the Broadway production, and then took the film songs that we most enjoy—songs that we got to write for the film—and have incorporated them into it, so now it's become a real nice hybrid of the Broadway version and the movie version."
In the creators' efforts to blend the Broadway and the film version, time constraints were, of course, an issue. "Obviously, you're limited in time with television," choreographer Jerry Mitchell said. And, they wanted to highlight the talents of specific cast members like Derek Hough, who plays Corny Collins. His background is primarily in dance, so Mitchell wanted to include the song "Ladies' Choice" from the 2007 movie because it lends itself well to an amazing dance number — and I'm sure Hough will kill it.
And, to fill the void left by "The Big Dollhouse," another amazing song from the movie will also be featured in Hairspray Live! — "Come So Far (Got So Far to Go)" will be performed by Jennifer Hudson and Ariana Grande as the grand finale. If the soundtrack version is any indication, this is definitely another Hairspray Live! scene to get super excited about.
"The Big Dollhouse" will be missed, but luckily two amazing songs from the 2007 film will be performed by some of Hairspray Live!'s most talented cast members — and that's definitely something to cheer about.
Image: NBC