Do You Really Need Eyeshadow Primer?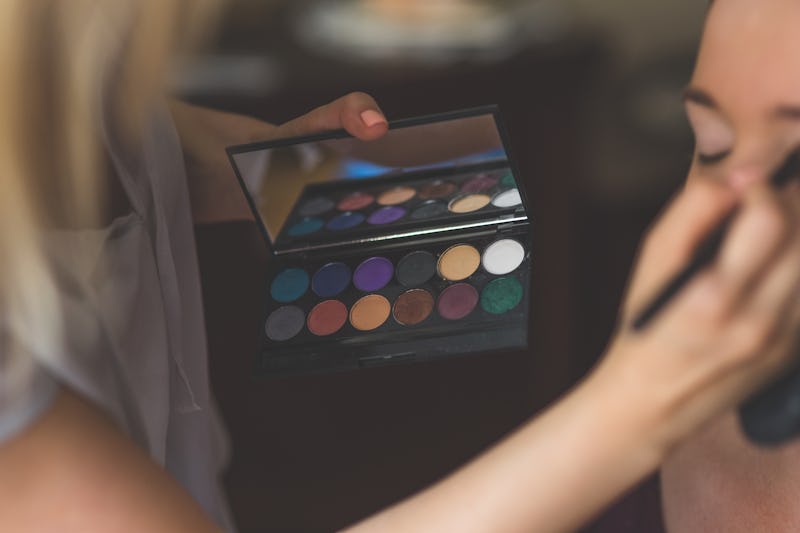 In a world full of beauty products, sometimes it's hard to discern which ones you really have to have, and which are more extraneous and just for fun. For example, do you really need eyeshadow primer? Anyone who uses primer already for their face knows it can help to smooth over pores and even color correct, but are those things necessary on our lids?
If you're on a strict budget or just straight up hate adding extra products to your face, a specific eyeshadow primer may sound like a luxury rather than a necessity. And if you've never used it before? It's hard to understand what the difference will actually be.
Many makeup enthusiasts could explain the primers they love and why they love them, but for the average layperson, things can get confusing. Bustle spoke to the Francesca Giaimo, makeup artist and beauty editor for Darling Magazine. Her response was pretty eye-opening (pun totally intended).
"Not everyone needs an eyeshadow primer," Giaimo says. "But if you are someone who notices your lids get oily throughout the day, your shadow creases or doesn't last long, then an eye shadow primer might be exactly what you're missing!"
Urban Decay Eye Shadow Primer Potion, $20, Sephora
Giaimo also pointed out that primer is also only necessary depending on the type of eye shadow you're planning on wearing. "Eye shadow primer is great for any eyeshadow look," she comments, "but it especially improves the look and longevity of powder eyeshadows."
Basically, Giaimo says that the necessity of owning an eye shadow primer depends on the actual eye shadows you plan on using on the regular. Cream eye shadows are much less likely to need a primer, while powder shadows benefit greatly from it.
Too Faced Shadow Insurance, $20, Sephora
It's also important to note that different eye shadow primers will have different effects on your lids and makeup look. "Most eye shadow primers are formulated to create a colorless, smooth canvas that help shadows glide on easily and stay put all day," says Giaimo. "However, there are also some formulas that provide color correction as well. These are wonderful if you have a lot of pink, brown or purple undertones in your lids that interfere with your eyeshadow color payoff. Laura Mercier and Kat Von D make some wonderful options."
Kat Von D Lock-It Color Correcting Eye Shadow Primer, $18, Sephora
Laura Mercier Eye Basics, $27, Sephora
As far as her personal favorite, Giaimo mentioned two in particular. "I love Shadow Insurance from Too Faced Cosmetics and Pro-Prime Smudge Proof Eyeshadow Base from NARS," she says. "These two products are staples in my professional kit."
NARS Pro-Prime Smudge Proof Eyeshadow Base, $26, Sephora
While primer isn't 100 percent necessary (what product is, really?) it's definitely worth having around when you want to create a more dramatic eye look. Start experimenting with your favorites ASAP.
Images: Courtesy Francesca Giaimo, Courtesy Brands