16 Book Subscription Boxes That Make Perfect Gifts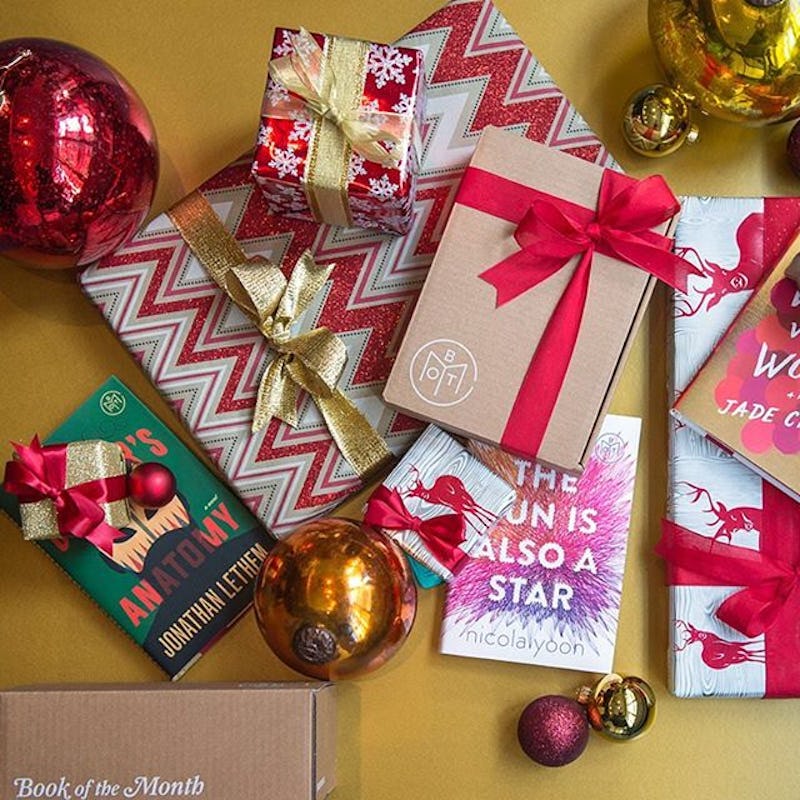 Nobody ever said that finding the perfect holiday gift for a book lover was easy. After all, thousands (like, tens of thousands) of gift-worthy books are published each year, not to mention all the fabulous non-book gifts for book lovers: candles, tote bags, coffee mugs, book-inspired snacks, tee-shirts that picture favorite authors and book covers, and about a million other things that any reader would love to receive in their holiday gift box. But let's be honest: if you're looking for the absolute perfect, no-fail, they'll-love-you-forever holiday gift for the book lover in your life, there is no better gift to give than the gift of a monthly book club subscription.
Think about it: not only are you giving your favorite reader not one, but 12 (or more!) books this holiday season, you're giving them a gift that keeps arriving throughout the year (and a monthly reminder that you're seriously just the best.) Plus, several of these book box subscriptions come with more than just books — some include tea, or mini pads of paper, or festive mugs, or tee-shirts. A few even offer hand-written notes or exclusive book club chats with the author of the book themselves. I definitely know what's at the top of my Christmas list this year (and now you know what's at the top of your shopping list.)
Here are 16 book subscription boxes that make the perfect holiday gifts.
1. Book Of The Month Club
With Book of the Month club you're able to choose one of five hardcover books selected by BOTM judges — including guest-judge celebs like Mayim Bialik, Roxane Gay, Abbi Jacobson, and Arianna Huffington. And if you want more than one read, you can add 'em for just $9.99 each. Choose from your favorite genres, including mystery, thriller, history, literary fiction, memoir and more. Plus, shipping is free.
Book of the Month Membership, $143.88 for 12 months, Book of the Month
2. OwlCrate
Each OwlCrate box contains one hardcover young adult novel, not yet or newly-released in bookstores, plus a selection of fun and creatively themed bookish-goodies (think stickers, bookmarks, buttons, notebooks, adult coloring books, art prints, and more.) Each box also includes a handwritten letter from the book's author, and — if you're lucky — a signed bookplate.
OwlCrate Subscription, $167.94 for 6 months, OwlCrate
3. The Rumpus Book Club
With a Rumpus Book Club membership you'll receive a new copy of a not-yet-released novel or memoir (often hardcover) each month. Members discuss the book all month long in an online forum, in addition to being invited to a moderated web chat with the author. You'll also be invited to a moderated online discussion with the author at the end of the month, which will be edited for publication as a feature article on The Rumpus.
The Rumpus Book Club Membership, $330.00 for 12 months, The Rumpus
4. The Book Drop
The Book Drop is run by beachside independent bookstore Bethany Beach Books, whose staff selects your monthly read. Get started by selecting one of four options: Children, Young Adult, The Ernest Hemingway-inspired package, or The Jane Austen-inspired package. Past books have included The Girl Before, The Secret Life of Violet Grant, and We Are All Made of Molecules.
The Book Drop Subscription, $16 per month, The Book Drop
5. The Quarterly Literary Box
With a Quarterly Literary Box subscription readers will receive three books every three months, including one brand-new release annotated with handwritten notes, courtesy of the book's author. Each quarter's books are hand-picked by a different guest author, and each box features a different theme. In addition to your three books, you'll receive a few book-inspired goodies as well.
The Quarterly Literary Box Subscription, $45 per box for 12 months, Quarterly
6. The Book(ish) Box
If you have more books than you can handle, but still like to receive your monthly dose of literary love, then the Book(ish) Box is for you. Each Book(ish) Box is mindfully curated with book nerd gals in mind. Every month subscribers will receive a literary-themed box that includes a shirt and a few book-inspired home, beauty, and fashion items. Plus, the Book(ish) Box partners with small and independently-owned shops, so you know you'll be getting creative and unique items you might not be able to find anywhere else.
The Book(ish) Box Subscription, $29.99 per month, The Book(ish) Box
7. Brilliant Books Monthly
Designed for young readers, Brilliant Books Monthly members will receive a survey card, asking about favorite and least-favorite authors, what some of your young reader's favorite books are, and if they have preferred themes or genres. Then, each month, Brilliant Books will send readers a new age-appropriate and theme-appropriate title. Options include Young Adult, Middle Grade, Chapter Books, and Picture Books.
Brilliant Books Monthly Membership, $25 per month, Brilliant Books
8. Book Case Club
Get started with Book Case's monthly subscription by selecting a theme for your book box (options include Blind Date, Thrill Seeker, Booking For Love, and Strange Worlds.) Then, each month, you'll receive two hand-picked reads. It's literally as simple as that.
Book Case Club Subscription, $9.99 per month, Book Case Club
9. Novel Tea Club
What goes better with a book than tea? That's right: nothing. With Novel Tea (get it?) each month subscribers will receive a good book, a small selection of quality tea, and a few artisanal products (think bookmarks, taffy, bath soaps, candles, macaroons, lip balm, coasters, and so, so much more.) It's literally your very own dream date night with yourself, in a box.
Novel Tea Club Subscription, $27.50 per month, Novel Tea Club
10. The Rumpus Poetry Club
With a Rumpus Poetry Book Club membership poetry lovers will receive a new copy of a not-yet-released poetry collection each month, in addition to being invited to a moderated web chat with the poet. All books are selected by members of The Rumpus poetry advisory board or an invited guest who will include a post about why they selected a particular book, in addition to being in charge of moderating the monthly author chat. Perfect for discovering poets that might not otherwise have made it onto your shelves.
The Rumpus Poetry Book Club Membership, $242 for 12 months, The Rumpus
11. The YA Quarterly
Each Quarterly Literary Young Adult Box features a new author with an upcoming release, who not only annotates their own book with handwritten notes, but who also selects two other titles to be included in your quarterly box. Each box also includes some non-book goodies that bookworms will love. Don't let the YA theme fool you — adults of any age will love this one.
The YA Quarterly Literary Box Subscription, $45 per box for 12 months, Quarterly
12. Uppercase Box
With Uppercase you'll receive a just-published (in the last 30 days) hardcover young adult book selected by Uppercase's founder and signed by the book's author, one or two exclusive bookish treats (pencils, notebooks, candles, tote bags, and tons of unique items.) Throughout the book readers will find post-it notes with special codes that unlock exclusive online content: videos from the author, additional character backstories, and was to connect with other Uppercase readers. If that's not enough, each book comes with a handwritten note from Lisa, Uppercase's founder and book curator.
Uppercase Box Subscription, $23 per month, Uppercase Box
13. The Picture Book Club
Because kiddos deserve book clubs too, The Picture Book Club has got the newest readers in your life covered. Choose from custom or themed-subscription options (my personal fave is by far the "Women Who Changed The World" theme) and receive a hardcover, giftwrapped picture book, complete with a personalized nameplate.
The Picture Book Club Subscription, from $11.99 per month for a 12 months, The Picture Book Club
14. GiftLit
With books carefully selected by a team of librarians, educators, authors, and publishing industry experts, GiftLit offers subscribers tons of themes to choose from, from beach reads, to paperback book club picks, to books especially curated for dog lovers, and so much more. Select your theme and then choose from a 3-month, 6-month, or 12-month subscription package. Then you receive a book a month — and hey, if you already have that book, no problem! GiftLit lets you select another right on their website.
GiftLit Bookish Bundle, $339.95 for 12 months, GiftLit
15. eBook inBox
You didn't think we'd end without including an e-book club subscription, did you? (It is almost 2017, after all.) With eBook inBox a team of professional bookworms will curate newly released and/or pre-released e-books, selected according to your personal reading preferences, and send them directly to your inbox. Plus, subscribers can earn account credits by leaving honest, timely reviews of the books they receive and by referring friends.
eBook inBox Subscription, $7.99 per month, LitCube
16. Quarterlane
With all the allure of a little blue Tiffany's box (seriously, the delivery is that snazzy) Quarterlane's Quarterly Reader subscription gets you four quarterly fiction boxes — shipped to you every three months — of some of the very best novels of the season, seasonal goodies, and a piece of custom artwork created by Quarterlane's artist-in-residence. Plus, shipping is free. They call themselves "a literary box that speaks to your soul." I dare ya to pass that up.
The Quarterly Reader Subscription, $95 per box for 12 months, Quarterlane
Images: bookofthemonthclub(2), theliterarybox, quarterly(2), shopcratejoy, brilliantbookstc, bookcaseclub, novelteaclub, uppercasebox, quarterlane/Instagram; Owl Crate; The Rumpus(2); The Book Drop; The Picture Book Club; GiftLit; LitCube