Nicole Kidman Connected To Her 'Lion' Role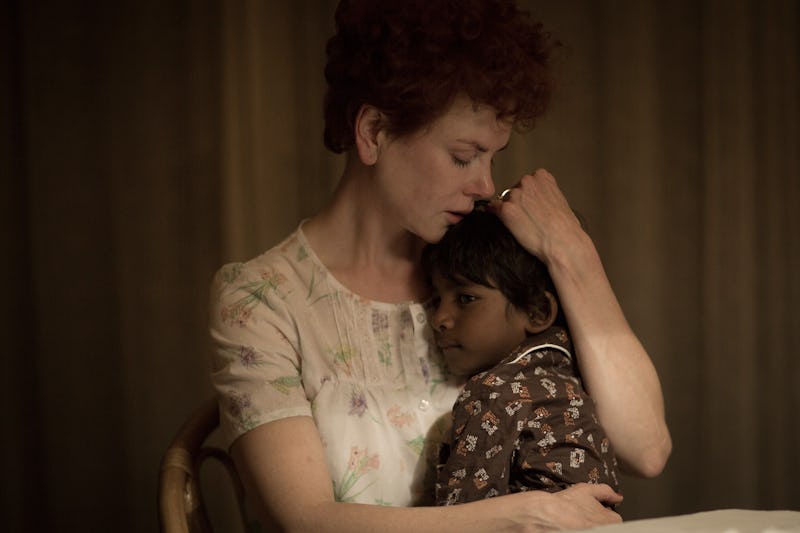 The last time Nicole Kidman was nominated for an Academy Award was in 2010 for her performance as a grieving mother in the piercing drama Rabbit Hole. Now, Kidman may be back in contention for her role in Lion , the film adaptation of Saroo Brierley's memoir, A Long Way Home. The actor plays the adoptive mother of the protagonist. Saroo (Dev Patel), who is born in India but is separated from his birth parents at age 5. Eventually, the boy is taken in and loved by Sue and John Brierley (Kidman and David Wenham), and as an adult, he decides to use Google Earth to seek out the family he lost and reconnect with his identity and heritage. In the exclusive featurette below, Patel praises his co-star's naturalistic acting, and Kidman talks about playing a real mother in this unusual family dynamic.
Patel also makes the point that Kidman has a deep understanding of this role as an adoptive mother herself. (She and Tom Cruise adopted Isabella and Connor when they were married. She also has two children with her current husband Keith Urban.) Sue adopts a boy who she knows comes from somewhere else. And though she doesn't begrudge Saroo the chance to reunite with his biological family, his decision still affects her as the woman who raised him.
In the clip, Kidman says she was drawn to the role mostly because this incredible story is true. "I read the script and I was really moved," she says. "It's one of those things you start reading and then you just can't put it down." The film follows Saroo through his childhood, and Kidman was delighted to have the chance to have Sunny Pawar (Young Saroo) as a scene partner. "I love working with children," she says. "I love the way they view the world and they make sure you're very authentic and in the moment, and they won't allow you any falsity."
According to her director and co-stars, Kidman's Lion performance demands recognition. She's already racking up honors for this role, including a Critics Choice Award nomination, a Satellite Award nomination, and the Palm Springs International Film Festival International Star Award. If Academy voters find her work in Lion as "brave" as director Garth Davis describes, Kidman could be up for another Oscar this year.
Image: The Weinstein Company