'Divorce' Just Shows One Dysfunctional TV Couple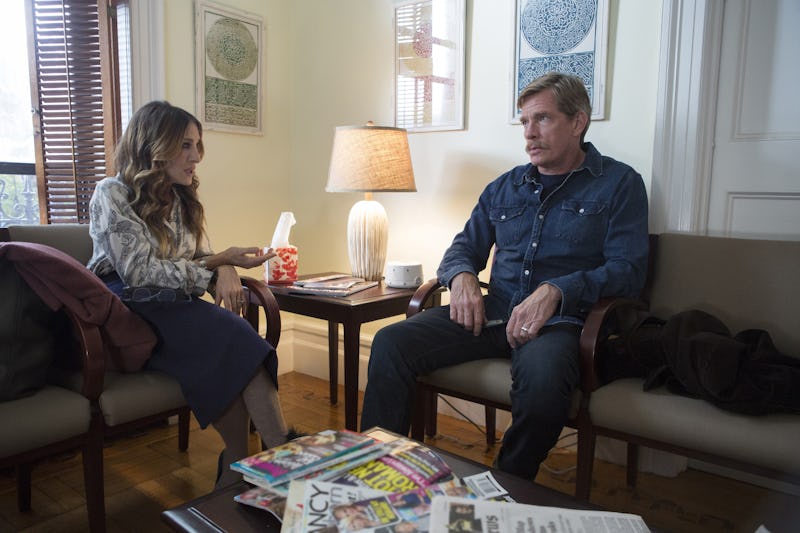 Many TV series are wrapping up as 2016 finally comes to a godforsaken end, and that includes HBO's wildly successful new fall series, including Insecure, Westward, and, the last to end, Divorce. If you hadn't heard, HBO renewed Divorce for Season 2 after just a handful of episodes, and as reported by Deadline, the series will have no major creative changes or adjustments, and is expected to return in 2017. No specific return date has been announced, but many of HBO's series operate on an annual schedule, so it's likely we'll see Divorce in the fall once again.
The network could, in theory, produce and air Season 2 earlier than that, but Divorce will likely have to compete for airtime against all of the other great series planned for 2017. But if there are any changes in HBO's scheduling, you'll likely find out later this year. Until then, you can safely assume that Divorce will be back in late 2017. And while central couple Robert and Frances are a pretty toxic pair, they're far from the only unholy union to be found on television lately. If you think people who really shouldn't be together dealing with one another makes for compelling drama, you have plenty of options for other bad romances on TV.
Issa & Lawrence, Insecure
Watching these two break up was heartbreaking, but also felt kind of cathartic. They had horrible communication skills, and couldn't really seem to settle on a real reason to stay together. Once cheating entered the picture, both emotionally and physically, the relationship was doomed.
Jane & Rafael, Jane The Virgin
This pair have a kid together (a very adorable kid!) so they'll always be a part of one another's lives. Even though Jane is currently with her soft and fluffy husband, Michael, the show's love of romance tropes will ensure that at some point, these two give their relationship another shot. And in the meantime, they can't stop keeping petty, small secrets that turn into full-blown crises.
Rebecca & Josh & Greg, Crazy Ex-Girlfriend
When Rebecca finally confessed her true feelings to Josh at the end of the first season of Crazy Ex-Girlfriend, his face expressed that he was deeply uncomfortable with the truth. And as the second season of the series proved, the two weren't really meant for one another. And Greg may be working on himself and his alcoholism, but he's not really ready for a relationship either. This trio may be sweet, but they're incredibly toxic for one another.
Rob Kardashian & Blac Chyna, Rob & Chyna
Their baby daughter was recently born, but before that momentous event, the Kardashian spinoff was filled with awkward, uncomfortable, and petty moments between these two. From the first episode, when Chyna angrily demanded to know who Rob was texting, it seemed that as much as they care about one another, they can never seem to get on the same page.
Gretchen & Jimmy, You're The Worst
Normally, I'd put this couple on a most compatible list, but the end of Season 3, when Jimmy left Gretchen behind after a wildly romantic proposal, was shockingly sad, and made me wish that they would simultaneously break up to work on their respective issues and stay together forever.
Lucious & Anika, Empire
These two have found some real passion, but now they've decided to work together to destroy everything that the rest of the Lyon family has fought to achieve. They might be the worst bad couple of all, because they're actually working together.
By the time you get through these couples' drama, Frances and Robert will seem like the best of friends when Divorce returns for Season 2.
Images: Craig Blankenhorn, Anne Marie Fox/HBO; Robert Voets/The CW (2); Tommy Garcia/E! Entertainment; Giphy; Jean Whiteside/FOX