It's Time For A Discount On A Kylie-Approved Watch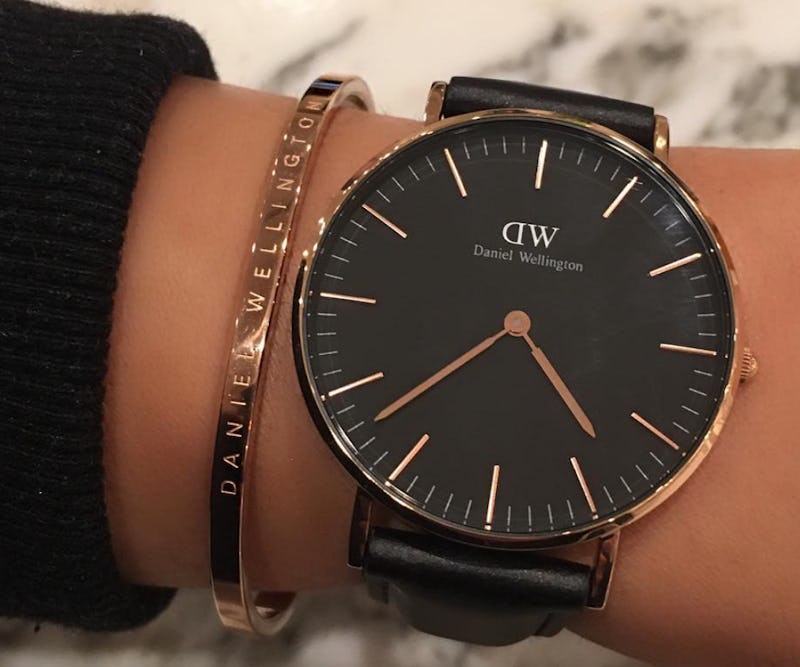 What time is it? It's time for a discount on Kylie Jenner's favorite watch brand. The style influencer did reveal via a hashtag that her Insta post was an ad, meaning she was paid to promote this timepiece, but the watch, along with the accompanying cuff, is indeed modern, stylish, and actually affordable. I know most of us rely on our smartphones as timekeepers. But I still wear a wristwatch because I still need to know what time it is when my iPhone battery dies and my charger is somewhere else, since I am a power user of the device. Plus, watches are wonderful accessories! How can you get 15 percent off a Daniel Wellington watch, which is Kylie Jenner-approved?
Well, Jenner offered the "KYLIE15" code in the caption, which can be applied to Wellington holiday gift sets and bundles. I poked around the brand's site and love the huge faces of these watches. The prices are around $199, while the cuffs are $59. If you grab a bundle, and apply the discount, it's around $220 for an elegant watch and a minimalist cuff. They pair beautifully and balance once another out.
Check out Jenner's high impact and classic combo. It's so incredibly chic.
I am so "OMG"-ing over rose gold cuff. It's such a delicate contrast to the giant watch face. Yep, I lurve it.
A watch is a thoughtful gift. So is a bracelet. But the combo? That's super special and extra thoughtful.
Classic Cuff Large, $59, DanielWellington.com
The bangle is stamped with the brand's name.
Classic Sheffield Black Watch, $199, DanielWellington.com
What a tasteful timepiece! Clearly, good things come in twos. If you have a special someone or want to treat yourself, this is an affordable and understated combo. You will save some serious cash and rock on helluva wrist.
Images: Kylie Jenner/Instagram (1); Daniel Wellington/Instagram (1); Courtesy of Daniel Wellington (2)