Here's Who Conor McGregor Might Play On 'GoT'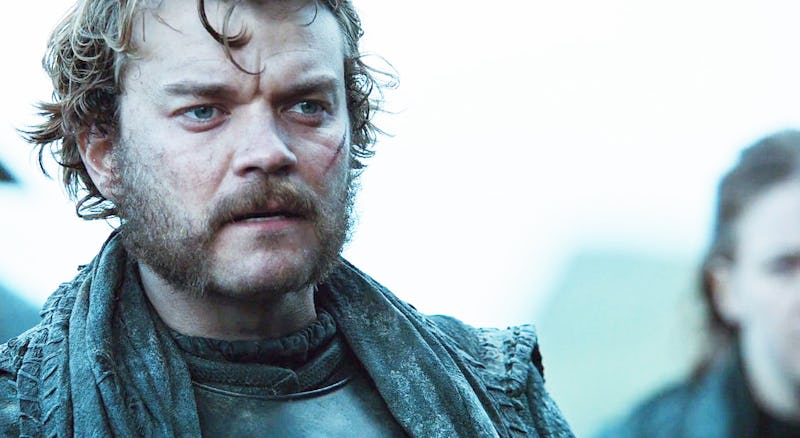 The UFC is reportedly coming to GOT. Irish mixed martial artist and reigning UFC Lightweight Champion Conor McGregor is set to appear on Season 7 of Game Of Thrones. According to Watchers On The Wall, he'll play a pirate on Euron Greyjoy's boat. Fitting, since, as we know, Euron was previously working as a pirate before returning to the Iron Islands to take back the Salt Throne from his nephew Theon and niece Yara. You know, after he killed their father and his brother Baron Greyjoy. Why, yes, that is a very Game Of Thrones sentence right there.
The news of McGregor's casting seemed to be confirmed by Ultimate Fighting Championship president Dana White, who told Fox Sports Live earlier this week that a "few months ago" the HBO series had been "interested in putting him in the show," and she was "glad" McGregor did it. But, when he does hit the small screen, he'll likely be seen and not heard. Watchers On The Wall reported that McGregor's role, his first for television, is a cameo that doesn't have any lines. So, yes, his character will be the strong, silent type.
He isn't the first celebrity to earn a quiet cameo on Game Of Thrones. In fact, there are a whole lot of celebrities who have popped into the background to just, well, play background characters that have very little to say. Or, often, nothing at all. Many of these cameos have been from musicians, including Coldplay's drummer Will Champion, who appeared in the Season 3 episode "The Rains of Castamere," as — what else — a drummer playing the song leading up to the Red Wedding.
As Rolling Stone pointed out, Atlanta metal band Mastodon and their beards played a few of the wildlings in the 2015 episode "Hardhome," who come back to life after being attacked by white walkers. Snow Patrol's Gary Lightbody got to play a troubadour in Season 4's "Walk Of Punishment." Sigur Rós was the band at Margaery and Joffrey's wedding in Season 4, playing the ominous "The Rains Of Castamere," while fellow Icelandic band Of Monsters and Men appeared in the Season 6 episode "The Door," playing traveling musicians that are part of the theatre troupe Arya watches in Braavos.
Even the show's creators, David Benioff and D.B. Weiss appeared in an episode as two of the faces in the House of Black and White, the temple of the Many-Faced God, but blink and you'll miss them among the many faces. It's why McGregor's non-speaking cameo puts him in good company. It also adds a little excitement for those fans who will have to watch close if they want to see their favorite UFC fighter on the show.
Images: HBO