Wait For 'Ash Vs Evil Dead' With These Genre Shows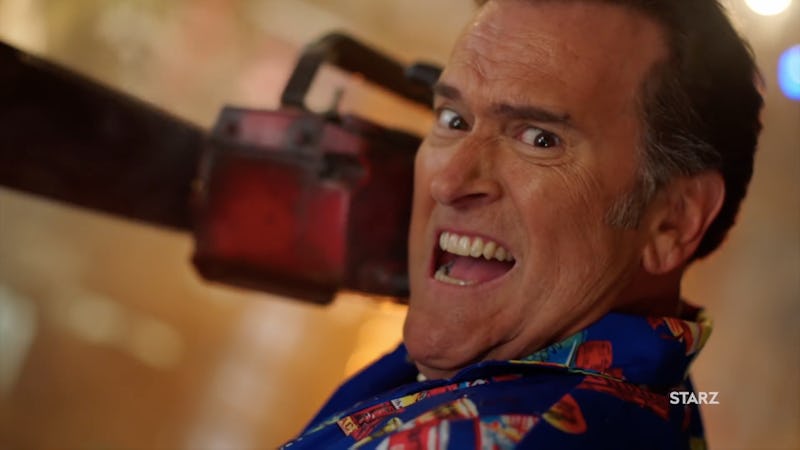 The second season of Ash vs Evil Dead, the Starz series based on the horror film series from the 1980s, is coming to an end on Sunday, DEc. 11. It's been 35 years since star Bruce Campbell first encountered the powerfully evil spirits that have been plaguing him since a misbegotten trip to the woods with a few pals went wrong, and since then, the franchise has had three films and 20 episodes of television — and that numer will continue to grow. It was announced at New York Comic Con that Ash vs Evil Dead will return for Season 3 and Deadline reported that the 10-episode season will premiere "around next fall," though Starz has not confirmed a date.
That puts the likely return date somewhere between September and November 2017, and since the past two seasons debuted in October, that's a safe bet. It a long time to wait for another season, to be sure, but it's certainly better than having to worry about whether or not the show will be renewed at all. With that out of the way, fans of Ash vs Evil Dead can instead focus on finding more horror and other genre series to check out. Whether you love the tropes parodied in the Evil Dead series, die for everything that has gore, or just love anything adapted from an older genre film, there are plenty of options for you to watch while you wait for more of Ash's antics.
Stan Against Evil
A small-town sheriff is forced to fight against zombies, but it's a lot more upbeat and enthusiastic than The Walking Dead, trust me. This IFC series also a good sense of humor about its premise.
The Exorcist
Based on an old film and pushing the boundaries of television horror? Sounds a lot like Ash vs Evil dead to me. The FOX series is not particularly ironic, but for fans of the original film, this is a surprisingly worthy followup, even if it's not quite an instant classic.
The Strain
Flesh deteriorates and falls off, fangs rip into people's vulnerable bodies, and there are lots and lots of bodily fluids — this FX series is like one long exercise in attempts to get the audience to cringe.
Scream Queens
It's horror tropes for newbies, and sometimes misses the opportunity to make references that would be obvious to even the most inexperienced horror fan. However, it is reasonably bloody, and has a crackerjack cast filled with expertly comedic performers. Jamie Lee Curtis' horror film bona fides are enough to give the FOX show a chance, right?
Bates Motel
This A&E series is about to wrap up with its fifth and final season, which will catch up to the story of the iconic film it's based on. In the meantime, if you haven't watched the previous seasons, now's the time to catch up.
Channel Zero
This creepy new Syfy series aims to be not just scary, and not just gory, but also profoundly unsettling. You see, it's inspired by the internet culture "creepypasta," which refers to the creepy, likely embellished if not entirely made up stories and urban legends. And Channel Zero manages to capture the same hair-raising, heebie-jeebies feeling of reading scary stories with only the glow of a computer screen.
So while there's a long wait ahead for more Ash vs Evil Dead, even the show's biggest fan should be able to find at least one other series to help bide the time until Fall 2017.
Images: Starz; Kim Simms/IFC; Jean Whiteside, Michael Becker/FOX; Giphy; Cate Cameron/A&E; Allen Fraser/Syfy