These Black Sitcoms Deserve Reboots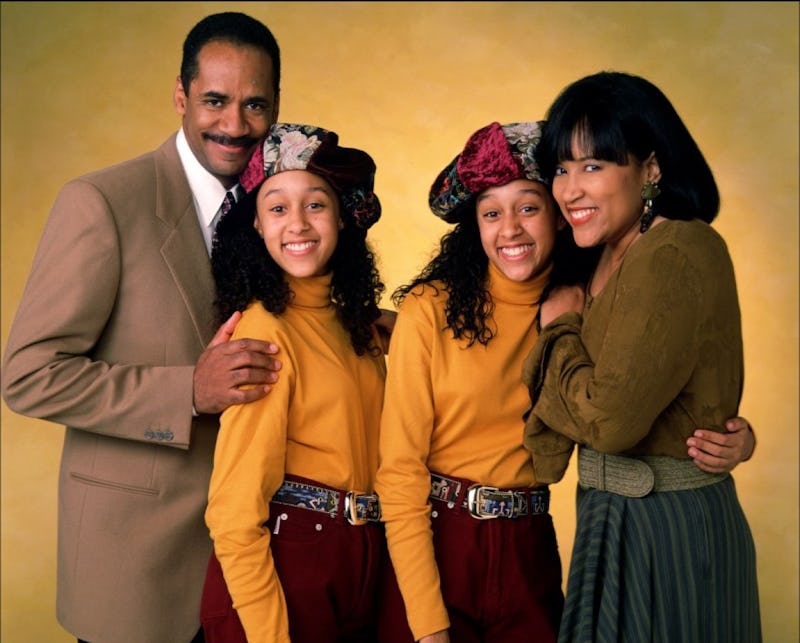 So far in 2016, we've seen old television shows like Fuller House and Gilmore Girls resurrect back to life on Netflix, but while it's exciting to see these series come back, I'm disappointed by the lack of reboots of black sitcoms, especially shows that show a positive representation for young black millennial women. None of the critically acclaimed black sitcoms from the '90s (and most other decades) in the U.S., like Family Matters, Sister Sister and Hangin' With Mr. Cooper, have gotten reboots. And even reboots aside, there are just two sitcoms about black families available on Netflix — A Different World and The Bernie Mac Show — but neither show does much for the representation of black women on TV.
It's imperative that young black people have a surplus of black shows for them to see, whether they're new ones, reruns, or reboots of old shows. Representation is everything, and shows from the '90s like Moesha and Living Single showed us the value of seeing strong, complicated black women having fun and accomplishing impressive goals on-screen. If these shows and the others listed below got reboots, my fellow black millennials would have way more representation on-screen.
1. Living Single
Living Single is one of my favorite television shows of all time. The series set a precedent for shows like Sex and The City and Girls, and it featured forward-thinking black women capable of big things. It embodied the emotional complexity, humor and fashion-forward sense of black women, and seeing Khadijah (Queen Latifah) run her own magazine was one of the many reasons why, as a child, I wanted to become a journalist. Living Single showed the beauty of close friendship in your 20s, and Khadijah in particular proved that you could be strong, own your business, and command attention as a young woman. Synclaire James (Kim Coles) showed that black women can be bubbly, optimistic dreamers, while Regine Hunter (Kim Fields) was inspiring for not giving a damn what anyone thought about her style. She was the voice of making a bold statement with whatever you do. Lastly, there was Maxine Shaw (Erika Alexander), a lawyer with an endless appetite for winning. Seeing these ladies make a comeback would be truly inspiring.
2. Girlfriends
Girlfriends was a casualty of the 2007 TV writers' strike in Hollywood, when producers decided it was too expensive to bring the show back after the strike ended. Much like Living Single, this show featured an eclectic group of black women living in Los Angeles trying to balance life, work and personal discovery all at the same time. Focusing on three single women and one married woman, Girlfriends showed the roller coaster ride of relationships and careers from the black perspective, tackling issues like having kids, interracial marriages and sexual identity. Women of color like myself could identify with each of these characters, all of whom were feminists, in some way.
3. Moesha
Mo-to tha-E to tha — ya'll know the theme song. Who didn't love Moesha back in the day? The show showed the revolution of a teenager becoming a woman. Moesha (Brandy Norwood) may have been young, but she stood firm in what she believed and wasn't apologetic about it. She bravely dealt with issues like drugs, race, and premarital sex, all things that young women of color face today. She was way ahead of her time.
4. Sister, Sister
Tia Mowry-Hardict and Tamera Mowry-Housley are the true definition of love. Sister, Sister showed the beauty of having a great relationship with your family, and every person should have a good support system. The authenticity of the sisters' friendship and ride-or-die mentality when it came to getting each other out of trouble shows the importance of female solidarity and empowerment, especially considering today's tendency to make on-screen women compete against each other. And whether or not you're bound by blood, like Tia and Tamera, we feminists need that one person in our lives that we can count on no matter what.
We are in a time where our country is facing far too many racial and gender issues, and it's more important now than ever for black women to see uplifting, realistic portrayals of themselves on TV. Perhaps rebooting these shows could be the answer.
Images: Giphy, Paramount Network Television, Warner Bros.