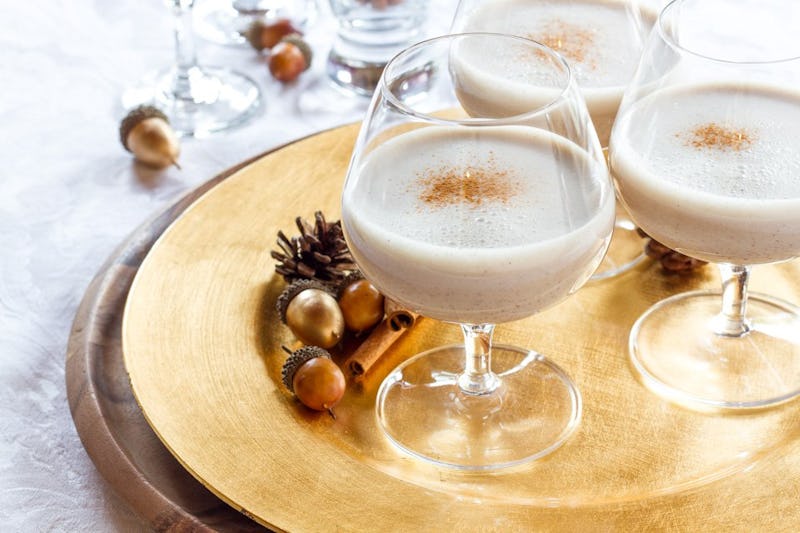 Vegan eggnog seems kind of impossible, right? Eggnog's main ingredients are eggs and milk — so how in the world could there be an eggnog vegan alternative? Well, after having a little sift through of the beautiful thing we call the internet, I have found a few blogs that actually teach you how to make vegan eggnog. The trick? It's all in the flavoring.
Although there are numerous different these blogs go about making vegan eggnog, there is one ingredient that seems to be universally used: non-dairy milk. Ones typically found include almond milk and coconut milk, sometimes even a mixture of both. Some recipes will even include silken tofu, an avocado, raw soaked cashews, or a banana as an egg substitute. Since the flavoring of these ingredients are obviously different, typically vegan eggnog will see lots of spices, extracts, and even liqueurs added to give it that eggnog taste. Some of the more common spices include nutmeg, cinnamon, and ground cloves.
It seems that a lot of recipes makers try to get adventurous with their vegan eggnog by giving them particular flavors. They do so by adding different types of juices (typically lemon) or sweeteners to their mix. Sugar is another common ingredient in eggnog, however these recipes tend to sit on the healthier side. They use artificial sweeteners or maple syrup instead of granulated sugar.
So basically, if you're a vegan who desperately wants a taste of eggnog this holiday season, you're in luck. Here are a few ways you can go about it:
Original Vegan Eggnog
This recipe by Tori Avery calls for some of the usual vegan eggnog ingredients — non-dairy milk, artificial sugar, cinnamon, and nutmeg. However, she also throws in that silken tofu, vanilla extract, ice cubes, brandy, and ground ginger.
Peppermint Vegan Eggnog
If you're looking something a bit more festive, this peppermint nog by Oh She Glows will curb that minty craving. This recipe calls for both an avocado and a banana, as well as almond milk and coconut milk. She also throws in some maple syrup as her artificial sweetener, and lemon juice.
Carrot Eggnog
Even if you don't like carrots, I think you can take a page out of Oatmeal with a Fork's book. The carrot flavoring comes from fresh carrot juice. However, if you want something a bit different, you could try throwing in a different juice. She also calls for powdered slippery elm, which can be found in a lot of health food stores.
Images: Tori Avery, Oh She Glows, Oatmeal with a Fork