Kat Von D Is Doing A Pastel Goth Palette... Really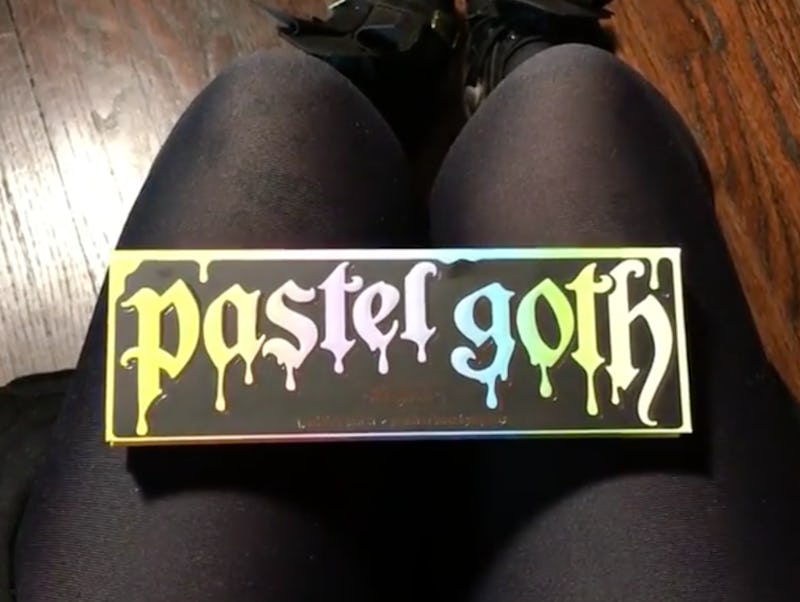 Not gonna lie. This is the one Kat Von D palette I never expected. Kat Von D teased her Pastel Goth Palette and I immediately felt the need to check my calendar to see if I somehow bent time and space and fast-forwarded to April Fool's Day. The celeb tattoo artist and makeup maven was acutely aware of how strange this palette might seem to Kat Von D-evotees... because it is. The notions of "pastel" and "goth" are totally at odds. Generally speaking, pastels are soft, sweet, light, and airy, while goth shades are dark, edgy, and unusual. But there is a subculture and style known as "Pastel Goth," which is a "soft goth" style and mixes the usual all-black goth aesthetic with sweeter touches, like pale hair colors. Essentially and obviously, the darkness of goth is tempered by the softness of pastel.
So what's in the Kat Von D Pastel Gothy eyeshadow palette?
Well, we don't know exactly. Von D only shared a brief Instagram video featuring the packaging, sitting on her lap. Of course she was cloaked in all black. The long, slim case is matte black, like so many of Kat's killer palettes. The words "Pastel Goth" are spilled across the top, in dripping yellow, pink, and blue lettering. Makeupistas and beauty junkies, here's what I think may be under the hood of this palette: Half-pastel shades, inspired by pastel goth, hair, and half-dark hues.
Are they mattes? Shimmers? How many hues are there? Well, we don't know, since Kat Von D opted not reveal critical intel or to open the case. It could even be all pastel shades, meant to be mixed with previous KVD palettes. She is keeping us in suspense and we're left to guess. What we do know is that it is cruelty-free and vegan, which are standards for the animal-friendly brand.
Fans are chuffed over it, based on this sampling of Insta comments.
This tweet proves the loyalty of KVD fans. Their faith is astounding — they want it, without even seeing it.
See what I mean?
Images: Kat Von D/Instagram (1)