This Friendship Is Rocky On 'Crazy Ex-Girlfriend'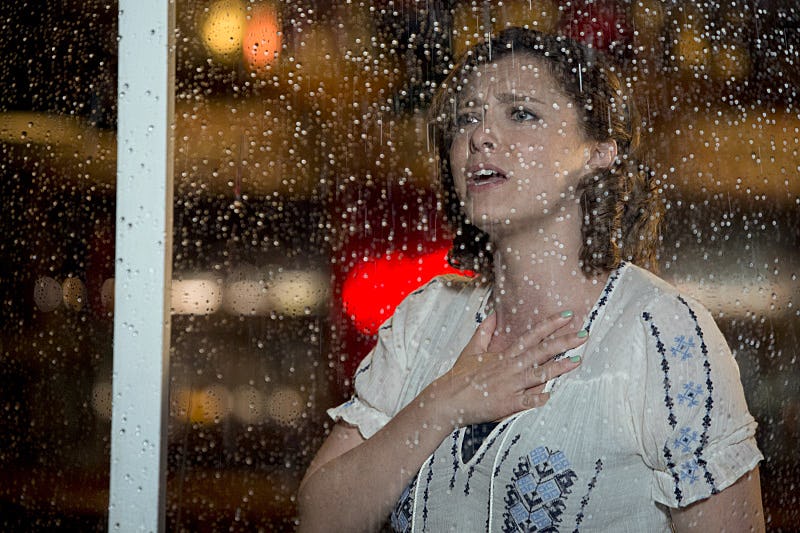 Friday night's episode of Crazy Ex-Girlfriend ended on a surprise note: a power ballad. Rebecca and Paula sang about their fractured friendship, but does this mean that they'll actually begin to say sorry to one another? Let's start at the beginning, shall we? The previous episode of Crazy Ex-Girlfriend ended on a similarly tense, emotionally fraught note for Rebecca and Paula. After Rebecca tried to force a natural friendship with Valencia and Heather, it became clear that the things left unsaid between the former besties had pushed them apart in a major way. Reconciling with one another seemed to be an impossibility; had the damage that was done made a lasting imprint on them?
After Paula revealed she had had an abortion and Rebecca attempted to justify her reasons from growing distant, Friday night's episode found the women at a stalemate. Rebecca was still demanding an apology for the way Paula had treated Valencia and Heather at the group hangout. Paula tried to hide behind her looming law school essay as a way to escape Rebecca's passive aggressiveness. While the women tried to go their separate ways and cozy up to their news best friends, Valencia and Sunil, respectively, it was futile. They kept referencing one another in conversation and looking forlorn when they realized their new best friend could not replace their old one.
By the time the episode entered its final moments, it was clear Rebecca and Paula hated their self-imposed cold war. They wanted to call one another to make up. They wanted to bury the hatchet. But who was going to break down and call first. And suddenly, Crazy Ex-Girlfriend was queueing up another song as it rounded third base on its way to home plate. Rebecca and Paula sang a power ballad to one another about the importance of making up and ending their silent fight. It was a heartwarming and amusing song about how women try to work through all the nonsense they sling at one another during a fight, then end up contemplating reconciliation before actually saying, "I'm sorry."
The song, as empowering as it may be, could signal a big change in the near future for Rebecca and Paula. It's clear that they miss one another's friendship. However poorly they treated one another, its undeniable that they work well as a team. Surely this can't be the end of a great friendship, can it? Something tells me we're going to see a lot of swallowed pride and proffered apologies in the coming episodes, if only one of these women can muster up the courage and make the first apologetic phone call.
Images: Adam Rose, Mike Yarish/Netflix