The Best Nonprofits To Follow In 2017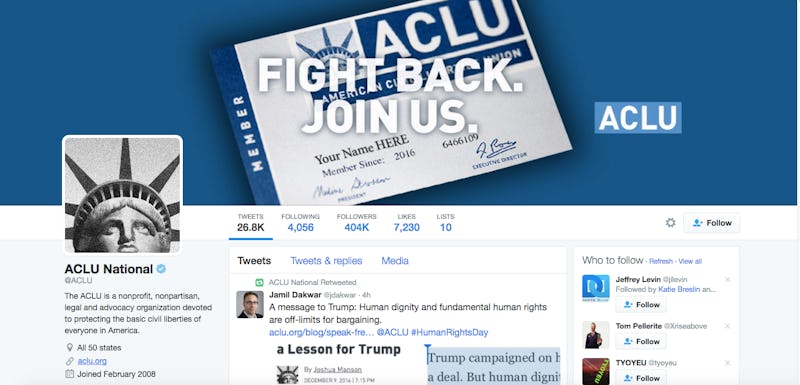 Things are going to heat up following the inauguration of President-elect Donald Trump and Vice President-elect Mike Pence on Jan. 20. A number of both American and international nonprofits are already prepping for a Trump presidency. The impending legal cases that could be triggered by the Trump administration and its Republican Congress may be astounding and unprecedented. It's going to be a long and tumultuous four years.
Legal and policy advocates fear that the Trump administration may infringe upon numerous rights for American citizens: freedom of the press, freedom of speech, freedom of assembly, reproductive rights, LGBTQ rights, and disability rights. You know, just some fundamental rights that may impact millions and millions of Americans.
As ACLU Executive Director Anthony D. Romero said in a statement immediately following Trump's win, Trump's "proposals are not simply un-American and wrong-headed, they are unlawful and unconstitutional. They violate the First, Fourth, Fifth, Eighth, and Fourteenth Amendments."
Nonprofit organizations across the United States and the globe are fighting back and focused on safeguarding human rights for all. Now more than ever, it's time to follow the work of these organizations and be well-informed.
Here are the best nonprofits to follow on Twitter in 2017. Like them, retweet them, tweet at them, donate to them, but most importantly, learn from them.
ACLU
The American Civil Liberties Union is going to be working overtime following Jan. 20. The legal and advocacy organization has already pledged to take President-elect Donald Trump and any of his future civil rights violations to court. In a statement released Nov. 9, executive director Romero sent this foreboding message to Trump: "If you do not reverse course and instead endeavor to make these campaign promises a reality, you will have to contend with the full firepower of the ACLU at every step."
Follow the national ACLU Twitter account to keep up with the organization's nonstop work, from law enforcement violations and death penalty cases to violations of free speech and privacy laws.
Amnesty International
As the world's largest human rights nonprofit, Amnesty International reaches all corners of the globe and has ongoing campaigns in nearly every continent. Some of the organization's featured campaigns are women's rights in Burkina Faso, documenting human rights abuse in Syria, police violence and rights for immigrants in the United States, abortion rights in Ireland, and releasing unfairly imprisoned journalists. Follow Amnesty International's main Twitter account, or follow its affiliates like Amnesty UK, Amnesty West Africa, or Amnesty Iran.
PEN Center USA
A branch of PEN International, PEN Center USA, protects writers' freedom of speech nationwide. PEN Center USA offers programs such as Freedom to Write, the Emerging Writers Fellowship, and PEN in the Community, which provides assistance for underserved schools. Follow PEN Center USA's official Twitter account for literary updates.
URGE: Unite for Reproductive & Gender Equity
The reproductive justice nonprofit URGE: Unite for Reproductive & Gender Equity supports everyone's "right to a happy, healthy sex life." The nonprofit fights for reproductive justice in all areas, from abortion funding to comprehensive sex education. Follow the URGE Twitter account for more info on abortion and contraception bans, information on birth control, civic engagement, and racial injustice.
Lambda Legal
The oldest and largest legal organization for LGBTQ rights, Lambda Legal, provides updates on legal briefs and cases impacting LGBTQ citizens across the United States. Follow the organization's Twitter account for new insight on the state of LGBTQ rights post-legalization of same-sex marriage.
Guttmacher Institute
The Guttmacher Institute is one of the leading policy organizations researching reproductive rights, both here in America and internationally. Guttmacher tracks regulations on abortions, contraception and maternal care, as well as trends in pregnancy worldwide. Follow Guttmacher on Twitter for new data on abortion clinics, sexual health and education, contraception use, and family-planning funding.