Lola On 'Fuller House' Is A Talented Newcomer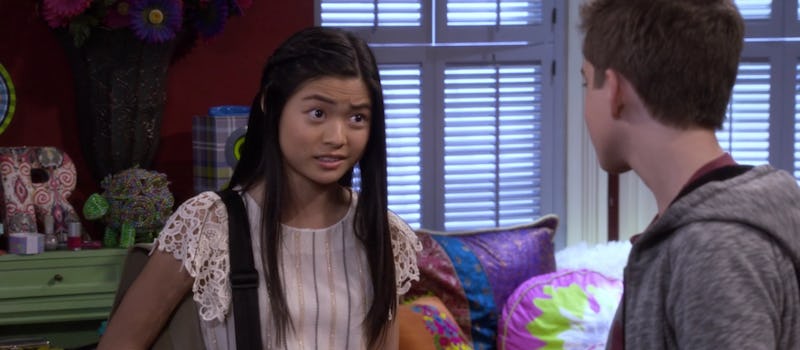 In Netflix's Fuller House Season 1, Jackson (Michael Campion) kissed Ramona's best friend Lola, sealing an infatuation that would follow him into the second season. SPOILERS AHEAD for Fuller House Season 2. Throughout the second season, Jackson tries wearing hats, joining the football team, and calling himself "Action Jackson" — among other things — to impress Lola, who at one point confesses that she could "sort of kind of maybe" like him a bit. Fans are seeing a lot of Ashley Liao, who plays Lola, on Fuller House because she was promoted to a series regular for Season 2, according to Variety.
According to IMDb, the 15-year-old Liao already has an impressive list of credits, including Fuller House. Last season, she appeared in six out of the 13 episodes, guest starring as Lola. In addition to Fuller House, Liao is starring as Parker Zhao in Season 2 of the Amazon original series The Kicks, which is about soccer-playing teens. According to an interview with Talk Nerdy To Us, Liao said she was able to film her new role in the Amazon show between seasons of Fuller House — and she said that it's possible that Lola has feelings for Jackson, too. "With Lola, I feel that she's really sweet — and a little bit sassy — but Lola is really sweet and really caring," Liao told the website. "She really cares for Ramona which is her best friend and Jack which is her little crush!" Aw.
Liao has also guest-starred in series such as Nicky, Ricky, and Dawn, Fresh Off The Boat, and Bad Teacher. During the summer, she played Manda in the Disney XDTV movie Jessica Darling's It List, which was based on popular novel series by bestselling author Megan McCafferty and executive produced by Debby Ryan.
In addition to acting, Liao is also a talented singer. The young actor has a YouTube channel under the username LoveSingActLaugh in which she has posted some of her covers of "Let It Go" from Frozen, "All of Me" by John Legend, One Republic's "Counting Stars," and Beyonce's "Halo."
Will she ever get to use her singing talent on Fuller House? That remains to be seen, but so far, Liao has enjoyed her time on the revival of the classic sitcom, she told Talk Nerdy To Me. "I'm so incredibly grateful to be calling my Fuller House cast my second family," she said. "We spend so much time together, how could you not form relationships and end up absolutely loving people when you work with them that much."
It sounds like Liao fit right in with the Tanner-Fuller family in Fuller House.
Images: Netflix (2)