Feminist Road Trip Ideas For Your Next Adventure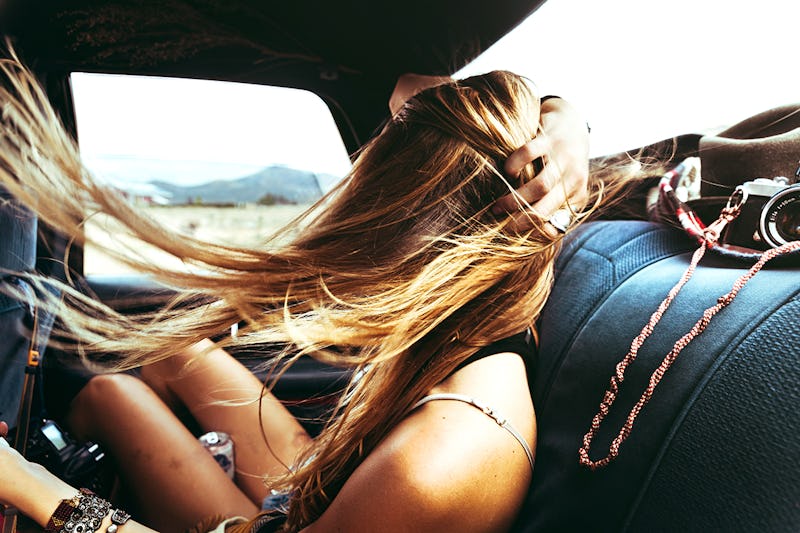 I'm a firm believer that travel is one of the greatest teachers in life, and that traveling somewhere with special meaning can change the way you look at the world. In pondering this thought recently and trying to plan my next adventure, I started brainstorming feminist road trip ideas. I first became fascinated with this idea in college, when I became slightly (read: neurotically) obsessed with the idea of traveling to the places great women writers had penned their masterpieces. As I've grown in my feminism, this dream has expanded to include landmarks around the country that symbolize the incredible contributions of those who have fought the good fight for generations.
Of course, there are far more places to go than I could every hope to chronicle in the space of one article. For that matter, for every landmark significant to feminist history we do know of, there are probably hundreds we don't know of. Not only has patriarchy done its best to suppress the truly impactful work women have done throughout history, but it has worked even harder to ensure that pretty much every marginalized person or group — everyone who isn't white, straight, and/or cisgender — have gotten even less credit for the contributions they've made to our country.
Hopefully, over time, we'll learn about more of these extraordinary people and their stories, and we can add to our feminist road trip bucket list. But for now, here are a few fantastic feminist adventures to kick start your feminist wanderlust.
Northern California
If you live near San Francisco, hop in your car and head to Sutter Street to visit the Woman's Athletic Club of San Francisco (now the Metropolitan Club), a club created for and run by women in 1917 so they could further themselves intellectually, physically, and artistically — despite constant insinuation from men that it was beyond women's ability to run such a large club. (It does merit mentioning, however, that the club appeared to consist of all white women prior to the '40s; while this wasn't uncommon for the time, it's a failing that's worth noting. This is why intersectionality matters.)
To get a broader scope of women's history, visit the southwest corner of Bush and Octavia streets while you're in San Francisco. There, you will find a tribute to Mary Ellen Pleasant as well as the Mary Ellen Pleasant Memorial Park. A former slave with ties to the Underground Railroad, Pleasant became a successful abolitionist and businesswoman and is often referred to as the mother of human rights in California. Upon being kicked off a streetcar in 1866, she took her case to court — and the resulting ruling led to the outlaw of segregation on public transit in San Francisco.
Next stop? Pine Street, where you'll find the Madame C.J. Walker Home for Girls . Established in 1921 by Irene Bell Ruggles — the president of the California Federation of Colored Women's Clubs —the home offered lodging and job referrals during a time when women of color weren't allowed access to the YWCA. Up until 1972, when it was relocated to Hayes Street, the home provided a stable and safe community for women and children of color.
For the last leg of this feminist road trip, hop I-80 E and make the short drive over San Pablo Bay to get to Richmond, California. There, you'll find the Rosie the Riveter/World War II Home Front National Historical Park . And, c'mon, we all know about Rosie, right?
The Washington, D.C. Area
Always daydreamed about visiting our nation's capital? What better way to view this storied city than through the lens of feminism? And believe you me, there's no shortage of landmarks in the area worth visiting. Take, for example, the National Museum of Women in the Arts — the only major museum in the world solely dedicated to recognizing women's creative work.
Another must-visit spot? The Belmont-Paul Women's Equality National Monument . Situated near Capitol Hill, the house served as home to the National Woman's Party for nearly 90 years. It is here the struggle for women's right was centered around. It was in this house that beloved suffragist figure Alice Paul and other members of the National Woman's Party developed strategies for advocating the Equal Rights Amendment.
Also on the list is the Mary McLeod Bethune Council House , a three-story townhouse that served as the residence of educator Mary McLeod Bethune. The only person born free in her family. Bethune acted as the president of several important organizations for women of color, including the National Association for Colored Women and the National Council of Women of the U.S.A.
A short distance away in Alexandria, Va. and totally worth the drive is the National Women's History Museum . Designed to fill the void in history left by the patriarchy mansplaining women's accomplishments, the world-class museum focuses on the historical and current contributions of women in society.
Kansas
If you live in Middle America, consider loading up to make the trip to Atchinson — the birthplace of Amelia Earhart , which was taken over in 1984 by a non-profit group called The Ninety-Nines: The International Organization of Women Pilots. Earhart's birthplace now serves as a museum.
After you've gotten your fill of nostalgia over one of the greatest aviators of all time, climb back in your car and make the roughly 50 mile drive to Topeka. What's in Topeka, you might ask? Well, it's where feminist Clarina Irene Howard Nichols lived and fought for women's rights. Although it's unclear whether they are still fully operational (if at all), the newspapers Nichols wrote for — the Lawrence Herald and the Topeka Kansas Tribute — were both based in Topeka.
New York
Trust me when I say there is absolutely no way to gloss over all of the great feminist sites in the state of New York. I mean, there are over 120 in Manhattan alone. Like, for example, the Women's National Republican Club in Manhattan. Founded in 1920, it was headed by major suffragist Henrietta Wells Livermore and served as an important institution for educating newly minted women voters after the ratification of the 19th Amendment. You could also add to your road trip list the house of Carrie Chapman Catt, a key coordinator in achieving the right for women to vote.
Once you're done there, it's time to leave the city and make the drive inland to Auburn, New York, where you can soak up the ambient strength of the legendary Underground Railroad pioneer Harriet Tubman. You'll learn all about Tubman's life and achievements at the Tubman Museum celebrating this feminist icon.
In Rochester, New York, you can visit the home and headquarters of another feminist icon: Susan B. Anthony. She lived here during the 40 most politically active years of her life, so countless meetings about women's right and suffrage occurred within this hallowed walls.
And last, but certainly not least, is Seneca Falls — the home of the first women's rights convention held in the United States in 1848. A part of the Women's Rights National Historic Park, Seneca Falls has fantastic landmarks, like the Center for Great Women and National Women's Hall of Fame.
Images: Life of Pix/Pexels