The Kylie Shop Isn't Totally Sold Out Yet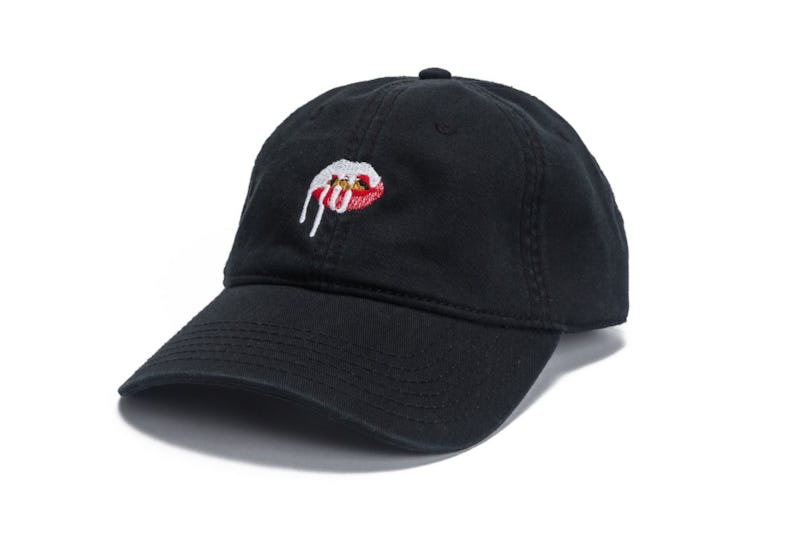 Hurry! The Kylie Jenner merch shop aka The Kylie Jenner Shop opened for business online on Saturday, Dec. 10. The makeup maven's popup shop in So Cal is also alive and kicking, selling everything from shirts to Kylie Lip Kits. The online Kylie Jenner Shop featured an array of attire and accessories, all branded with Jenner's face, her likeness, and her lips! She mixed visuals from her personal brand and her professional brand aka Kylie Cosmetics for thongs, socks, trucker hats, a black satin bomber, graphic tees, and more. If you are a Kylie-o-phile, then this shop no doubt gave you life. Most of the merch sold out quickly, but is The Kylie Shop totally sold out?
I've got great news, Kylie-holics! The shop is not completely drained of supply. In fact, there are still several items available to shop. I have not seen any official word about if, when, and how the online Kylie Shop will restock. But let's not get too far ahead of ourselves. Let's live in the moment. Here's the breakdown of what's left in The Kylie Shop.
As of press time, all of the shirts, hoodies, and apparel are gone, baby, gone. However, the Kylie Jenner 2017 calendar is still there for the taking. The iPhone cases, featuring the Kylie Cosmetics dripping lips logos and the phrase "Kylie Jenner Lips," are still available.
Kylie Jenner Official 2017 Calendar, $22, KylieJennerShop.com
You so need a new wall decoration that helps you keep track of the days.
If you are in the market for a new iPhone case or like to swap out your protective outer shell every couple of days, why not do so with one of these? The iPhone cases are available in sizes 6, 6+, 7, and 7+ for $15 a piece.
Multi Lips iPhone Case, $15, KylieJennerShop.com
Love those lippies.
Lips Dad Hat in Black, $35, KylieJennerShop.com
Don't you want to rock this while jogging or at the gym?
Lips Dad Hat in Denim, $35, TheKylieJennerShop.com
The denim version is super cute and casual, too.
While the graphic tees, socks, pins, patches, and buttons are currently sold out, you can still rock these pieces.
Images: Courtesy of The Kylie Jenner Shop (5)